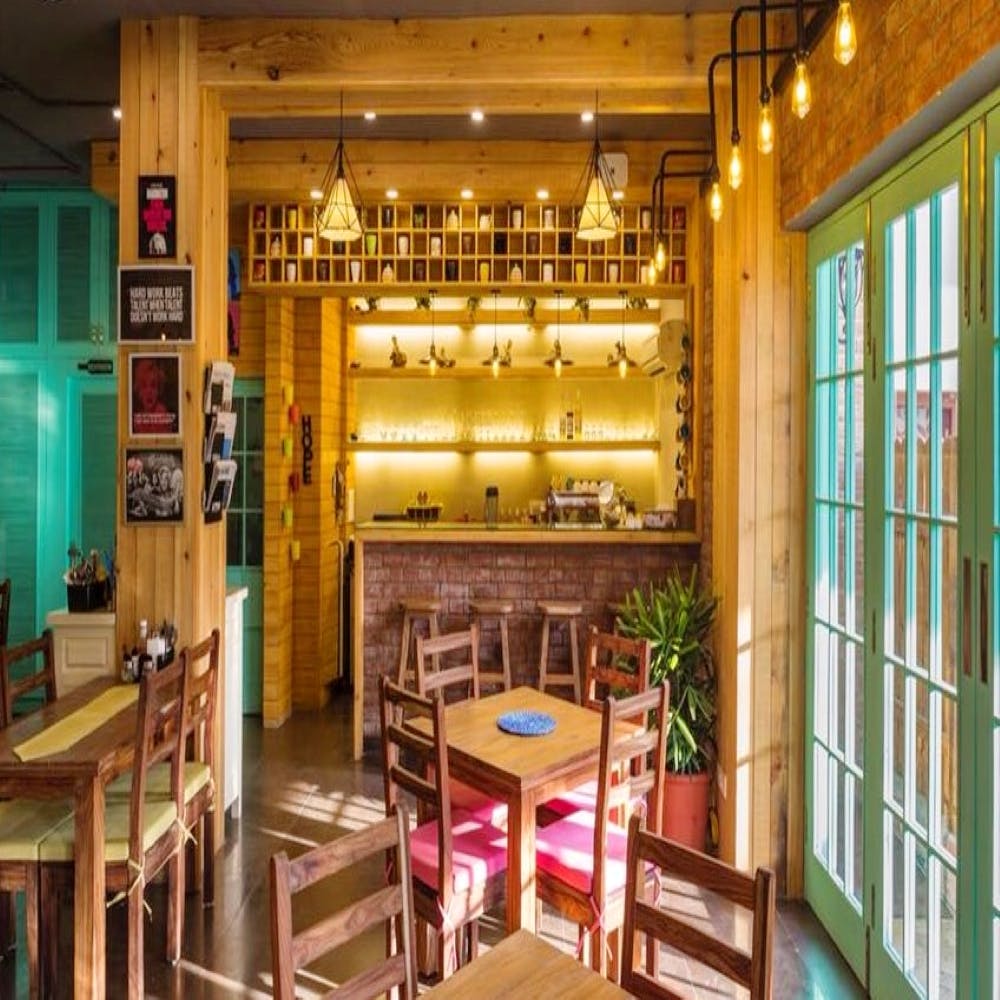 Off To The Hills? Stop At These Local Chandigarh Cafes To Refuel
We're sure we can all agree that road trips are the best, and, more often than not, they head upwards to the hills. While you're stopping on the way for some amazing food, it might as well be at a local cafe. Here's a list of cafes in Chandigarh that are perfect for a pit stop.
OvenFresh
This cafe-cum-bakery in Sector 35 really knows how to back their name up with the food they serve. They serve fresh salads, pancakes, omelettes, and crescent sandwiches (these look delicious, btw) along with your favourite tea and coffee variations—perfect for a brekkie break. They've also got pasta, burgers, pizza, and shakes. It's a city favourite, so don't be surprised if you have to wait to be seated!
Brooklyn Central
Bringing all those NYC vibes to Chandi, Brooklyn Central emulates the sort of cafe you'd find in the Big Apple. You'll find American style cuisine here—eggs, avocado sandwiches, burgers, hot dogs, chicken wings, pizza, pasta, New York cheesecake and anything else you can think of. They've even got a 1+1 offer on Mondays and Tuesdays! Oh, and yes, they've got a bar–but we suggest you skip those drinks if you're driving.
Nik Baker's
While they've now got outlets in Delhi, the original HQ always deserves a stop-by. We tend to gorge on the New York Meat pizza, smoked chicken flatbread sandwich, and a slice of the red velvet cake. They've got a really extensive menu with all-day breakfast, Mexican, Italian, and American options. You'll even find healthy smoothies and protein shakes (if you're on a specific diet).
Cafe JC's
On the way to the hills and the weather's playing nice? The outdoor seating here is exactly where you'd want to take a break. Wooden seating, potted plants, and lamps and fairy lights—Insta dreams come true. You'll find continental, American, Chinese, and Punjabi dishes to munch on here. The chicken sandwiches and Chinese starters are the top picks here.
The Willow Cafe
This little joint is the kind of cosy place you'd go back to over and over, but if you're only here for a pit stop, make sure you put the phones down for a while and admire the cute corners and the food (well, maybe after a couple of pictures). The menu is a mix of breakfast food, omelettes, sandwiches, grilled meats and veggies, and beverages like coffee, tea, shakes, smoothies, and juice to wash it down with.
Midpoint Cafe
If you're a car full of college students making it to the hills on a pocket-friendly budget, Midpoint Cafe has got your back with its inexpensive (yet delicious) menu full of snacking options. You'll find burgers starting at INR 40, pizza for INR 130, fries at INR 70 and a lot of other options. They've even got biryani, curries, tandoori grills and more, if you're stopping for a full meal.
AJA Fresh, Grilled & Healthy
Hey, just because you're on a getaway to the hills doesn't mean you have to cheat on your diet. AJA does healthy food, and if you're looking to stop somewhere for a low-calorie meal, this is where you hit the brakes. They've got salads (including Greek, papaya, couscous and more), kebabs with hummus, quesadillas with guac, gourmet burgers with whole wheat buns, vegan pizza, and a lot of other healthy options. The interiors are oh-so-Insta as well!
Comments