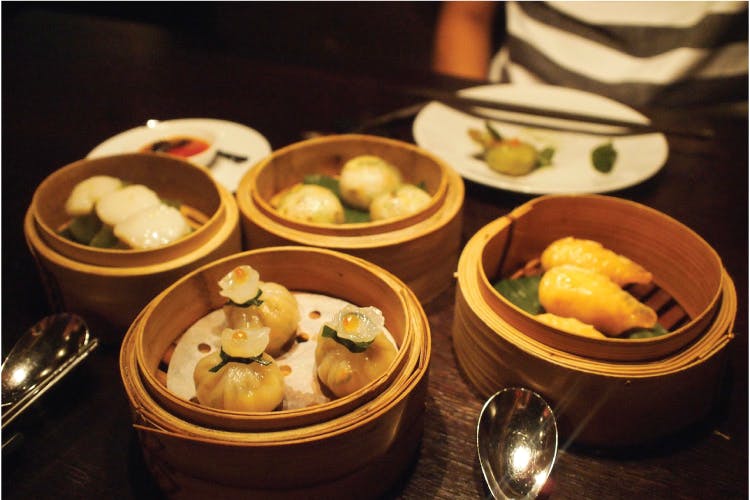 Order From These 10 Chinese Eateries In Noida For Under INR 1000
Noida's got numerous restaurants offering a variety of cuisines and if you're in the mood for Chinese, check out our list of ten eateries to order from.

How many have your tried yet?

Haochi
This one's on our list for the next meal when our MSG craving kicks in. We've got our eyes on their Fish Shitake Black Bean Sauce and Chilli Bite Lamb.
Price: INR 600 for two (approx.)
The Feast Box
Kurkure Chicken Momos, customisable meals, and more, we're bookmarking this one for our Chinjabi foodgasms. PS: They've got burgers and sandwiches too.
Price: INR 600 for two (approx.)
Chopstix
Craving for some desi Chinese food? Order from this takeaway joint that does tandoori momos, choupsey, Singapore noodles and chicken lollipop.
Price: INR 300 for two (approx.)
Captain Chang
They have us covered for Chinese, Thai, Vietnamese and Seafood. Who can say no to that? Look out for their starters such as Caramelized Potatoes In Sriracha and Basil Chicken Cups.

Price: INR 600 for two (approx.)
The Monks Bowl
It's a small outlet in the Spice World Mall. They have a huge menu with all your go-to Chinese dishes. We especially love their veg and non-veg options in sushi.
Price: INR 500 for two
Happy Hakka
If it is one of the Netflix and order-in days, call Happy Hakka for finger licking delicious Chinese food to be delivered at your doorstep.
Price: INR 650 for two (approx.)
Speedy Chow
Order from Speedy Chow when you are having a bad day. As they say, Chinese food is for the days when you have a blue day. Be sure to try their Momo & Noodle Soup.
Price: INR 500 for two (approx.)
The Oriental Spice
They have brought Tangra Chinese food (a form of Indo Chinese food developed by the local Chinese community in Calcutta) to Noida. If it sounds as exciting to you as it does to us, why don't you order from them and see it for yourself?
Price: INR 500 for two (approx.)
Kung Fu Kitchen
Anyone up for sushi (with vegetarian options)? This Chinese place delivers Sushi, Thai food and a variety of seafood dishes.
Price: INR 600 for two (approx.)
Woaky
This is for those times when you can't sleep or don't plan to sleep at night and the hunger pangs are bound to kick in because they deliver till 4am.
Price: INR 500 for two (approx.)
Comments