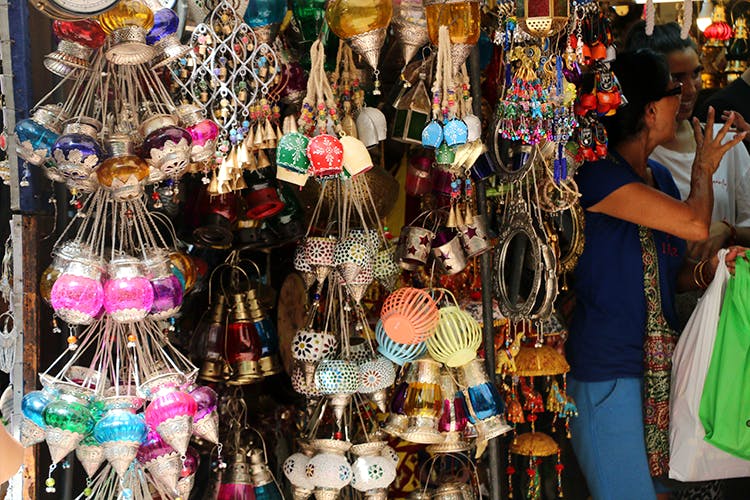 Best Street Shopping Markets In Delhi & What They're Famous For
Shopping in Delhi? Our beloved town has street markets like no other city. The bustling crowd, the lively vibe, the scrumptious food, and, most importantly, the soul-pleasing shopping sprees—we've got it all. Keeping in mind our love for the streets, here are Delhi's 10 best street shopping markets.
Before you make your plan, make sure to check here that market isn't closed that day.
Janpath
When it comes to budget shopping, Janpath is where you can score everything amazing from ethnic wear, junk jewellery, embroidered handbags, footwear, clothing, and so much more at dirt cheap prices. Do work on your bargaining skills, though—you'll need them at every corner.

Pro-Tip: Do check out the Tibetan market or Gujarati market.
Nearest metro station: Janpath (violet line), Rajiv Chowk (yellow/blue line).
Timings: 11 AM to 8 PM

It's open on all days but some Tibetan Market stores may be closed on Sunday.
Chandni Chowk
The famous shopping hub of Chandni Chowk has got too many hidden gems. There's everything from saris to silver, stationery to accessories, and home decor to electronic products to be bought at lower than market prices. We've got a guide here that won't let you get lost or confused. To appreciate best the architectural finesse of the place, do have fancy meal at this haveli.
Pro-Tip: There'll be a lot of walking, so do wear some comfy shoes. There's so much breathtaking ancient architecture in this area, you're bound to forget which time period you're actually living in.
Closed on: Sunday
Nearest metro station: Chandni Chowk (yellow line).
Timings: 10 AM to 8 PM

Sarojini Nagar
The cheap-yet-stylish merch found at Sarojini Nagar largely goes unparalleled. You'll find everything—from cute tops to all-out dresses, export surplus, cartoon and anime printed tees, suede bags, leather shoes, hipster shades, and cool belts. It's easy to get confused in this huge market. So, keep this Sarojini guide handy. And hey, this place is as much for guys as it is for girls!
Pro-Tip: Try not going on weekends. It's massively crowded (kinda intimidating too).
Closed on: Monday (While major stores will be shut, you will see smaller temporary stands doing business on Monday too).

Nearest metro station: Sarojini Nagar (pink line).
Timings: 11 AM to 8 PM

Lajpat Nagar
Affordable fabrics, garments, textiles, food, electronics and everything else that makes up our modern life can be bought or consumed at the Lajpat Nagar market. You'll also be able to score Sabyasachi-inspired borders and trimmings, imitation jewellery, and budget home decor products. And please don't leave without having Dolma Aunty momos.
Closed on: Monday

Nearest metro station: Lajpat Nagar (violet/pink line).
Pro-Tip: Parking is a major problem here so, we suggest taking public transport.

Timings: 11 AM to 8 PM

Majnu Ka Tila
Authentic Tibetan and Korean food, budget ways to add glam to your wardrobe, all the way to clothes, shoes, accessories and more, Majnu Ka Tila has everything you need to spend a busy day out with your BFF. Hit up any of the laphing, momo, or thukpa places (there are plenty). It's open on all days.

Nearest metro station: Vidhan Sabha (yellow line).
Pro-Tip: Most of the shops are open to bargaining so, make sure to score best of the clothing at affordable prices.

Timings: 11 AM to 7 PM

Jwala Heri
The unplanned market covers a massive area in West Delhi and has food, lifestyle, and culture alike. This is a great destination for your day-to-day products (utensils, homeware etc.) to fashion tidbits like laces, decorative borders, jewellery, dupatta, fabrics and more. Make sure your wallet's stacked when you go here, you're going to want to buy everything.
Closed on: Wednesday
Nearest metro station: Paschim Vihar West (green line)
Pro-Tip: Do not forget to explore all the gallis (you might have to walk a lot but it'll be worth it).
Timings: 10 AM to 7:30 PM
Sadar Bazar
One of the biggest wholesale markets in town, Sadar Bazar is a labyrinth packed with street food, shopping and lifestyle. You'll find almost anything you're looking for here—be it props for your next house party, your next seven pairs of jeans, crockery or even the next hi-tech gadget. This place is also a paapdi chaat and kachori heaven, so get ready to stuff your face.
Closed on: Sunday
Nearest metro station: Tis Hazari (red line), RK Ashram (blue line), Chandni Chowk (yellow line).
Pro-Tip: Keep your phone and cash safely because the market is highly congested.
Timings: 11:30 AM to 6:30 PM
GK1, M Block
This is a shopper's paradise from the moment you enter. From sturdy handbags, inspired by the likes of Prada and Gucci to pretty wedding-y clutches to everyday kurtas, blouses and palazzos, there's a world to choose from. Price range is a tad higher, but so is the variety and quality of items.
Closed on: Tuesday
Nearest metro station: Greater Kailash (magenta line).
Pro-Tip: You can score trendy apparel here at best prices so, bargain as much as you can.
Timings: 10 AM to 9 PM
Gaffar Market
Famous for the plethora of mobile cover vendors and gadget repair shops, Gaffar Market is the electronics nucleus of the town. You'll find phones, laptops, TVs, music systems, gaming consoles and anything else at a cheaper than market price. There's also the usual street food suspects like aloo chaat, golgappas, and papdi chaat. Also, don't dare miss the famous Raviraj Di Kulfi—it lives up to its name. Here's a little heads up on what to do in Ghaffar Market.
Closed on: Monday
Nearest metro station: Karol Bagh (blue line).
Pro-Tip: If you are visiting the market for the first time, make sure to take someone along who is a regular to Gaffar in order to avoid getting duped.
Timings: 9:30 AM to 9:30 PM
Kamla Nagar Market
North Campus students' favourite hang-out spot, Kamla Nagar is where broke college students head to when shopping at Zara or H&M seems like a distant dream.

If you want regular kurtas and kurtis for your wardrobe, there are a few stores where you can score them at a good price. You can even pick up silver jewellery, hair accessories, and sunglasses here. In case you don't want to hit up the mainstream store here, check out this guide.
Closed on: Monday

Nearest metro station: Vishwavidyalaya
Pro-Tip: You might face parking issues so, we suggest you to use public transport.
Timings: 10 AM to 10 PM

Banjara Market, Gurgaon
Ceramic pots, frames, restored wooden furniture and kitchenware – you'll find all of this and more at the Banjara Market in Gurgaon's Sector 56. It's between the road connecting AIT Chowk to Tau Devi Lal Park in Gurgaon, opposite Rail Vihar Apartments, and is lined with small, make-shift furniture shops that are a dream come true for bargain-hunters.
Not to brag, but we were able to bring down the price of a massive bookshelf from INR 1,250 to INR 800 so the sky is the limit. Find more info here.
Open on all days.
Nearest metro station: Rapid metro station Sector 55 - 56.
Pro-Tip: It is mostly crowded over the weekends, so maybe head here over weekdays?
Timings: 10 AM to 8 PM
Monastery Market
Hidden under the ISBT Shahdara Link Flyover is a shopping haven called the Monastery market. From comfy summer tanks, t-shirts, formal shirts, trousers and jeans to winter woolens and leather jackets, you'll find it all in this Tibetan market—that too at affordable rates. It's super popular for its menswear though.
The price range for shirts began at INR 300 and, for trousers at INR 700—you can always bargain and get it for lower than that.
Closed on: Monday
Nearest metro station: Kashmere Gate
Pro-Tip: Entry to the place is easy to miss; you've got to keep an eye out for its gate.
Timings: 10 AM to 8:30 PM

Katran Bazaar
Katran Bazaar in Mangolpuri (near Rohini) is a huge street market that has stalls that sell everything from fabric and dress material, to night-suits, suit-sets, kurtas, bed linen, and much, much more. All the stuff here is priced super low. Cotton fabrics start at INR 100 per metre, borders here at INR 20 per metre, and bed sheets can be bought at INR 300.
Open on all days except the 28th of every month.
Nearest metro station: Peeragarhi
Pro-Tip: If you buy more pieces/fabrics in bulk, they'll be happy to give you discounts.
Timings: 10 AM to 8 PM
Matka Market
Located near Sarojini Nagar Bus Depot on AK Roy Marg is the Matka Market. It's got a variety of home decor items all made out of clay. It is a whole lane of potters who live on this street (reason why it's open till 3 am) and sell different items like blue Jaipuri pots and vases, diyas (12 for INR 10), terracotta lamps (INR 150) and black Manipuri matkas too.
Open on all days.
Nearest metro station: AIIMS or Sarojini Nagar
Pro-Tip:They can customise designs from scratch. If you have an idea for a cool planter or lamp, hit them up.
Timings: 10 AM to 8 PM. Stays open till 3 AM when closer to Diwali.
Comments