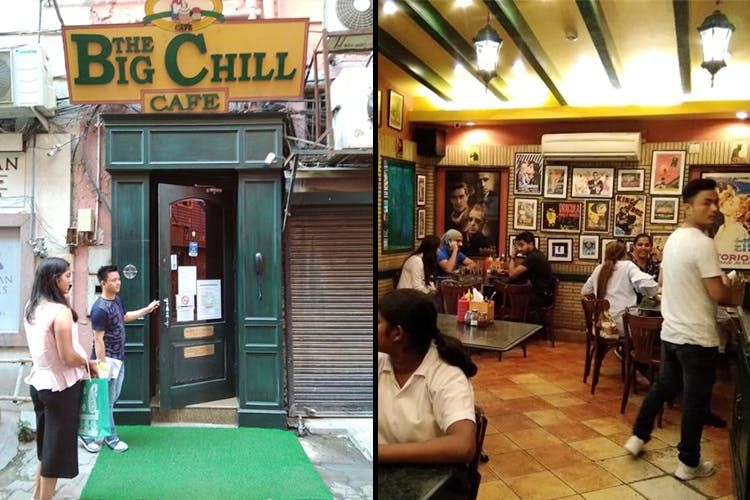 9 Delicious Reasons Why Big Chill Keeps Us Coming Back for More
Admit it: You go to Big Chill, scan the menu for a good 10 minutes and then end up ordering exactly what you always do. Here's what Big Chill keeps us coming back for.
Did your favourite make the list?
Four-Fourths Pizza
If you enjoy your meat, look no further than the Four-Fourths Pizza. As the name suggests, it's got four different types of toppings: Chorizo, Pepperoni, Ham and Chicken. All that, paired with the customary tomato sauce and cheese. So much cheese, yes please.
Smoked Chicken Salad
The cold Smoked Chicken Salad is our favourite among the leafy dishes. With Parmesan cheese, pieces of chicken, crunchy lettuce and sun-dried tomatoes (that actually keep their flavour), this is a great dish to begin your meal with. Who eats just salad anymore, right?
Chicken Ravioli in Creamy Parmesan
Large pieces of ravioli bursting with minced chicken, thrown into a super creamy cheese sauce topped with shavings of Parmesan- do we have you drooling yet? This is bound to fill you up, so maybe refrain from ordering everything else off the menu.
Malted Banana Oreo Shake
Heaven, this must be what heaven tastes like. It's thick, creamy (almost a meal on its own) and tastes exactly the same each time. Those little Oreo bits at the end: Spectacular.
Baked Penne Primavera (V)
Looking for a veggie dish that still packs a punch? Try the Baked Penne Primavera. With a delicious tomato sauce base (that will remind you of the early Big Chill days, crammed into the tiny restaurant elbow to elbow with fellow eaters) and a medley of vegetables this one is a winner.
If you can't handle too much cheese (pffft, there's no such thing) then we suggest you get its twin in the pasta section, known simply as the Penne Primavera.
Tuna Melt
The Tuna Melt is a pretty basic dish, but done oh-so-right: Toasted bread topped with minced tuna mixed with mayo and a bunch of mildly-spiced sauces, it's somewhat like a glorified open sub. It's also available in a chicken variant, in case fish isn't your thing.
Baked Potatoes (V/NV)
There's few things that scream foodgasm as well as crispy potato skin baked to perfection, stuffed with cheese and butter, and Big Chill hits the spot every time. They've got a bunch of options for the fillings, ham and bacon being our favourites.
You can also keep this vegetarian (with garlic and mushrooms being the top choice) without feeling the least bit deprived.
Mustard & Herb Chicken
While there are many great options in the grill menu, one of our top choices is the Mustard and Herb Chicken. Different in flavour profile to the other dishes, it is one part tangy and one part savoury. The succulent chicken breast comes with some light, tasty sides and is a must try on the menu.
Fusilli with Pepperoni and Ricotta
This one, for some strange reason, hadn't made it to our list until very recently, but we're so glad we stumbled upon it. The tomatoey goodness mixed with the ricotta cheese makes for some seriously delicious sauce. And those thick slices of pepperoni…we may have to write a separate article just for that.
For all the awesome desserts we keep going back for, check out the Big Chill Cakery. Have a Big Chill favourite, but it isn't on the list? Leave us a comment!
More Information
Big Chill
Wi-Fi Available

Nearest Metro Station: KHAN MARKET
Comments