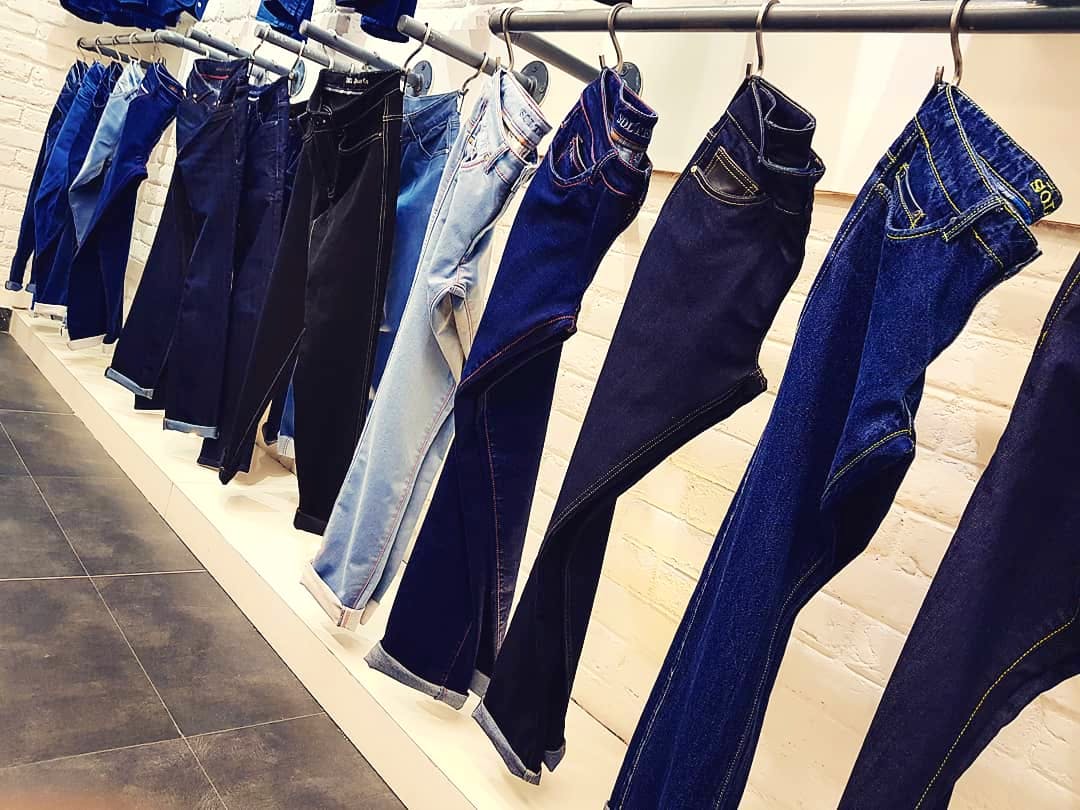 12 Stores To Hit Up For The Best Fitting Jeans
We don't know about you, but we've struggled with jeans for as long as we can remember. It's close to a herculean task - finding a pair which is in equal parts flattering on the butt, the thighs and the calves. You know what we mean. In an attempt to make the ordeal just a little less painful, we're sharing our go-to jeans places with you. Thank us later.
H&M
Most of us associate H&M with comfortable white shirts and basics in solid colours. We recently tried their jeans, and to our surprise, they fit super well and last fairly long too. They've got really great pairs in white and washed denim.
Only downside? Sometimes, they don't have pockets.
Price: Starting at INR 1,300
Pret
This basement shop in GK 1 M Block Market is sort of like a mini Sarojini Nagar (though, not as cheap). They've got everything from summer dresses and crop tops to yoga pants. Walk right to the end and you'll be greeted with a counter all about jeans and trousers. Try them on, they usually fit like a glove and if minor adjustments are to be made, they're happy to alter.
Price: Starting at INR 1,500
Mohan Singh Place
If the struggle is very very real, head to Mohan Singh. They'll make your jeans from scratch, as per your exact measurements. Most of the shops here keep a great stock of fabric. So you can choose everything from the material, colour, type of fit etc. They also sew in labels and make sure the stitches look super pro. As per our experience, stretchy denims come out the best here.
During winter, they do some great stuff with corduroy.
Price: Starting at INR 1,000 (it can go lower or higher, depending on your bargaining skills)
Guys And Dolls
Guys And Dolls is generally our go-to spot for when our old jeans no longer fit (I've personally had them "expand" an old pair – it's crazy what they can do).
But apart from their alteration magic, they also stitch jeans. You might have to bring your own fabric but they've got you from thereon.
Forever 21
Forever 21 has some surprisingly good fits in a range of colours from jet blacks to navy blues to super light blues. Their sizes are a tad confusing sometimes though so it's best to try them on rather than blindly buying off the shelf. They're super affordable but don't tend to last you as long as the regular pair of jeans. If you're not looking for a long term thing, they're perfect.
Price: Starting at INR 650
Korra
Korra gives a bespoke experience, online. Choose from a range of styles, choose the kind of opening you want, provide your measurements (they've got handy guides), place your order and wait for your rolled up jeans to appear at your doorstep.
PS: Their materials are all organic and sustainable.
Price: Starting at INR 2,900
Splash
Most of us have underestimated Splash for the longest time but turns out, they've got a great collection of jeans and basic tees. For those who want regular straight fits and skinny fits, this franchise stocks a bunch of options in various shades. We've also managed to find decent-looking ripped and boyfriend jeans here, but the real reason why we love Splash is because it's all very affordable.
Price: Starting at INR 700
Fashion Garage
This Kamla Nagar store has a great variety of denims, and only stocks the most trendy clothes. From boot cut, to wide legged, and high rise jeans, you'll find everything here that the fashion bloggers are sporting these days.
Price: Starting at INR 900
IML Jeans
This Gurgaon brand knows jeans like none other. Every pair is made to order in their studio, and they customise your pair as per your needs, too. They have a basic set of styles and a wide set of denim fabrics that you can choose from. They'll also monogram your pair if you request for it.
Price: Starting at INR 5,900.
Replay
Replay opened its first outlet in Gurgaon recently, and the brand actually specialises in denim. From jackets to shirts, they've got it all. But what takes the cake are their jeans. Made of great quality material, a single pair will last you for years, easily. We think it's an investment, since denim uses up gallons of water to be produced, too.
Price: INR 7,000 onwards
Incense
This store is heaven for those who want to shop what's trending but not go broke in the process. They have tons of styles when it comes to jeans and jeggings. While we can't vouch for how long these jeans will be good for, but if you're on a budget, then we're sure you'll find a pair that'll sort all your OOTDs.
Tank Road
This street in Karol Bagh is actually a wholesale market for denim jeans, but the sellers here will be willing to sell fewer pieces too, and that too, for a steal. You'll find literally every style of jeans here, from skinny to tapered, and even flowy ones. But we'd recommend you go here during the day and take someone along (someone who's good at bargaining, preferably).
Price: INR 500 onwards
Comments