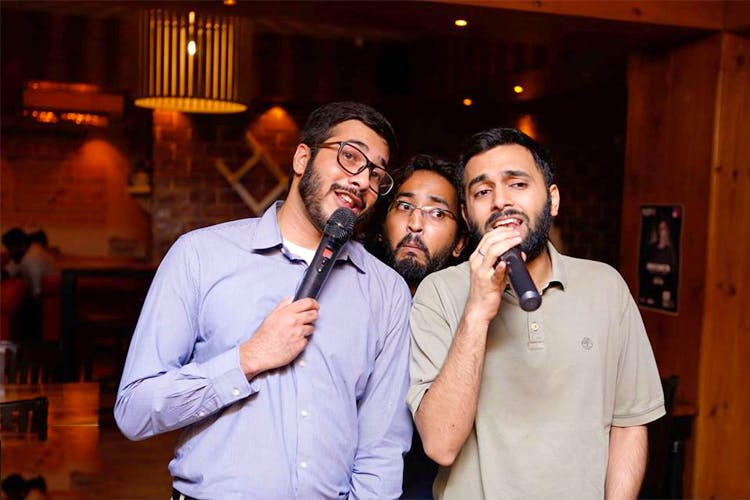 From Pop To Bollywood, There's A Karaoke Night For Every Day Of The Week
Karaoke is definitely something to tick off of your night-out-with-the-squad bucket-list. It gives you the chance to let loose and embarrass yourself or your friends – and maybe even get it on record. Check out these karaoke places that we've shortlisted because no story that starts with "Hey, we went for karaoke the other night…" can be boring.
Feel ALIVE
When: All days

Feel ALIVE in Gurgaon specialises in getting karaoke right. In case you or your friends are shy, you can book their private suite that's well-equipped with a superb sound-system and a karaoke machine. Feel ALIVE's more than just a karaoke bar and their Thai curry, sushi and jalapeno poppers will convince you to believe that they even get their food right.
Matchbox
When: Monday, 9pm onwards

All of us have had really long Mondays at some point or another, and this place is where should head to on those extremely slow days to unwind over some great drinks, music and a fun karaoke session. At Matchbox, you can let loose and brazenly embrace the Adele (or really anyone, they're open to requests) in you (or at least practice 'cause you'll get there someday?).
Raasta
When: Tuesday, 8.30pm onwards

Raasta, with its comfortable seating, convenient location, good food and drinks and chill music is a great place to hang out with your friends. Party away your midweek blues and sing your heart out with the Reggae, Pop or Country music at this lounge. Don't forget to try Raasta's Veg Mezze Platter and Sangria that's sure to make your night even better.
TC Bar & Restaurant
When: Tuesday & Sunday, 8.30pm onwards

TC Bar & Restaurant has karaoke nights two days a week which gives us all the more reasons to sing and rejoice! From Led Zeppelin, Beatles & Aerosmith to Eminem, Drake and Sia, don't be shy to unleash the rockstar.
Harry's Bar + Cafe
When: Thursday, 8pm onwards

Harry's is one of the first, few dedicated karaoke bars in Delhi, which is why this place is usually jam-packed on their karaoke nights. They generally play rock and pop numbers, but if you want to go all Bollywood, they're more than happy to oblige. So, brush up your karaoke skills, chug a beer and make it a night that's one for the books!
Cafe Turquoise Cottage
When: Sunday, 8pm onwards
From Goan delicacies to Pizzas that'll go well with your drinks, Turquoise Cottage takes care of everything. While they have open mic nights that win hearts, their Karaoke is a major hit too. Since the floor area is massive, and the décor is the 'feel good kinds', the place is almost always packed, so make sure you reserve a table for you, and your friends in advance.
Wing Ding Café
When: Wednesday, 8pm onwards
Noida peeps, head to this café in the middle of the week to sing along to some amazing English tracks. We think this is the perfect stress buster. Plus, they have happy hours on Wednesdays till 7:30 pm, so we're saying you go in a little early to make it one hell of a night!
HUDBA
When: Monday, Tuesday and Thursday, 8pm onwards
Now, this place does Karaoke a bit differently. They let you get a number of guests, and they outsource the Karaoke for you for INR 4000 a night. We think that's a fabulous deal for celebrating your birthday. Also, brownie points for the adorable furniture.
Garage Inc.
When: Thursday & Friday, 9pm – 12am
At Garage Inc., you can opt from a list of kickass karaoke songs like Baby Got Back, I Will Survive or go for more recent pop or rock numbers. They're also more than happy to play different songs of your choice, and sometimes they even let you do an encore! Oh, and they have a foosball table that you'd totally love.
Summerhouse Cafe
When: Monday, 9 pm onwards
Summerhouse is buzzing practically every night of the week. They have some of the best gigs in town and their karaoke nights are always fun. They play Rock and Pop numbers and throw in requests, too. Plus, they're always winning for their ambience and stellar food and drinks. Hop over after work with to get a happy high and sing along with your gang.
Pebble Street
When: Thursday, 9:30 onwards
This sports bar is designed to resemble a street from Europe. They often hold live sports screenings accompanied by live music. It's a perfect place to go and unwind after a long week at work or just for a date with your friends.
Comments