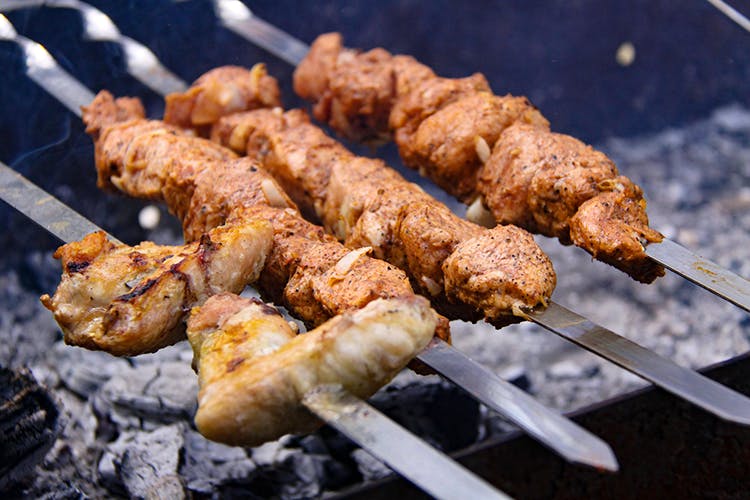 Kakori, Galouti & Seekh: Here's Where You Can Find The Juiciest Kebabs In Delhi
We asked Anubhav Sapra—the expert behind Delhi Food Walks—to weigh in on the top authentic kebab joints in Delhi, and he even told us exactly what to order.
Majeed's
A kakori hot spot, Majeed's is a takeaway joint, so you can enjoy their succulent, perfectly spiced, cotton-soft, pudina-flavoured kakori kebabs in the comfort of your car and/or home. We also recommend their special chicken if you're looking for something else.
Bhaijaan Kababs
This one only opens its doors at 4.30pm, so don't make lunch plans. Affectionately named after the owner's fathers's nickname, no one does a mean shammi kebab quite like Bhaijaan does.
Lalu Kebabee
Famous for Boti Kebab, they have a seekh that needs to be appreciated by one and all. With a soft centre and a crispy outside, the only thing that gives it that extra punch is the smear of butter that goes with it. BRB, going to Lalu's.
Ustad Moinuddin Kebabs
For melt in your mouth seekh kebabs, Ustad Moinuddin works his magic, evident in his perfectly spiced, fatted, minced meat. These kebabs are served with onion rings, lemon and chutney. This place is also known as Sangam Biryani since Ustad Moinuddin's son sells yummy biryani in the day time.
Kit Care Kebab Corner
With seekh kebabs to die for, this is a standalone joint that serves Mughlai food to the rich and famous! Mohd. Abbas, the owner, has catered for Bill Clinton and for parliamentary conferences. We hope that you get a bit of history while you gobble up these sumptuous kebabs (with the green chutney of course).
Qureshi Kabab Corner
A hole-in-the-wall establishment, they churn out the best mutton, chicken and buff seekh kebabs in the business.
Alkakori Alkauser
Evergreen for their kakoris, their outdoor seating, and the many imported liquor stores around it, Al Kauser will make it to any and every kebab list. Blame it on the consistent melt-in-your-mouth kebabs, the perfect amount of spice, and the choice of it as a roll.
Karim's
An iconic establishment, rumour has it that the Jama Masjid outlet offers the best kebabs. What we recommend? The mutton seekh kebabs. For a more comfortable, convenient and clean experience, try the Karim's at India Islamic Centre.
Babu Bhai Kebab Wale
Founded before 1947 and known for dora and sutli kebabs, Babu Bhai Kebabwale is your spot for some buttery, soft fare. These kebabs are so creamy and soft that they have to be held together by thread. They also do a smashing gola kebab.
Ghalib Kebab Corner
Equipped to seat ten people or so, seems like they utilise all their resources in perfecting the mutton shammi kebab. So much so, that they seem to sell out early in the evening. Also, bear with the staff if they seem hurried or rude; we suggest you don't rile them up too much. You probably won't have the time, those shammi kebabs are solid.
If you want to take a curated food walk with Delhi Food Walks, you can get in touch with them via there website. Alternatively follow them on Facebook and on Instagram.

Comments