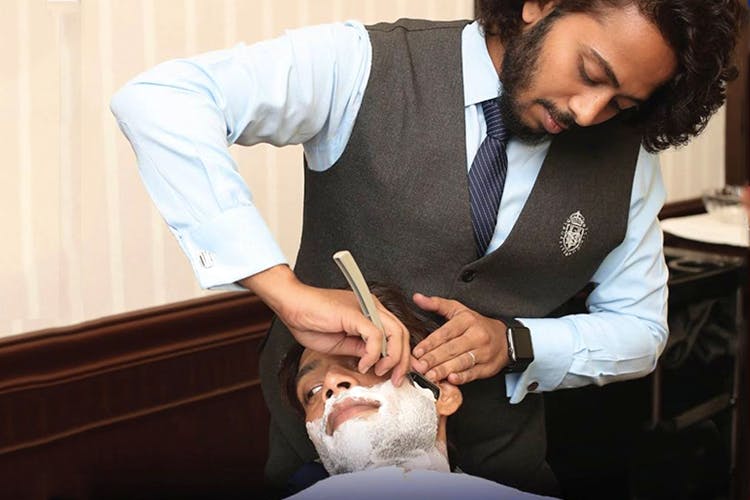 Haircuts, Manis & Waxing: Check Out These Salons For Men In The City
Haircuts, manicures, pedicures, facials, or even waxing services are no longer restricted to just women. The question, then, for interested Delhi men, seems to be where to go for their grooming needs. Save yourself some research time with this guide, and finally get to it!
Geetanjali Men's Salon
You can find some great deals to fit your budget here. With locations across the city, Geetanjali salons offer geographical convenience to match your haircuts, moustache grooming, manicures, and pedicures. Some of them even do waxing. Call and confirm with the salon that's most conveniently located for you.
Toni & Guy
This British high-end salon has loads of services to choose from. Here, you can get a haircut and styling, as well as manicures and pedicures done and walk out feeling all pampered.
Affinity
Affinity offers a range of services for men. The hairdressers here are patient and accommodating, so don't feel awkward about being as specific as you want about your requirements. They also offer services like moustache grooming, manicures, and pedicures. Although, the salon is quite expensive, we recommend that you check out the prices before heading here.
Club Olympus Salon & Spa - Hyatt Regency Delhi
From hair styling and shaving to men's waxing, Hyatt's spa and salon have an entire menu of services that'll leave you guys feeling super relaxed and looking REALLY good. You can even go for their rejuvenating deep-tissue therapy, aimed at relieving aching muscles from a strenuous workout or even a long day at work.
Rejuve Spa
The Lalit New Delhi's Rejuve Spa in Connaught Place offers up some great men's grooming services with a holistic experience using aroma, ayurvedic, herbal, and natural therapy techniques.
Monsoon Salon
Monsoon Salon has plenty of offers available for its customers, with haircuts being one of their most popular services. Along with haircuts, manicures, and pedicures, they also offer styling, beard-trimming, waxing, de-tan packs and shaving.
Worship Salon and Gentlemen's Tonic
Worship Salon and Gentleman's Tonic offers the whole package, regardless of what your grooming needs might be, including shaves, haircuts and colouring, facials, manicures, and pedicures. Last but not in any way the least, they offer waxing as well, and the types of packages include full arms, full legs, back, shoulder, and chest.
Truefitt & Hill
With its branches spread across some of the major countries in the world, you can find Truefitt & Hill in Punjabi Bagh and in Gurgaon. This exclusive salon for men offers the best services and also has products for you (think shaving products, cologne, hair, and body products).
Also, the brand is all set to launch another outlet very soon at GK2. So, gear up guys!
Looks Salon
Counted under one of the most popular unisex salon chains in India, Looks will not disappoint you. From facials to hairstyling to organic treatments, trust us, you'll be sorted here. They also have a luxury shave and beard spa which we totally recommend.
Vikings Salon
Located in GK1, GK2, and Jangpura, we hear Vikings is one of the most sought-after salons when it comes to hairstyling. When it comes to hair services, they are great with hair colouring and edgy haircuts as well. They read your head shape, hair growth pattern, texture, and will suggest what works best for you.
Noir - The Salon
Pronounced as 'nua', this luxury salon located in Chanakyapuri and now, also in Vasant Kunj will be perfect spot for some 'me' time. If you are looking to pamper yourself with fuss-free hair cut or a relaxing mani-pedi, head here and thank us later.
Rod Anker Salons
With its branch in Lodhi Colony, this famous salon chain is well-known for its plush interiors, hairstyling, and beard services. So, if you are someone who wants to experiment with your beard, you know where to go.
We'll admit that your wallet will definitely take a hit.
Comments