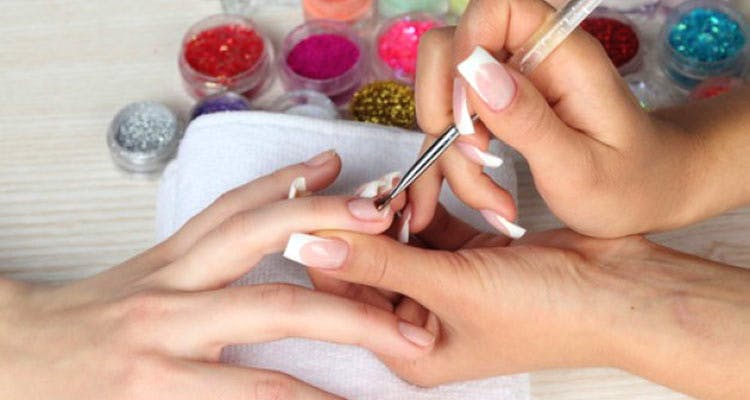 Pamper Yourself At These 10 Nail Spas With Mani-Pedis, Nail Art & More
Don't you wish for perfectly manicured nails that would grab everyone's attention (in a good way)? Plus, it is always a good idea to pamper yourself and your nails. So, we've picked the best nail spas and salons in and around Delhi, so book an appointment at one of these right away.
1010 The Nail Spa
Located in Meharchand market, 1010 offers nail services at affordable prices. Keeping in mind the different needs of everyone, they have partnered with beauty brands, OPI and Ciate, to provide the best of all. Oh, and did we mention that they also have a mobile spa service? Be it your home or office; they are a call away.
Price: Starting at INR 3300 for nail extensions (with summer offer)
Lakmé Absolut Salon
Lakmé is one of the popular brands when it comes to beauty and it is certainly not far behind when it comes to nail services. From nail extensions to nail art; they do it all.
Price: Starting at INR 2200 for nail extensions
Claw Nails
With the recent addition of summery, pastel shades to their existing shade card, there are all the more reasons to visit Claw. Head over if you are on a lookout for french nails, ombre, or upper form nails (no tips and no glue).
Price: Starting at INR 199 for nail art and INR 999 for nail extensions
Rhapsody Nail Studio
Don't fret while you are bombarded with choices at this nail salon. Whether you are looking for nail embellishments or 3D motifs, this is the place you should head to for just about everything nail-related.
Price: Starting at INR 1000 for nail extensions
Zoe Nails
Zoe nails is perfect for when you are looking to experiment with different art techniques. With services like needle art, brush art and marble art, be prepared for some fun surprises for your nails.
Price: Starting at INR 1000 for nail extensions
Simar's Nail Bar
One of the first nail salons that opened up in Delhi, Simar's Nail Bar is believed to be India's largest. Do check them out if you plan on getting some floral or geometrical art on your nails.
Price: Starting at INR 2500 for nail extensions
Q'tickle Nail Boutiques
In a very short span of time, this not too old nail salon has gained a lot of popularity. Considering the designs and quality it has to offer, trust us and check them out for your next big event.
Price: Starting at INR 1200 for nail extensions
Nail Spa By Gurpreet
With over 15 years of experience, Nail Spa by Gurmeet has a lot to offer. While they might lure you into trying something exciting and fun every time you visit them, do not step back. From matte to glossy nails, they'll take care of everything.
Price: Starting at INR 2800 for nail extensions
Nails Mantra
Excelling at their services, Nails Mantra is a perfect nail salon that will have you coming back every time you want to get your nails done. Not only are they great with nail extensions, but it's worth checking out for their hair and eyelash extensions too.
Price: Starting at INR 999 for nail extensions (right now, they have a 20% off on the price going on)
Tip & Toe Nail Studio
Favourite among Bollywood celebrities, Tip & Toe Nail Studio is not just great with nail services but will also help you with personalised consultations and product recommendations. Also, we recommend that you do not leave this salon without trying their spa manicure and pedicure.
Price: Starting at INR 2050 for nail extensions (with summer offer)
Comments