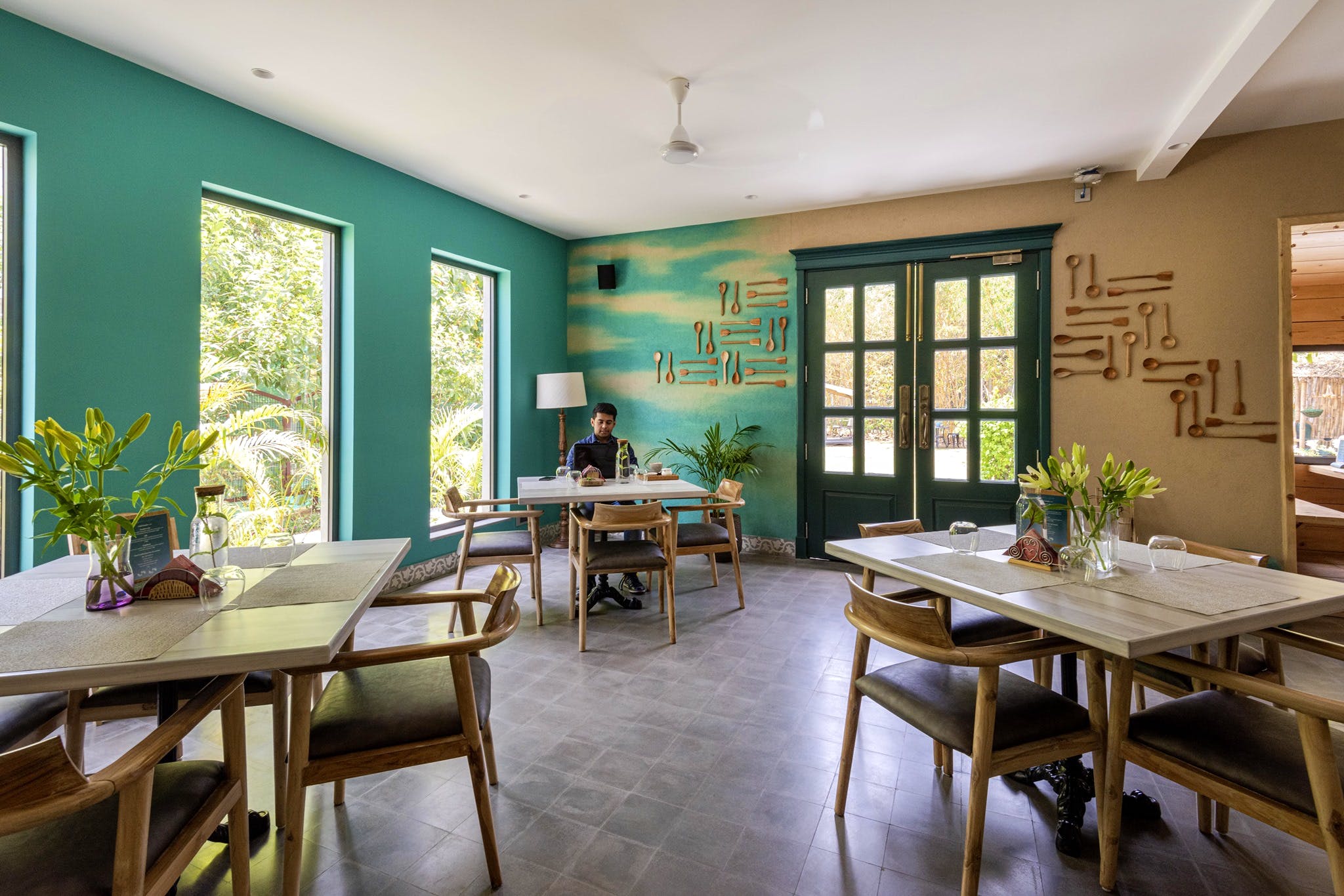 Eating Out? Here Are 14 Restaurants In Gurgaon That You Should Hit Up
For those looking for the best restaurants in Gurgaon to satisfy those hunger pangs and beer cravings, here's a big list of restaurants and bars you should definitely head to once. You're bound to find one you'll keep going back to.
Amaranta
It doesn't matter if we live by the coast or not, the option of fresh seafood is an exciting reality. Amaranta specialises in providing the full coastal experience, and their most exclusive offering is the Catch of the Day. Crab, lobster and fish – brought in fresh and cooked to perfection.
Wildfire
The only Brazilian eatery in town, the chef here specialises in the churrasco style of food, and upon request, will carve your meat out for you at the table. It's one of those experiences that you must have once in your life, and Wildfire provides it, no problem. They have a line-up of 12 meats (chicken, lamb, prawn, pork – to name a few), all grilled.
I-Kandy at Le Meridien Hotel
With the bright neon signage and lit torches surrounding the pool, you'd think you're in Ibiza. The bar nibbles here will keep you going, while their alcohol helps fight the nip in the air. Alternatively, one can also decide to chill by the poolside at I-Kandy.
Indian Grill Room
Indian Grill Room brings to you lip smacking North Indian food. Nothing beats kebabs off hot coal on cool wintery nights; head to their Terrace bar for cocktails and canapés, desi style.
Threesixtyone at The Oberoi, Gurgaon
If it's one thing you do here – grab a table on the deck, just inches above their shimmering expanse of mashaal-lit blue pool. The food here is no doubt, great, but being by the poolside adds to the oomph factor.
Downtown - Diners and Living Beer Cafe
Though the indoor space is a nice space to relax in itself, Downtown has a cozy rooftop and microbrewery. With those two how can you go wrong? White umbrellas, high chairs and round tables are accompanied by a view overlooking the market.
Dhaba by Claridges
This on point Indian restaurant also does another great justice – their kitsch interiors. As for space, it isn't very open, so children cannot run around, but they can entertain themselves with the truck facade, and order a range of colourful mocktails; and parents, cocktails for you! Staying true to that Indian hospitality, the staff and management welcome children, are super-friendly, and will go out of their way to accommodate food allergies and preferences.
The Great Kebab Factory
Sigh, we love this restaurant. They never disappoint. Blame it on that age old 'Family' restaurant concept, or just good ol' Indian hospitality, but the staff is very amiable, and patient with children. The only drawback – it is most definitely a sit down spot, so areas to run around are few and far between. The plus? It is in a hotel, so if push comes to shove, a walk outside by the pool is just a hop, skip and a jump away.
Takamaka
It is a cruise themed restaurant at Golf Course Road. It has everything from sun decks and seafood to emergency swimming tubes (in case you drown in their flavours and amazing menu) to go with the theme. They have multiple cuisines that will take you on a global cruise trip.
Thai Pavilion - Taj City Centre
Thai Pavilion brings to you a fine dine experience while serving you amazing seafood and Thai food. The chefs here can also accommodate your requests for customisation of food. It is indeed one of the best places to go to with your family to celebrate certain special occasions.
Under The Neem
Located in Karma Chalets, Under The Neem serves you in the lap of nature, with food that is made of ingredients that are grown in-house. It is a little far from main Gurgaon but it is worth the travel. Plus point: you can even book a room for the night and stay in one of their beautiful complexes.

Prankster
Sector 29's Prankster, is stealing the show with its impressive design elements, funky light installations, and stellar food. It's India's first F&B Campus. Spread over 10,000 sq. ft., Prankster is Gurgaon's largest restaurant, and also, an innovative one. Prankster has introduced a new kind of cuisine, and they call it Progressive Nostalgia. Think of all your favourite comfort food, but served in a unique manner. Sambar Capuccino With Dosa Papad,Rampuri Ghosht and The Prankster Signature Cocktail are some of the things we loved.

Burma Burma
Decoding Burmese cuisine for you, CyberHub's Burma Burma serves up delicious, vegetarian delicacies and carefully selected teas to sip on. They've got a large range of options on their menu and everything here tastes heavenly. Pan-fried dumplings, mushroom sticky rice, and lemongrass drink to go along with the food are some of our favourites.

Comorin
Comorin is a big open plan, spread over three levels, elevated by just a couple of steps, to create a sense of spaciousness. Service is impeccable which is no surprise and the bar menu is as impressive as the food menu. There is a shop, with a curated store of gourmet and lifestyle products within the premises and a coffee shop that serves some of the finest, artisan coffee.
Find more info here.
Comments