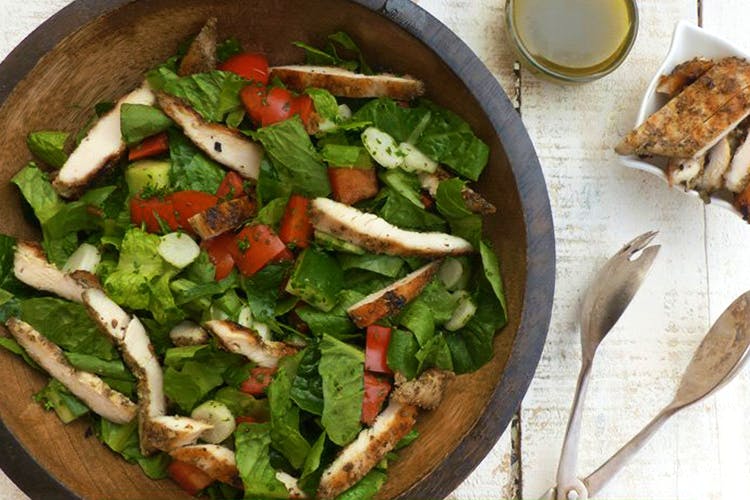 #LBBPicks: Our Favourite Salad Spots In Gurgaon
What comes after the festive season of indulgences? Amends. January is all about making amends: lifestyle amends, work life amends, relationship amends and most importantly – dietary amends.
Di Ghent
This popular Gurgaon haunt is not just about the delicious desserts or the amazing coffee and the bacon wrapped chicken… ok let's not get carried away. Di Ghent also serves some fresh and exciting salads.
We recommend the Mule Jenny for those who have complete dietary self control and the De Lijn a salad on the sweeter side, the best option for those who need bacon in their lives.
Binge
Did they just say Binge? Yes, you read that right. The cause of many dessert 'binges' does offer some healthier options too! If only you weren't so distracted by the cakes and bakes, you'd have noticed the salads kept right there under your nose.
Their Crunchy Nutty Salad is the way to go if you want to satiate that sweet tooth but minus a lot of calories.
The Pasta Bowl Company
Be it the classic Caesar Salad to their Artichoke and Sundried Tomato Salad, The Pasta Bowl Co. keeps it interesting and delicious for salad lovers.
Madison & Pike
Tucked away in Nirvana Country, this cute little café serves some amazing food. The exciting flavour combinations in their salads like pear, walnuts and blue cheese will make you go – Yes, Please!
Pita Pit
Bang in the center of Cyber Hub, Pita Pit is the reason you can't make excuses about lack of healthier options in Cyber Hub. Seriously filling portions and it's a lot like having the wraps minus the bread, so there go your longing glances at the pita wraps.
Comments