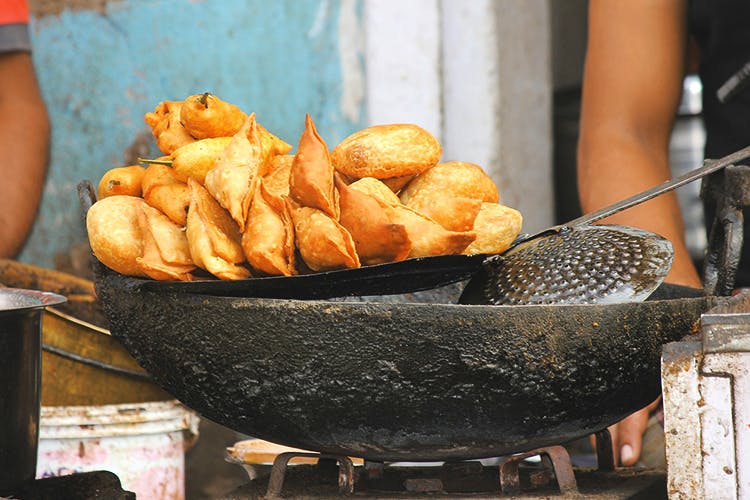 Aloo, Chocolate Or Keema: 13 Spots For Piping Hot Samosas In Delhi
Monsoon is here and while the streets might be clogged and traffic might be at its peak, you cannot deny that this is the perfect season to enjoy hot, delicious snacks with a cup of cutting chai. This season is synonymous with samosas and we're telling you the best places in Delhi to gorge on our favourite snack.
Kumar Samose Waala
Kumar Samose Waala, near Milan Cinema is one of the most famous shops for samosas in West Delhi. For less than INR 40, you can choose from as many as 25 different varieties of samosas including chocolate samosas (drenched in chocolate, just by the way), tandoori samosa, malai paneer samosa and gujiya samosa.
Bangla Sweet House
This place has bite-sized flavourful samosas that you'd want to pop like M&Ms. It's addictive and considering that these samosas can be brought by the kilo, you just always want more. And while you're here, do yourself a favour and get their gulab jamun and jalebies packed for home too. Do try their matar paneer Samosa, mini samosa and jalebis.
Manohar Dhaba
Their japani samosa that's being sold in Chandni Chowk since 1949 has endless layers of thin crispy pastry with a flavourful aloo and masala filling. This samosa served with pickle and pindi chole is not a snack but a filling meal that you can have for days without getting bored of it.
Janta Sweets
Janta Sweets in Paharganj serves kachori style samosas with a moong dal filling, served with potato curry and green chutney. The samosa might seem bland to some but the the spiciness of the aloo sabzi is what binds all the flavours together. They're also famous for their namak paare and malpua , and you probably know what we mean by that – get it packed and enjoy at home!
Ameer Sweets House
This place in Old Delhi has been selling sweet and savoury dishes for more than 100 years and the reason we're featuring Ameer's here is because of its perfect keema samosa (yay, non-veg). Crispy samosas filled with juicy keema mince and spices for INR 20 is what makes us bunk college to go to this part of the town. They also have khoya-stuffed samosas that are as good as any dessert at a fancy hotel.
The Maha Samosa
Delite's Maha Samosas as the name suggests are YUGE (in Trump's words). The only con about this place is that in order to get your hands on this yum samosa, you have to buy a ticket to enter the hall premises. But if you're anything like us, watching a show with this not-so-humble snack in hand will only make the whole experience better for you.
Munni Lal Halwai
Munni Lal has been around since the 1940s serving some of city's best aloo samosas that are simple, no-frill samosas loaded with flavours. The big samosas that they sell here are served with chole, onions and pudhina chutney, giving us the perfect concoction of warm, fussy monsoon food. Oh, and wash it down with a cup of their kickass chai.
Kishu Di Hatti Sweets
The right way to eat KDH's samosa is to crush it, add chole, chutney and onion to get a perfect bowl of something we'd like to call a samosa chaat. Kishu Di Hatti is one of those places that serve very few items, but does those items well and is famous for it too. Don't forget to get some of their palatable dhodha barfi packed for home!
Sardar Ji Pakode Wale
Don't be fooled by the name, this Patel Nagar eatery has delectable samosas which you can get for a mere INR 10. They are perfectly spiced and the best part is the lip-smacking, chunky imli chutney that comes along with it. Go early, for the chutney is so popular that it tends to run out. And samosas without chutney? We shall pass.
Bittoo Samosay Wala
The go-to place for samosa lovers in Rohini, Bittoo Samosay Wala has around 12 varieties of samosas and they are all priced under INR 30. The manchurian and macaroni samosas are a huge hit with the crowd and if you swing towards paneer inadvertently, try out the malai paneer samosa here.
Shri Bankey Bihari Samosa Wala
A crispy pastry, lightly spiced aloo mix, served with a spicy aloo-chole gravy for INR 12. Are we in heaven? For a moment I think we were. This Paharganj icon makes only gulab jamun, kachoris and samosas and does it so well, it seems like this was their life's pupose. Try it out this monsoon and let us know if you were able to stop at just one samosa.
Gohana Famous Jalebi
When there is jalebi, can samosa be far behind? Aptly famous for the huge jalebis that they make, Gohana Famous Jalebi has a delicious, albeit underrated, samosa that we really like. Served with two kinds of chutney, the samosa is really crispy on the outside and the piping hot aloo filling (thankfully devoid of peas) is well spiced and full of flavor. Also, get that jalebi packed for sure.
Alwar Sweets
One of the oldest shops in Gurgaon, Alwar Sweets is super famous for its samosas and for good reason. The crust is super crispy, the filling is dark for it doesn't hold back on spices and the samosa sells for INR 14 a piece. We recommend checking it out the next time you're in G-Town. Or go on a drive to the stall and enjoy the weather maybe?
Annapurna Bhandar
Another Old-Delhi gem, wildly popular for its Bengali sweets (pink rasgulla, sandesh, chamcham and more), Annapurna Bhandar makes standard aloo samosas that are extremely light and flaky, and a must-have according to all the regulars. We sure didn't regret having more than one.
Comments