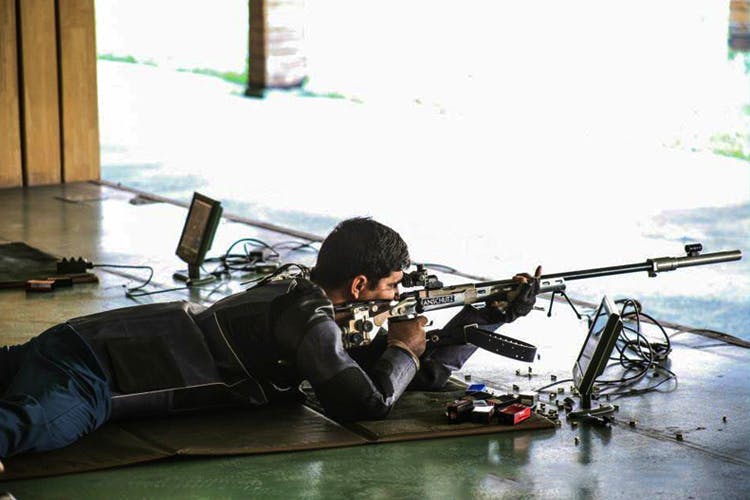 These Shooting Ranges In Delhi Are Worth A Shot
While guns aren't everybody's cup of tea, heading down to a shooting range and venting out some of your frustration at a paper cut-out of a silhouette can be surprisingly cathartic. So all you stress hoarders and tension gatherers, there's no need to start your own fight club.
Instead, check out some of the best shooting ranges and academies in Delhi and learn to vent out your frustration in an equally-violent-yet-socially-acceptable form.
TopGun Shooting Academy
A personal, professional shooting training academy, TopGun's pupils and shooters have performed well in Delhi state tournaments since the academy's inception. They provide grooming and training if you're looking to break into the sport. It's good for young shooters starting to learn, and adults looking to go from casual shooting to a higher level.
They have summer camps for 8-18 year olds looking to work at 10-metre air rifle and air pistol shooting.
SportzCraft Inc.
SportzCraft Inc. is a self-proclaimed pioneer in 10-metre shooting ranges. They have two permanent ranges in Delhi and have been responsible for a series of pop-up ranges in a group of cities. You can pay for single sessions, a group of 12 for a month, or do three and six-month training courses taught by certified professionals.
Guru Dronacharya Shooting Academy
With 31 shooting lines, the Guru Dronacharya Shooting Academy is equipped to handle a large number of shooters. At this shooting range, you can go and pay as you shoot, or sign up for a 10-metre training course, or join with a one-month membership fee. The academy also sells air rifles, pistols, and pellets.
You can call them for a set-up service, where they will come and build a pop-up range for events in Gurgaon and Delhi NCR.
Dr. Karni Singh Shooting Range
The huge Dr. Karni Singh Shooting Range was first built for the Asian Games. Since then, it has attracted many shooters, amateurs and professionals, through its doors for a variety of shooting ranges. There are 10 metre, 25 metre, 50 metre, trap and skeet ranges, with state-of-the-art facilities added during a renovation for the 2010 Commonwealth Games.
The range is a little secluded, so we suggest you take a car.
Rezang La Shooting Sports Academy
Situated in Gurgaon, this not-so-old shooting academy offers training in 10m air rifle and air pistol. Named after the martyrs of the battle of Rezang La; this shooting range has been gaining a lot of popularity due to state of art facilities and infrastructure.
You could call them directly to know about their price structure and memberships depending on the requirements.

Siri Fort Sports Complex
Being one of the most popular shooting ranges in Delhi, be sure that you would be in safe hands once you land at this place. With training given by professionals, the range is fully equipped to meet all your needs. While you are there; maybe try your hand at other sports that are available.
Make sure to not go on Mondays as the complex is shut for maintenance.

Comments