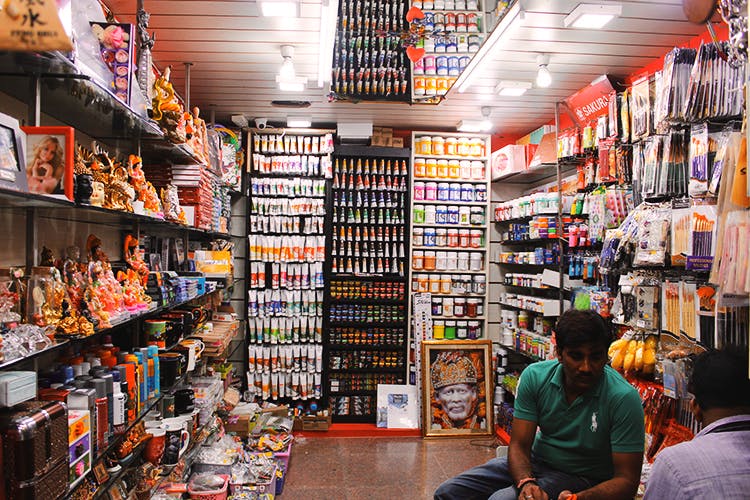 Affordable Stationery Stores In Delhi For Stunning Pens, Paper & More
For some of us, stationery does make the world go round. There's little that beats the smell of hand-made paper, the feel of a leather-bound diary and the smooth gliding of a fountain pen. We're telling you where to go to make all your stationery dreams come true.
Sita Ram Stationers
If you're an art student or simply harbour a love for pretty paper, Sitaram will feel like Disneyland to you. They have an entire basement filled to the brim with paper in different colours and textures. Pottery enthusiasts can indulge in clay. There's even a section dedicated to quirky knick-knacks such as mini furniture, 3D models etc.
K R Stationers
KR Stationers is great for artists – they have an entire section just dedicated to paints - that just goes to illustrate the variety they carry. You can find a separate section for gifting items, and a section for paper of all kinds, craft supplies, modelling clay bricks and cute sticky notes.
They also stock Moleskine journals and Mod Podge!
Anand Stationers
A popular shop in Khan Market, Anand Stationers has a very down-to-earth vibe with its strong Indian aesthetics. Everything's made of handcrafted paper. They keep cards in all shapes and sizes, gift envelopes (we're loving the cute golden elephant print ones), wrapping paper and lots of pretty notebooks (expect paisleys and the like).
Nai Sadak
Nai Sadak in Old Delhi is an age-old destination for stationery. Get planners, wrapping paper, pens, pencils, mango-shaped post-its and more at wholesale prices. If you buy in bulk, you're likely to get further discounts. You can also get your hands on glittery tapes and stickers.
We came across this store which sells so many kinds of pens, with Lamy pens starting as low as INR 1.600 (as opposed to the standard INR 2,200). There's lots of discoveries still waiting to be made here.
Yash Stationers
We know for a fact that they house a specific type of Japanese clay that looks and feels like a giant marshmallow and is very malleable. They also have paper with texture imitation, like wood for instance. All your regular stationery is available too so it's a pretty great stop for all your needs.
Coko
Coko is a Hong Kong-based brand that has two outlets in Delhi - one in Kirti Nagar and another in Kalkaji. Apart from bags, travel pillows, and other accessories, they also have a great collection of pens, note pads, pencil cases and other knick-knacks. The price starts at around INR 100 for funky pens and can go up to INR 500 and above for stationery sets.
Miniso
A Japan-based brand, Miniso, is slowly and steadily taking over the city with its products that have a simple, minimal aesthetic, and are affordable too (starting at INR 60)! They've got everything from funky highlighters and markers, to folders, diaries and even colouring books for adults.
KOJA
KOJA
is a Korean-Japanese (hence, the name) store that merges the Japanese aesthetic of minimalism and high quality, with Korean innovation (particularly, in their Kbeauty collection). On the stationery front, they've got colourful matte tapes (INR 50), highlighter sets (INR 150), leaf-shaped staplers, pens with bobble heads (INR 50), notebooks and a lot of other cool stuff.
AADI
The AADI store is a huge room full of block-printed stationery, handicrafts and paper/cardboard gifts. We found handmade diaries, bookmarks, wrapping paper rolls, lampshades, the prettiest jewellery boxes, and envelops, among other things. The price range here hardly tends to go above INR 300.
Best part? The products are all made by differently-abled individuals associated with various NGOs and the proceeds from the sale of the products are used to rehabilitate them.

Comments