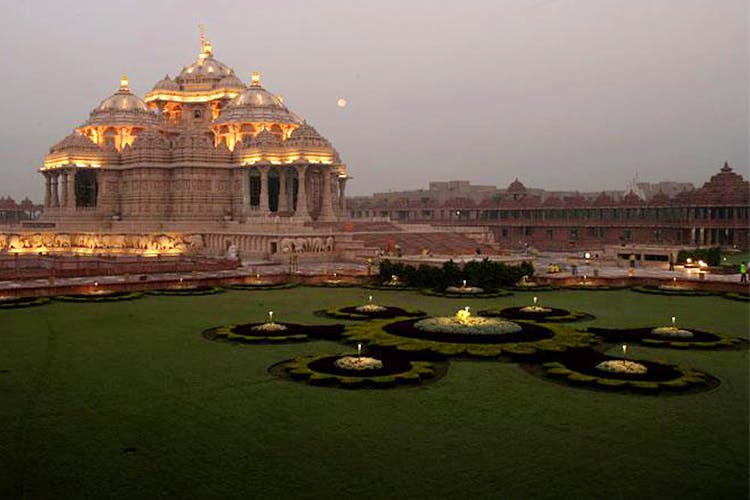 Seek Spiritual Refuge At These 10 Must-Visit Temples Across The City
Even though Delhi has plenty of temples, all with their own fascinating histories, we picked a few that you need to visit at least once. Honestly, you don't necessarily have to be a spiritual person to enjoy these places of calm and comfort.
Lotus Temple
This lotus-shaped Baha'i house of worship is one of the most famous ones in Delhi. Entry to the  arresting structure is free and it houses an inner hall which is ideal for silent praying and meditation. We say, read this guide on the place before planning a visit.
Swaminarayan Akshardham Temple
With a grand architecture, a boat ride, a mesmerising exhibition that'll take you through all vedic wisdom via modern tech, as well as a cool water show post sun-down (it's got video projections too), a visit to this place makes for an enthralling (and time-consuming) experience. We'd suggest getting here early via the metro that is just a minute away. To know more about the place, click here.
Iskcon Temple
This famous Vaishnava temple has one of the most inventive set-ups for a cultural museums (with robots and art galleries), a sattvik restaurant and daily aartis, both in the morning as well as in the evening and grand celebrations that you must attend during festivals. The main temple remains closed from 1pm to 4pm. Read more about the place here.
Malai Mandir
If you're yet to witness the grandeur of South Indian temple architecture, plan a visit to the Malai mandir in R.K. Puram and you'll see why it's so famous. Dedicated to Lord Murugan, the temple is located on a tiny hill and its all-granite artwork will surely leave you spellbound.
Entry to the complex is free and it opens at 5am every day. 
Shri Digambar Jain Mandir
This Jain temple, also known as Lal Mandir, has an imposing structure made of red sandstone. Here, you can learn about all the tenets that Jainism is based on, including non-violence and compassion (their charity bird hospital proves that they lead by example). The temple has different timings based on the season, but we'd suggest not going there between 11.30am to 5.30pm as it may be closed.
Lakshminarayan Temple (Birla Mandir)
Inaugrated by Mahatma Gandhi, and devoted to the divine companions, Narayan and Laxmi, this temple in CP has a more modern architecture than others. It also has beautiful fountains, shrines and replicas of waterfalls and landscapes. The temple remains closed between 1.30pm to 2.30pm every day.
Hanuman Mandir (Gole Market)
It's impossible to miss this temple in Jhandewalan given the massive statue of Lord Hanuman (it's 108 ft long!) and a mouth-like entrance. It's packed on Tuesdays and the evening aartis here are when the hands of the statue move to reveal the deities of Ram and Sita hidden inside his chest.
Kali Bari Mandir
Located at Mandir Marg, this is the best place to head to if you want to get a sneak-peak into Bengali culture. With gorgeous artwork of goddess Durga adorning its walls, a free reading room and special offering to the goddess (we hear it's actually liquor), you have not one but three reasons to go. If you're in town in October, do not miss the grand celebrations for the Durga puja festival here.
Kalkaji Mandir
Legend has it that the idol of goddess Kali here is a self-manifested one. This makes it one of the oldest temples in all of India. The best time to head here is during the morning (6am) or the evening aartis (7.30pm). Read more about the place here.
Chattarpur Mandir
Built in both northern and southern styles of architecture, the temple has two shrines. One of them is open every day and the other one is open only when the Navratri festival is being celebrated. It is India's second largest temple. So, we'd recommend heading there in comfy shoes since it is spread across both sides of the road. Also, don't miss the special sanctum devoted to goddess Katyayani that comes complete with a bed and a dressing table.
Comments