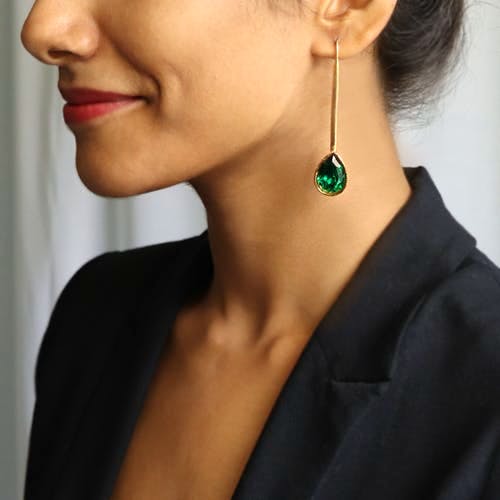 BFF's Birthday Coming Up? 10 Awesome Gifts For Cancerian Women
The stars have aligned for us to bring to you your BFF's next birthday gift! Best friends are hard to find, and even harder to please. And if yours is a Cancerian, you know what I'm talking about...

Their Crabby identity suggests they're unpredictable, intuitive, dreamy and love all things feminine. Their ruling planet is the moon, and their two lucky colours are blue & white. So if their special day's almost here (June 21-July 23), but your payday's still far away - don't worry. We found 10 awesome (and affordable) gifts they'll love.
Gold Crescent Moon Necklace
This stunning Crescent Moon Charm makes for a super thoughtful gift for your Lunar Goddess. It comes with a gold-plated chain and a cute message that'll make their day.
Half-Moon Trio Earrings
Since Cancerians are ruled by the ever-changing moon, these edgy gold-plated earrings by ACOV are spot on. They're available for a steal on LBB right now, so grab 'em before they're gone!
Emerald Green Drop Earrings
Emerald is the traditional birthstone for Cancerians, so these stunning emerald drop earrings by Ornamas make for the perfect gift.
Moon x Marble Cuff
This understated & minimal gold-tone cuff by Joker & Witch makes a statement without trying too hard. It's handcrafted and comes into colours - white and black.
Full Moon Geometric Earrings
You (or your bestie) won't find these boho, unconventional earrings anywhere else. They're super unique and look great with just about any outfit - from flowy dresses to contemporary Indian.
Constellation Necklace
This super minimal necklace is every imaginative Cancerian's dream come true. It's ridiculously easy to pull off and at ₹550 - you'll want to click add to cart asap.
Crescent Moon Crystal Bracelet Stack
Arm candy, right here. This 5 in 1 set's honestly like wearing a dreamcatcher on your wrist! Undoubtedly a conversation starter, it's a great gift for your astronomy-addicted BFF (and hella affordable too).
Clustered Moon Earrings
These handmade clustered moon earrings are so beautiful! They're an LBB user favourite, and we're sure your bestie will love 'em to bits.
Half-Moon Marble and Stone Drop Earrings
The colour scheme of these earrings works well with just about any outfit! Since white and blue are the two lucky colours for Cancerians, the half-moon marble detailing and the blue drop stones are perfect.
Zodiac Necklace
If your best friend's been looking for an astrological trinket, don't miss this minimal necklace that comes with a super cute message. Plus, you can grab a matching one for yourself too!
Comments