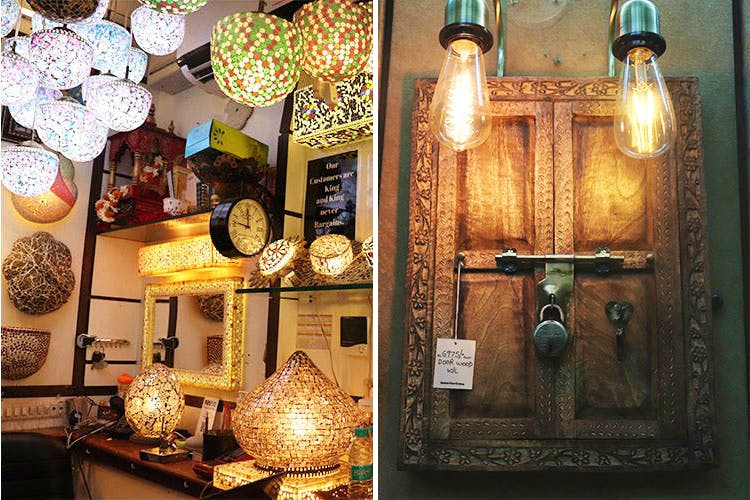 6 Bhagirath Palace Shops For Vintage Lamps, Fairy Lights & More Starting At INR 50!
Here's our pick of seven shops that stood out for everything from steampunk lamps to vintage chandeliers, and from cafe-type exposed filament bulbs to those ever-so-charming strings of fairy lights.

Make In India
Our opener, relatively hard-to-miss, was this all mosaic shop – brimming with every possible colour you can imagine. First off, this isn't in Bhagirath Place, but a good landmark to find it is the huge State Bank Building. They've been around for almost 60 years and have mastered the art of using mosaic for everything from mirror frames to wall art to even furniture. Their star product are the Turkish lights that they even export to Turkey.
If you're one for colours, these lamps and chandeliers are #goals. Most lights start at INR 1K, and the completely customised mosaic stool can set you back by INR 10K.
Orient Electric House
Orient is big, bold and utterly beautiful. One of the few places that takes pride in designing and manufacturing their own lamps and light fixtures in favour of Chinese exports. We bumped into three generations of owners who've seen this grow and come into the spotlight over the years. Here, you'll find jharokhas, mason jars, steampunk machinery, gothic-looking rose-bouquet-style chandeliers over and above quirky pendant lamps and strings of lights stuffed into chemistry lab equipment.
Check out their crazy designs on their website for a better idea.
Rudra Traders
Rented apartment looking boring, or hostel room screaming for a makeover? Hit up Rudra for dirt cheap lamps and co. From DIY plastic lights to wooden bedside lamps, this open-air dukaan (and the shop right opposite) are probably the brightest lamp shops you'll ever see. It's a place where kitsch and India's love for bright hues truly comes to light. We were stunned to find those ball lights that every festival in Delhi puts out in the lawns at a mere 100 bucks. You can even find plastic lamps in bright red and yellow in the INR 150, 250 and 350 price brackets.
On the way to his shop, you'll see a monster of a store called The Lighthouse, and right outside was a whole table dedicated to fairy lights starting at INR 35 for 10mts.
Anil Electric Company
Unlike its neighbours, Anil's is a small establishment, but if you're looking for spotlights, fall-ceiling bulbs or even that one-off statement lamp, you can stop by. We spotted wooden lights in the shape of triangles (INR 1,200) and even a brass cycle (only at INR 350) that we particularly liked.
Lakshmi Electric Co.
Our patience was flickering like a 48-year-old tubelight at this point, but, as soon as we set foot inside Rajiv uncle's store, we couldn't help but stay on for him to give us a well-guided tour. He told us that a lot of his antique lights (he does only antiques btw!) are bought by designers/owners of heritage resorts. Every small and big light that was on the shop's wall looked distinctly Indian, and we learnt that the owner still believes in sticking to old hand-cut glass and brass moulding techniques.
The prices here are a bit on the higher side because it's all handmade, but we found outdoor lights for INR 4K and royal chandeliers in sparkling green stones for around INR 18K. So, if your mum's on a home-improvement spree, we suggest you take here.
P.S. The owner is a very sweet and helpful, and was even covered by the BBC for his lovely lamps.
Prolux Lighting Concepts
Prolux has at least two stores in the lamp market, but the one we found was full of chandeliers suspended in all their glory. The one in a black birdcage with LED candles (at INR 4K) had us enamoured. In case you also want basic, garden lights or spotlights to draw attention to the new artwork you put up, Prolux can come to your rescue. We hear that their other store at 1786, first floor, has futuristic-looking geometric lights.
So, We're Saying...
Amidst all these old and new lamp shops, we also found a stall so small he didn't even have a card but God, it's one of the cutest places we've seen. We found it because we were lost while combing the lanes, and what's a Chandni Chowk trip without bumping into odd finds, right? They have table fans (yes, so archaic and so cool) in candy colours and disco lights at INR 650. You can try looking for stall no. 39 in the Old Lajpat Rai market.
Comments