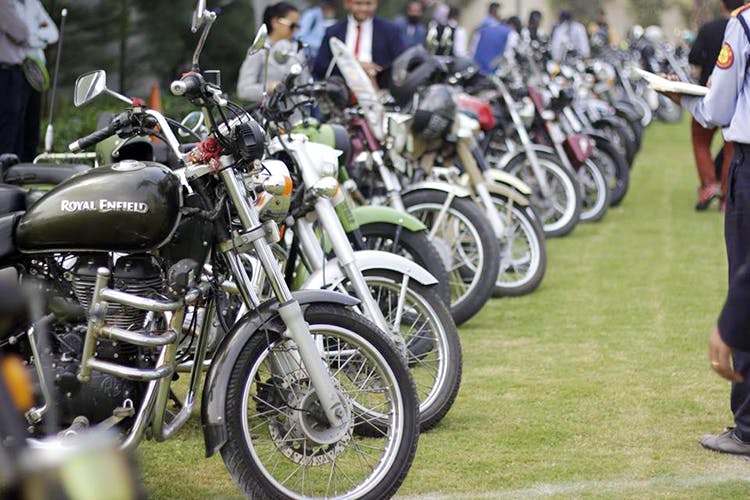 Rev Up & Hit The Road With These Biking Groups In Delhi
Even though their arrival onto any scene is un-silenced, we have to admit that we are ignorant of the growing biking sub-culture in the city. Biking clubs across the city are bringing together people with a passion for bikes and biking, to form a brotherhood. If you're looking to start to ride, or are looking for a group to ride with, check this list out.
Royal Mavericks – Delhi Royal Enfield Riders Group
Dedicated entirely to the Royal Enfield, the 11000+ member community was started by impassioned riders who share a monogamous relationship with the Royal Enfield, regardless of model or make.
They ride for social causes, community awareness, as weekend escapes, and also do breakfast runs in and around the city. If you're a Royal Enfield owner looking to ride, contact them to be a part of all the fun.
G.O.D.S - Group Of Delhi Superbikers
Founded in 1998, G.O.D.S was set up by surgeon and super-bike fanatic Dr. Arun Thareja as a two-member club. Having grown tremendously over the last 16 years, the club's main focus is safe riding. It welcomes any new disciple who has has a super-bike and upholds the prerequisites of proper training and effective safety gear.
G.O.D.S promotes a sense of mutual respect between owner and bike. They also host an annual adventurous biking trip across the country, and public get-togethers for biking clubs around the city.
India Bull Riders – Royal Enfield & Vintage Classic Motorcycle Club
Started in 2007 and formerly known as Delhi Bull Riders, IBR has grown significantly over the last six years, and across six cities. Open to all, the club has no fees and just asks you to commit yourself to the IBR fraternity and represent the brotherhood.
If you're looking for a group ride and/or a riding partner, you can enlist with them and they'll hook you up.
Batch Of Soul Superbikers (BOSS)
Smaller and lesser known, BOSS or Batch of Soul Super bikers is a community based on camaraderie and friendship. BOSS is open to anyone with a bike over 600cc, and all you have to do is get in touch with them.
They also cover popular Delhi trails, and promote safe riding with helmets and other essential gear.
Harley Owner's Group (HOG)
If you hadn't already guessed, HOG is a very exclusive biking group; it only includes Harley Davidson owners. Buying one of these machines ensures membership, rights to a members-only website, newsletters, and a platform to meet other HOG owners from around the world.
HOG has become more of a cult over the years, courtesy the status symbol the Harley Davidson brings with it. Popular HOG trails around Delhi include the Delhi-Faridabad route via Gurgaon, central Delhi (areas around the Rashtrapati Bhavan), and on a special Sunday, a Delhi-Jaipur-Delhi ride that starts at 5.30am.
Delhi Bikers Breakfast Run
DBBR is an all-inclusive, inter-club, no-strings-attached community that does breakfast rides (you ride out to a dhaba for breakfast and ride back into the city). No matter what brand of bike you own, or club you belong to, DBBR bridges the gap between different groups and allows anyone to join their rides.
HCL Boddhisatvas
This biker group started as being exclusive to HCL in Delhi but slowly gained a lot of popularity for their breakfast runs and long stay rides till Jaisalmer. Women too are a part of this group and they take extra care for their security. They have their own sweatshirts designed, helping them get identified from a distance as well.
DBATG – Delhi Biker's Adventure Tour Group
If you like adventure and biking, then this is the group for you. They are known for their Spiti roadtrips and combine them with other adventure activities like camping, hiking, trekking etc. So if you're up for long drives, and an adrenaline rush in copious amounts then sign up today!

Motorhead Motorcycle Club
Founded in 2012, this group is specific to street riders and cruisers but really welcome everyone in. Quite famous in Gurgaon, this club might just be a cult for bikers. Every Sunday is the day that they take out their babies for a ride.

Highway Players
Going by the name you would know you can find this group riding the highways – from Leh to Spiti, Manali and Uttarakhand and beyond. With regular events happening, riding solo is not a thing for this group. Anyone with an Enfield bike and the love for chai is welcome here!
Comments