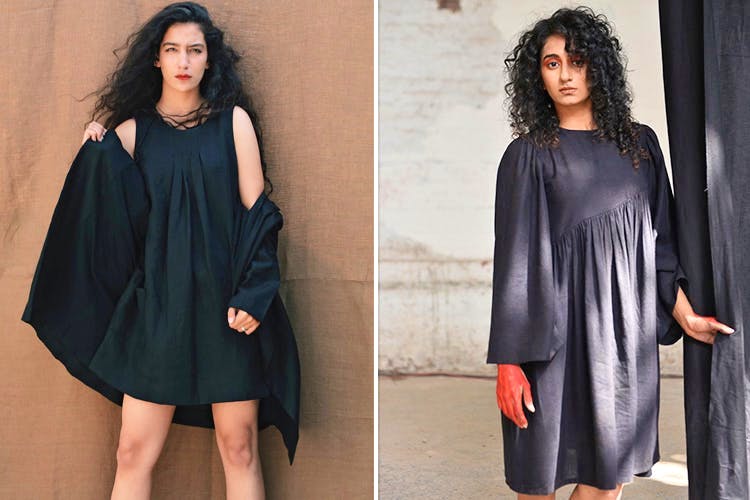 Black With A Bang: Check Out India's First Brand That Only Does Black-Coloured Apparel
Shortcut
TurnBlack is India's first brand that does only does black clothes. Their idea is simple: they wish to celebrate the colour black and displace the idea that black equals death, bad luck or evil.
What Makes It Awesome
Driven by her desire to wear all kinds of black clothes all the time, TurnBlack was started by Nutan a few month ago. While Nutan might not have any background in design, her clothes exude practicality, and have been designed with a lot of thought and insight.
For instance, the dresses you'd find on their website are fuss-free, flowy and a lot of them come with pockets too (well, we sure do love our pockets)! If the fact that they only do black-coloured clothing was not exciting enough, you've at least got to love them for creating comfort clothing 101.
Currently, they're offering a limited variety of breezy dresses (they have an elegant Kantha section too), comfy pants that will make summer much more bearable and shirts we'd happily turn to on those don't-know-what-to-wear-days.
At the moment, TurnBlack's operating out of their workshop in Shahpur Jat, and is an online-only store offering women's apparel. We're told they'll be launching their accessories and men's clothing line soon, and will gradually add a home decor section.
What Could Be Better
Just a heads up: some of their pieces might be a bit on the pricier side, so we do not recommend them for your end-of-the-month shopping needs (you'll want to buy everything, no kidding).
Pro Tip
They've recently launched a 'Black Swan Collection' that comprises of linen and cotton linen full-sleeved dresses, shirts, layered dresses and jackets that are perfect for this season.
If you know someone who is almost always wearing black, be sure to let them know about TurnBlack. They'll thank you forever.
Price: Starting at INR 1,800.
Comments