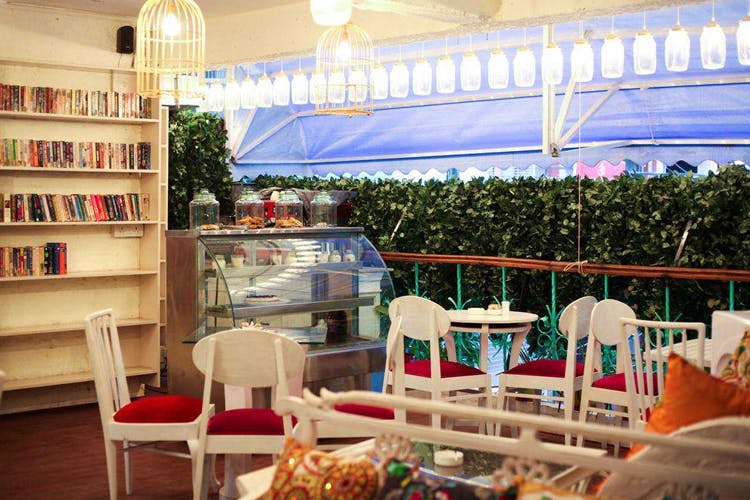 Catch Up On Your Reading At These Cosy Book Cafes In Delhi
Maybe it's just us, but there is a sense of romance about spending a quiet afternoon alone, sipping on a beverage or sampling a dessert, while engrossed in a riveting book. We've shortlisted our favourite book cafes in Delhi where you can lose yourself in the words.
Another Fine Day
You can expect retro accessories, exposed white brick walls, and a collection of reading materials and board games. In addition to whipping up some of the best hummus in G-town, they also serve wine and beer. Choose your beverage and your book, and make a day of it.
Café Wanderlust
This café offers the intrepid traveller a place of rest and relaxation. Famous for their hammocks and breakfast platters, Café Wanderlust offers a quiet space in Gurgaon to look through a travel book, flip through a magazine, or finish up your novel. We suggest you try their filling and worldly breakfast platters.
Music & Mountains - Hillside Cafe
Previously called Sakley's, Music & Mountains is nestled in the middle of a hip market, the interiors feature fashionably-faded upholstery and the use of real barks of tree trunks, along with a collection of old books; the kind that make you want to take a big whiff. When you look out the window, all you can see are treetops, transporting you to another time and place.
Café Turtle
Cafe Turtle was created to compliment the Full Circle Bookstore. Aside from the usual coffees and teas, Cafe Turtle offers a full-fledged menu with some delectable vegetarian dishes and desserts for you to enjoy along with your book. The Full Circle Bookstore also has their own publishing service, as well as a massive selection of books for you to browse to your heart's content.
Kunzum Travel Cafe
Primarily for travellers to drop by and spend a couple of laid-back hours before resuming their exploration escapades around town, Kunzum Travel Cafe offers a relaxing space where you can check out their collection of books, have coffee or tea (food isn't served here), or put pen to paper and get on with your daily journal-ing. You'll find like-minded travellers here with a strong travel resume.
May Day Cafe And Bookstore
A little way off the beaten track, May Day is a charming little cafe and bookstore, where less emphasis is placed on the food and drinks here, and more on the bookstore. This is a perfect place to not only read but also to discuss culture and politics with the friendly staff over a cup of great coffee. You'll get the idea when you see the picture of Karl Marx and a sickle and hammer on the wall.
The Reader's Cafe
An eclectic mix of good food, pretty interiors, and racks upon racks of books, The Reader's Cafe is the perfect spot to hit up when you need a break from the world. Here you can dive deep into your favourite reads and snack on mouth-watering pasta, pizza and more.
Ivy & Bean
Grab a quiet corner with your book of the week, order a coffee or one of their many snacks, and enjoy the quaint ambience that Ivy & Bean has to offer. They have quirky interiors and Wi-Fi, so you can send out a quick work e-mail or two as well.
The Brew Room
While The Brew Room doesn't have its own collection of books, it still is a calm and pretty cafe where we always find people engrossed in a book with a cup of Mochaccino or clearing out emails. This cafe has got board games too and wood-fired pizza that'll impress you for sure.
Jugmug Thela
One of our favourite cafes in Saidulajab – Jugmug Thela has its own reading room, right opposite the main cafe where you can find pre-loved books, read them during your time there, come back home the same book (priced typically at 50% of their value) and even donate your own. While you're there, order Jugmug's handmade biscuits, their Vietnamese Iced Coffee or 12 Ingredient Masala Chai.
Book Talk
Book Talk in Dwarka is a book lover's attempt at creating a space where like-minded people can gather to discuss ideas, read, borrow paperbacks, sip coffee and eat a whole lot of cake. This library-meets-cafe has now become a place that also attracts a motley bunch almost every other weekend for events.

The Nerdy Indian
This new cafe in Sainik Farms has a delectable menu of grilled sandwiches, hand-tossed pizzas, a variety of fries, and Indian tandoori dishes. But, the best part? They have a huge library of around 1000 books and you get a free book on every 500 rupees that you spend at the cafe. It's a win-win.
Too Mikkii Tapas Now Baking
A big glass of cold coffee, a slice of coffee toffee cheesecake, and Murakami to feed your soul with. Sounds like your perfect day? Then head to Too Mikkii Tapas Now Baking in South Extension and get reading in their soothing ambience. They have a cool library and if your bill is over INR 500, then you can pick a novel from their collection and take it along.
The Tea Room From Blossom Kochhar
Located in the bylanes of Hauz Khas Village, The Tea Room From Blossom Kochhar is one of our favourite places to read at for hours on end. They have an interesting selection of teas and healthy grub on offer, the collection of books is amazing, and the calm music aptly complements the beautiful view of the Deer Park.
Comments