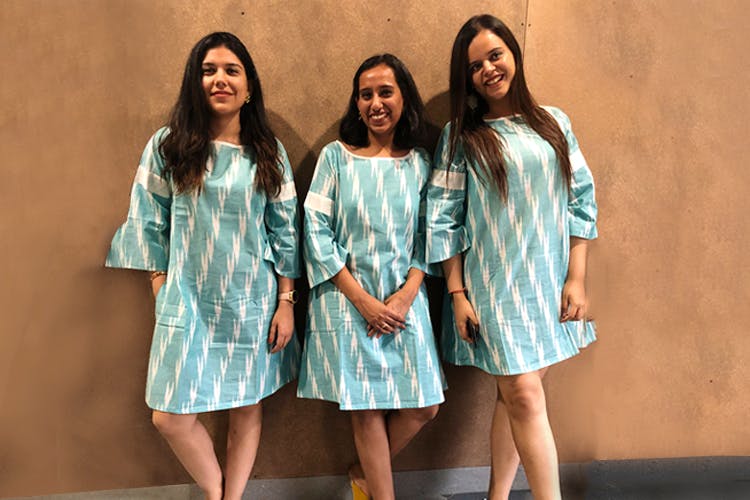 We Tried This Ikat Dress On Different Body Types & Here's What We Thought
We're big on dresses that are versatile (and have pockets!) and can be worn at anytime, anywhere, by anyone. Which is why, three beautiful women with different body types went ahead and tried this summer-friendly Ikat dress by Breya. Read on to know what they thought of it.
Akshita, 5'5', Wearing S
Akshita felt that the dress was a perfect fit. She found it to be super comfortable and the ideal summer staple. It's interesting to see that the length of the dress was just right for her and that too in a size S (initially, she felt that it could be too short for her).
We felt that on a body type like Akshita's, the dress can be a great summer office outfit option. Tip: You can pair it with these awesome ikat slides as well.
Krittika, 5'3", Wearing M
Krittika found the dress to be easy, breezy, and she absolutely loved the colour. Also, she was super happy with the fitting of the dress and the sleeves. On a body type similar to Krittika's, the dress can look peppy and fun, and could be the perfect outfit for brunch scenes or outings with friends.
Also, we felt that the A-line silhouette of the dress was slightly more noticeable on size M. To make it pop, she even paired it with these eye-catching yellow slides.
Gulnaz, 5'8", Wearing L
Since Gulnaz is quite tall, she felt that the dress was a little short for her (but not uncomfortably short). She was also wearing one size up (L) and felt that although the dress was breezy. While it was slightly short for her, she wore it to a casual lunch with her girlfriends.
Comments