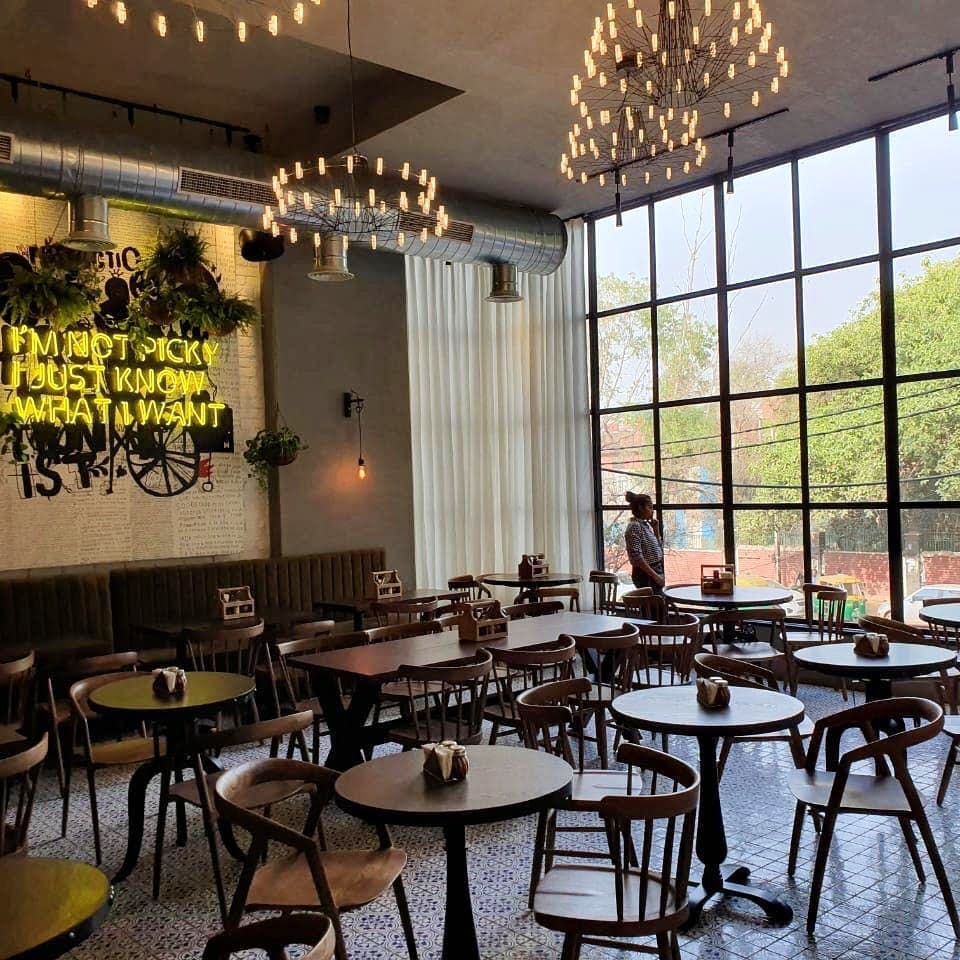 A Couple's Guide To Budget Date Night Spots
Being broke and being in love aren't a match made in heaven. We know, because we've been there. We've had times when we've left home with a light pocket and the struggle of finding a cafe that won't look like a slice of living hell with rusty fans and three-legged chairs.
With a little bit of research (and hounding our stingiest friends), we found cafes and bars that should set you two back by close to INR 1,200 for two, but still guarantee a lot of pretty pictures (and good times).
Pick from these affordable options and bring the joy back into inexpensive dates.
Harry's
If your date night checklist includes chugging beer, breezy balconies, and quaint yet boisterous places, Harry's should fit in perfectly as your go-to. The bar has an ever-so-lively crowd, scrumptious food, and beer buckets starting at INR 749 (6 pints).
Cafeteria & Co.
Dates are nothing if you and your SO aren't holding hands, teary-eyed, waiting for the damn waiter to bring you your food. We kid, of course. Cafeteria & Co. finds their USP in serving up their delish food in a jiffy. The master chefs in their kitchen whip up amazing dishes, each one better than the other. So, if the wallet's looking thin, this place's hexizzas and pastas shall cater to your inner foodie's every whim.
Morello's/Jugmug Thela
These two gems in Champa Gali keep calling us back for everytime we're craving an insane sugar fix or just want a good cup of tea without being in a closed, typical cafe setting. Share a freakshake and bagel at Morello's, or sit across Jugmug's wooden benches and keep those bad jokes coming over Vietnamese Iced Coffee and granny cakes. You two can also channel your inner hipsters and eat panini sandwiches.
PS: You know, some dates are amazing just because you're drinking chai and sitting outdoors.
Taj CCD
Coffee dates don't get any better than those at Taj CCD. With its al fresco seating plan, your favourite cappuccinos and frappés, and a zappy vibe, this coffee haven makes for the best place to get your caffeine overdose and the overdue one-on-one with bae. If you're lucky, you might find someone strumming their guitar and making it even more romantic (that someone can be you, too).
Triveni Terrace Cafe
This is our favourite all-weather spot and its location helps as much as its ambience. The poha and cold coffee are a delight and the meat-eating partner almost always orders shaami kebab. We'd say, drop by on a cold evening for pakoras and stay back to enjoy their new dinner menu. We hear good things about the Parwal Kebab and Mutton Keema Chops.
Rose Cafe
All day breakfast, delicious food, and stunning interiors – Rose Cafe is impossible to ignore when it comes to picking a date night spot. You won't find booze here, but you'll find the next best thing – affordable food with decor you can fill up that Insta feed with. They've also got a vegan menu you can go to town on.
Cafe Di Milano
Cafe Di Milano in Dwarka's Sector 13 is everything that makes us very happy. Pretty outdoors, good food, and hospitable staff, this cafe has it all. Bonus: A hearty meal here is pretty affordable too!
Their music is not super loud either, so you and bae can enjoy meaningful conversations. Also, this cafe is an Instagram dream come true, so plenty of photo-ops! Find more info here.
By The Bay
By The Bay is a Goan shack type cafe in Hudson Lane. It's spunky, romantic and super fun with swing chairs, glow signs, sand, and cool wall art. It's as close to a beach that Delhi folks can get without leaving the city. They've also managed to get a glowing paddling pool bang in the middle of the restaurant (women/couples only) and a huge projector that changes its visuals of the beach as the day progresses.
Since it's a beach-themed cafe, expect to find coastal dishes like Prawn Chettinad and Andhra Fish on their menu. They also have a cocktails and Margarita menu (yay!).
Find more info here.
Ricos
Ricos on the Bungalow Road in Kamla Nagar is a bright, airy space that serves all-day breakfast, meal bowls, and a bunch of Italian and Mexican dishes as well. Their service is quick, their playlist is killer, and a meal here won't cost the earth either. We recommend that you try the pizza, the Red Velvet Pancakes, and the RicoTea while you're here.
Heads up though, you might have to wait for a bit before you find a table here (it's almost always packed!).
Comments