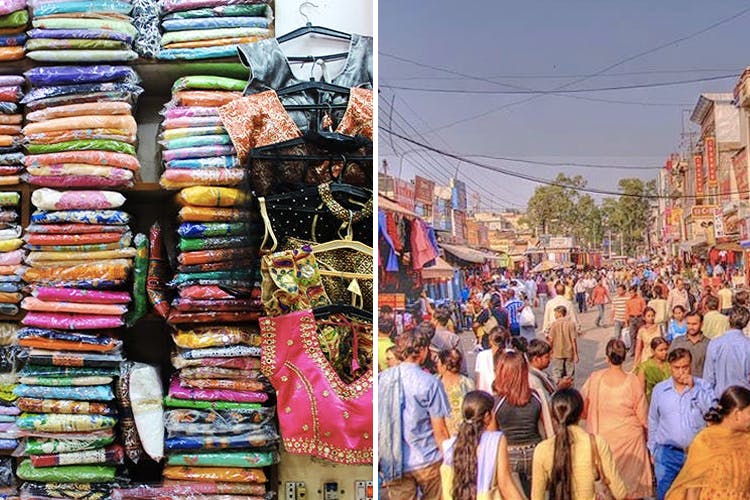 The Whole Seven Yards: Head To These 8 Places For Saris Under INR 2,500
We realise that nothing beats the elegance of a seven-yard sari and we're also aware of the fact that these beauties can be quite expensive. So, here's a list of all the places for sari shoppers on a budget. If you're looking to update your ethnic wear collection, bookmark this list!
Chandni Chowk
From classic chiffons to trending georgettes, you'll find the most variety of affordable saris in Chandni Chowk. This market is a major haunt for bridal shopping and some of the most popular stores that you should check out here are Shringar Saree Centre, Surya Sarees, Kala Kriti Sarees, Rati Ram Ram Vinod Sarees and Brijraj Fashion.
Karol Bagh
Co-optex and Vineet's Sarees are some of the best places in Karol Bagh to pick up great saris at great prices. While the former stocks exquisite cotton saris with block prints that start at INR 650, Vineet Sarees is perfect for crepe de-chines and georgettes.
Sarojini Nagar
Sarojini is an all-time favourite shopping market for every Delhite, so it's no surprise that you can score saris for less here as well. We recommend Mamey Di Hatti, Chache Di Hatti and Chacha Saree Bazaar for sari shopping on a budget.
Tilak Nagar Market
Tilak Nagar has got numerous showrooms that sell quality saris for as low as INR 650! Check out Lalwani's Sarees and Maharaja Silk and Sarees for their beautiful georgette sari collection. Early farewell shopping, anyone?
Connaught Place
Two words: Uttam's & Nalli. These iconic shops have been around for years and are perhaps, two of Delhi's most trusted outlets for quality saris. You can pick up cotton, Pochampally, synthetic fabric and Kerala Kasavu saris at economical prices here.
Lajpat Nagar Central Market
From fabrics and blouse material to dupattas and saris, this market has a vast collection of apparel. Browse through the range of affordable saris at Kavita Saree Emporium, Meera Sarees and Palji Saree Centre in Lajpat Nagar.
Dilli Haat, INA
One tends to overestimate the prices of goods at Delhi Haat and we don't blame you because a lot of things here can be expensive. But rejoice, because we assure you that you can find artsy, cotton saris here for less than INR 2,000.
Since the stalls at Dilli Haat keep changing, there's no particular one that we can recommend really. Just make sure that you check out all the stalls and negotiate to get the best price.
Ask Nitya a question