Khao Suey & Soothing Teas, Our Favourite All-Veg Restaurant In Gurgaon Has A New Menu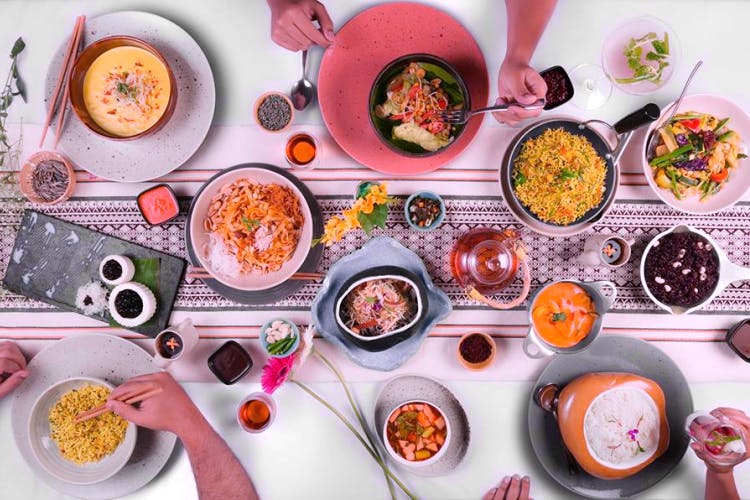 Shortcut
Burma Burma introduces a range of new dishes that have a touch of the familiar along with exciting new twists.
Fresh & Easy
Simplicity and balance win us over as soon as we start our journey into the land of monks. The Tangy Roselle Leaves soup with garlic and soy is mild, comforting and perfect for sharing. The White Fungus Salad is delightful, beautifully presented, crunchy and loaded with veggies.
In other news from the nibbles selection, the crowd-pleasing steamed buns are back in a new avatar, and we give them a resounding thumbs up. Crumb fried crisp tofu sits well on a slightly tart tamarind sauce and is the kind of slider you could have every day.
Chip addicts have to get a portion of the lotus stem crisps – crunchy and dusted with paprika and curry leaves, we were munching these till the very end of our meal.
Onto Heartier Territory
The mains marry classic Asian flavours with that hint of Burma Burma that we keep coming back for. The fried rice tossed with pickled tea leaves and garlic is nutty and earthy and pairs well with the gentle eggplant, tofu & long beans curry.
The Shan Khowsuey is a must-have. This delicacy from the Shan region stars rice noodles, crushed peanuts and tomatoes simmering in a warm broth, and comes with all the bells and whistles we love along with our Khowsuey.
Satiate your sweet cravings with the Coco Pina- this classic dessert is a creamy coconutty treat that is balanced with sweet mushy pineapple and nutty butterscotch. Yum!
Don't forget to end your meal with a sip from the exquisite Burma Burma blend- this fragrant white tea has clever notes of ginger and orange and is pure pleasure in each sip.
So, We're Saying...
Indulge in some easy, summery flavours and savour a culinary trip like nothing else with the new menu at Burma Burma.