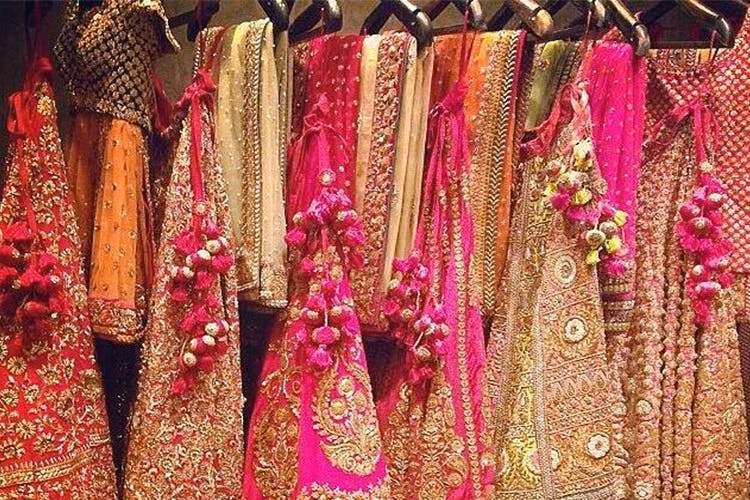 Hit Up These 9 Stores In Chandni Chowk For The Most Exquisite Bridal Lehngas
You have probably read a dozen articles about how Chandni Chowk is this treasure trove of the most amazing bridal lehngas, but it's when you actually land there that you realise that navigating through the streets to find the perfect attire for your wedding day is a lot harder than it might seem.
So, to help you find the lehnga of your dreams, check out our list of stores in Chandni Chowk offering attires that are worth every bit of your time and money.
Om Prakash Jawahar Lal
Compared to the rest of the riff-raff, these guys have nice, elegant pieces in trending styles. The downside—they compromise with the flare, at least according to us. Not that you won't get a full flared lehnga here—you will, but we found that the level of flare was slightly less than what you'd get at some other shops. Also, we suggest you don't get anything customised from here; just check out the sample and get it stitched in your size.
Price: Starting at INR 70,000 for light lehngas
Asiana Couture
These guys are relatively new, but are highly popular in the Chandni Chowk bridal scene. They have outfits that are stitched according to the latest trends, and we absolutely love their collection because of their high quality fabric pieces made with the most precise cuts and stitches. Prices are not super cheap, but, because they are less known than OPJL, you will get a relatively better rate. Again, stay far away from customisation.
Price: Starting at INR 50,000
Making a prior appointment is recommended.
Kamal Bhai Saree Sangam
Another hidden gem that nobody really knows about, Kamal Bhai Saree Sangam sells styles similar to Om Prakash, but at a cheaper rate. However, the variety is slightly limited, so it may be a hit or miss kind of a situation. We saw a deep red lehnga with gorgeous soft gold work which we've also seen at Frontier Raas and Roop Sarees, but for half the price. This store does gorgeous, customised pieces, and while they turn out nice, the finishing never ends up being like the sample they'd shown you. Prices are just a tad cheaper than OPJL.
Price: Starting at INR 15,000 for light lehngas
Ram Kishan Sarees
Tucked away in a corner near Kamal Bhai Saree Sangam, this small store is a hidden gem. The lehngas offered here are all stunning and the prices can range from INR 30,000 to 1.5 lakh for a lehnga. They have lehngas in the latest styles, and are generally inspired by designers such as Sabyasachi. We also spotted lovely gota patti anarkalis and floor-length jackets for engagements and relatively smaller functions.
Price: Starting at INR 25,000 for light lehngas, and INR 30,000 for bridal lehngas.
Sudhir Bhai
Sudhir Bhai is another well-known shop in Chandni Chowk and is located right next to OPJL. They have some really nice lehngas in colours other than the usual red (coral pink, peach, mint green, maroon etc.) that are available for rates cheaper than most stores in Chandni Chowk. But, because the variety here keeps changing, it may be a hit or miss.
Price: Starting at INR 30,000 for light lehengas
Pakeeza Plaza
You will have to browse through numerous outfits but sometimes, you can score the most exquisite yet affordable lehngas here ('sometimes' being the key word). Pakeeza Plaza is still worth a visit as it's generally cheaper than the big names, and has quite a bit of variety. They have a great collection of Lucknowi lehngas, and the customisations they offer are also impressive.
Price: Starting at INR 20,000 for light lehngas
Sunehree
We feel that the kind of work and designs here at Sunehree are a steal. Their collection ranges from heavy royal pieces, couture collection to lighter and more affordable pieces. You can score heavy lehngas and couture outfits here (they're very good at these) for rates between INR 70K – 1.5 lakhs, but finding a good piece can take some time. Also, we recommend this place for trousseau saris.
Price: Starting at INR 30,000 for light lehngas
Dalmia Fashions
High-quality fabrics and a great variety of embroideries makes Dalmia Fashions by Aditya and Mohit a must-visit for every bride. This was a small store, but they have now turned it into a swanky new showroom with a huge collection of outfits for all your celebratory functions. Apart from lehngas they also have chic, long jacket outfits, and a lot of Sabya-inspired designs.
Price: Starting at INR 30,000
Shrangar
Shrangar is one of the oldest and most famous names in Chandni Chowk, and has recently gone through an overhaul to add new collections with intricate embroideries and the latest designs. If you are looking for a heavy bridal lehnga or reception lehnga, you can definitely give this store a visit and they also stock elegant saris you can check out for your mother and sister(s). It's located in the Maliwara area in Chandni Chowk, but a lot of people know where it is, so if you ask around they are likely to guide you to the right place.
Price: Starting at INR 80,000
#LBBTip
Shops like Tek Chand Arjit Goel, Chetan Saris, Shringar Saris, and Kalakriti are nice for sarees too (Kalakriti is especially great for anarkalis and Shringar for some elegant saris) but the variety of lehngas at these stores is slightly limited.
Comments