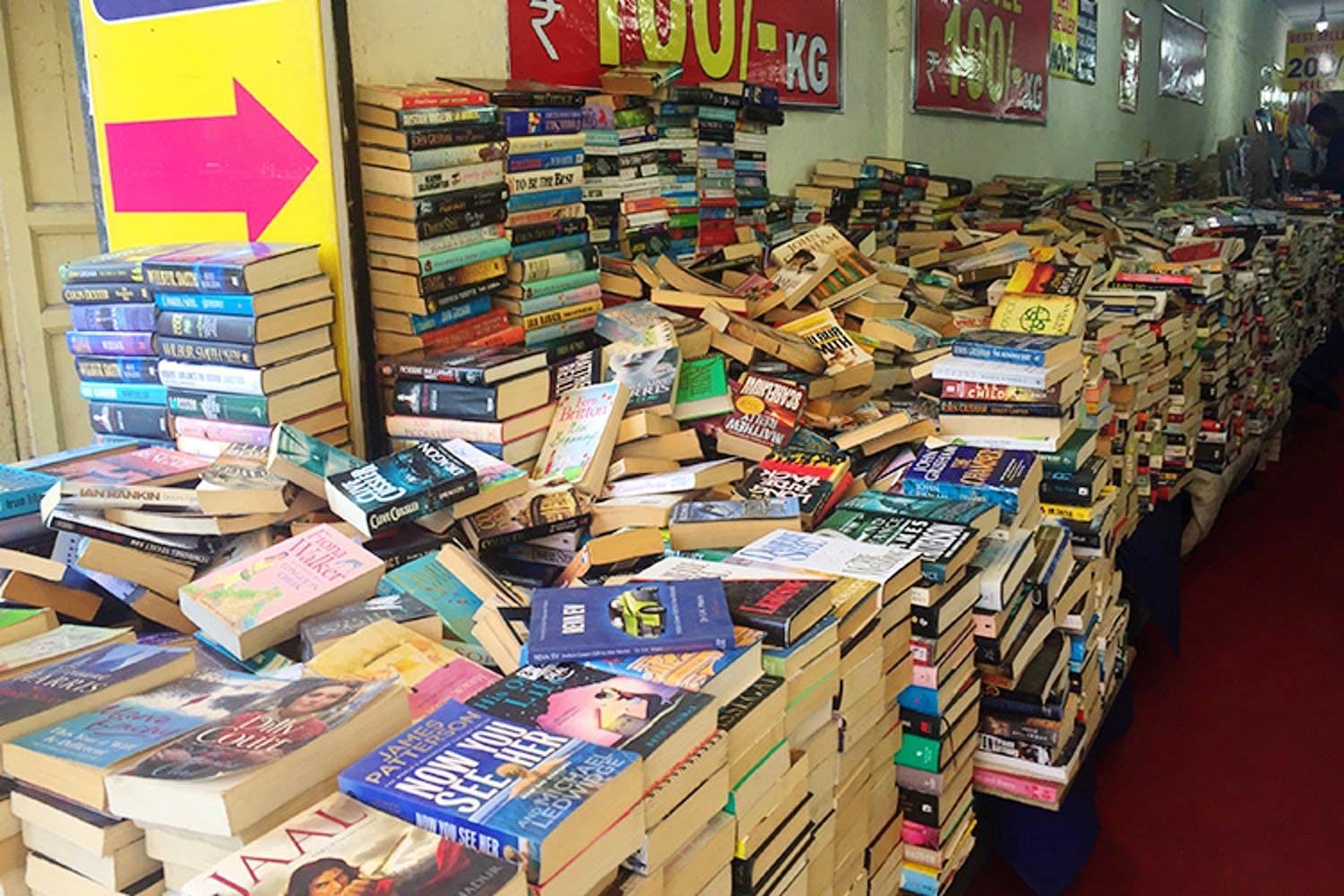 These 12 Places Sell Second-Hand Books At Dirt Cheap Prices
Be it a captivating thriller, a mysterious sci-fi novel, or an enlightening biography, books are an immersive wonderland unparalleled by any other form of media, and we love the fact that there are so many places to score secondhand books in Delhi. So, if you've been looking to stock up on your favourite titles (but don't want to end up broke), check out these places for inexpensive reading material.
May Day Bookstore
A multi-genre bookstore in the busy lanes of Patel Nagar, May Day has bookshelves stacked with great titles. They curate their selection of secondhand books really well, and that's what keeps us going back. While the bookstore is situated in a place where profits might be harder to come by, the owner wanted to build a reading community instead of raking in cash (a big salute to them!).
Arora Book Stall
This Hauz Khas bookstore stocks your favourite Sidney Sheldon, Mills & Boons and Harry Potter titles starting at just INR 50. They'll also return a fraction of your payment if you return the book—it doesn't get cheaper than that, of course. We'd reinvest that in a second book, and we recommend you stock your bookshelf too.
Bookthela
A virtual store as good as any of its physical counterparts, Bookthela will deliver massively discounted books to your doorstep. Since it's an e-store, it's highly segmented into genres, which makes it even easier to get your hands on your next read. Titles here start at as low as INR 90. You can even find popular stuff like Sapiens by Yuval Noah Harari and The Subtle Art Of Not Giving A F*ck by Mark Manson for about INR 260.
Buy Secondhand Book
No, don't get confused by that subhead. This website is literally called Buy Secondhand Book. From joke books to biographies to photography tips, they've got it all. While you might not find the latest releases here, you're bound to stumble upon a gem from your childhood.
Gyandeep Book Shop
This store in Agrasen Chowk, Kamla Nagar, is home to thousands of pre-loved books across genres. The prices start at a meagre INR 50 for the second-hand books, and new books are priced at their normal retail prices. You'll find a huge variety of classics, and the store is perfect when you're in the mood to just browse and pick up some off-beat books you haven't really heard of.

Bargain Book Centre
We were quite impressed that this bookstore had critically-acclaimed books like The Colour Purple by Alice Walker among the good mix of authors like Paulo Couelho, Amish, Shashi Tharoor, Dan Brown, Mark Manson, J.K. Rowling and more.
Big Book Bazaar
You don't have to wait for Sunday to enjoy Daryaganj's extremely affordable second-hand books people! You can check out this store for a great collection of classics and your favourite fiction novels in paperback and some in hardback; They also have some rare dictionaries, encyclopaedias, children's books and more.

Ram Gopal Sharma & Sons
Geography, children's literature, literary classics, magazines, novels and a whole world of fiction greets you in this space that's big enough for precisely two (maybe three) people to browse at the same time. All the books that lie stuffed into the many shelves are ageing gracefully and wear a yellowed charm associated with loved hand-me-downs. Some have also been restored carefully with transparent covers wrapped around them.

Daryaganj Sunday Book Market
There really isn't a better place to go hunting for second hand books than the Sunday book market in Daryaganj. There are second hand books available at throwaway prices (INR 100/kg onwards). The book market is one kilometre long, and is the perfect place to hit up for a book haul.
Bobby Novel Library
Bobby Novel Library is a 45-year-old book store in AL Market in Shalimar Bagh. You'll find authors like Daniel Steel, Nora Roberts, Agatha Christie, and more. The owner gives out all the novels at 40% of their original rates and when you're done reading, you can return the books and get back half of what you paid!

Jacksons Books
Jackson's Books
in Paharganj is a treasure trove full of both new and pre-loved books in more than 10 different languages priced at a starting rate of INR 100. This store stocks all kinds of fiction and non-fiction books, latest editions, pre-loved novels, religious books, cookbooks, classics and even comics like Tinkle, Amar Chitra Katha and Panchatantra Tales that we grew up reading. Jackson's also sells books in different languages like Japanese, French, Spanish, Dutch, Hebrew, German and more.
Anil Book Corner
Located right next to the iconic PVR Plaza, this shop is mostly left unseen by people because of how tiny it is. But once you discover it, you'll know the kind of treasure it is given that it houses books from different languages, various authors and multiple genres. From Hindi's Prem Chand to English's J.K. Rowling, you'll find pre-loved books here for as low as INR 50.

Picadilly Book Stall
This bookstore in Shankar Market has books starting at INR 50. While their USP is their books on topics like divinity, spirituality, mythology, and the likes, they also have a lot of options in fiction and history. There's also a tiny top floor which can accomodate only person at a time. This store is perfect to browse in for when you're in the mood to pick up rare books on topics that you never really thought about exploring before.
Comments