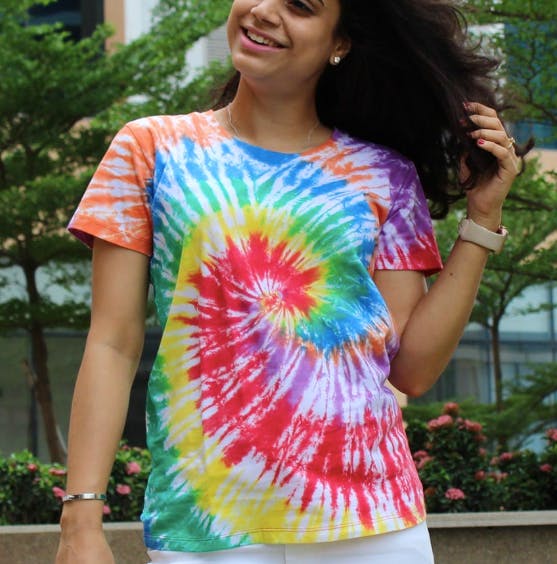 Colour Me Crazy: Huedee's Handmade Tie-Dye Tees Are AWESOME
Up until recently, tie-dye was as dead as a doornail. But then, Beyonce rocked it one holiday at the beach and Justin Bieber wore it to church and now it's everywhere. It's the one trend that's age-irrelevant, gender-proof and ticks off the eco-right box! All my fashionista friends are already taking notes, and if you haven't jumped on the trend yet, here's some REAL fashion advice: now's the time!

Huedee, a sustainable fashion brand, is doing every (quite literally) version of tie-dye tees at jaw-dropping prices.
Tie-Dye Multicolour Spiral Tee
Every one of Huedee's t-shirts is made with a washable, eco-friendly fabric that doesn't fade with every wash, instead gets more fresh than before! I personally love this classic spiral print tee which features a RAINBOW of colours! I scored it on LBB for 23% OFF and I've been wearing it everywhere.
Ombre Tie-Dye Tee Shirt
If you're still getting used to all the colours - start with this Ombre t-shirt which features a dual tone - a vibrant cherry-tomato blended with plain ol' white. It's available in sizes up till XL and is for a great price on LBB today!
Tie-Dye Shibori Tee Shirt
Shibori is another FAB (a lil' difficult) way to do tie-dye and this mint green everyday tee does complete justice to it! It amps up a casual day look and looks super trendy without putting too much effort. It became a best-seller on LBB the moment it launched, so hurry up, gets yours!
Tie-Dye Tank Top
Calling all monochrome addicts: this stunning top is your personal gateway into the trend. Tactfully mixing up black and white, this super comfy top will become your summer BFF in an instant. It's every occasion-friendly, weather-appropriate and has a really flattering fit too. Pro-tip: Throw on a denim jacket and your fav sunnies to rock an uber-chic look!
Tie-Dye Stripes T-Shirt
If you like to keep things minimal - go for this easy, breezy striped tee. TBH, there's no better time than summer to rock a blue & white combo, and this one's made in a 100% cotton too! It's best worn with comfy denims, white jeans or even flowy palazzos, and I'm guessing your minimal wardrobe has a slew of those!
Comments