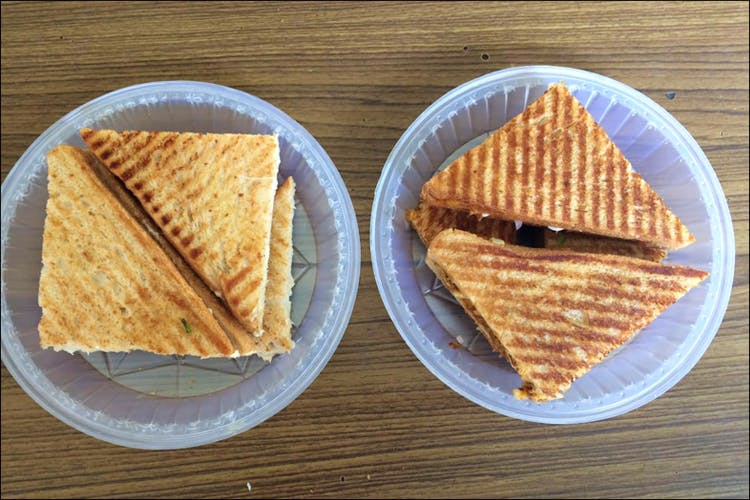 Nearest Metro Station:

GOLF COURSE
Grilled Sandwiches Done Right At Caffe La Poya, Noida
Shortcut
One of Noida's oldest haunts, Caffe La Poya started as a hole-in-the-wall joint offering delish grilled sandwiches. They now have a tiny seating area, another outlet, and have added subs and pizza to the menu. The sandwiches however, remain the main attraction.
We Like It Chunky
We visited the Sector 30 outlet recently and honestly weren't expecting much, given the dead market the cafe is located in.
The menu looks promising enough- we had over 15 different sandwiches to choose from and decided to try three of them. As per our experience, the Spicy Chicken Keema is the best one, especially if you like just that slightest tinge of masala in your food.
The Chunky Chicken, surprisingly contained tiny morsels of shredded chicken and was enveloped in a mayonnaise-based sauce. It was definitely milder but still chock-full of flavour.
Whereas we weren't expecting dessert here, they do a flawless Nutella Delight sandwich which is essentially grilled bread with a generous filling of the chocolate spread. A must-have for the sweet-toothed.
So, We're Saying...
If you're in the area and your tummy is rumbling, Caffe La Poya will not disappoint. Their bread is soft and we're very happy with their amount and quality of fillings. No stinginess here.
We're yet to try their pizza and submarines- we'll definitely let you know how they are when we go next. Or, you can tell us!
#LBBTip
They's gone on the internet now and have some pretty sweet deals if you place your orders online.
Comments
Nearest Metro Station:

GOLF COURSE