The information in this post might be outdated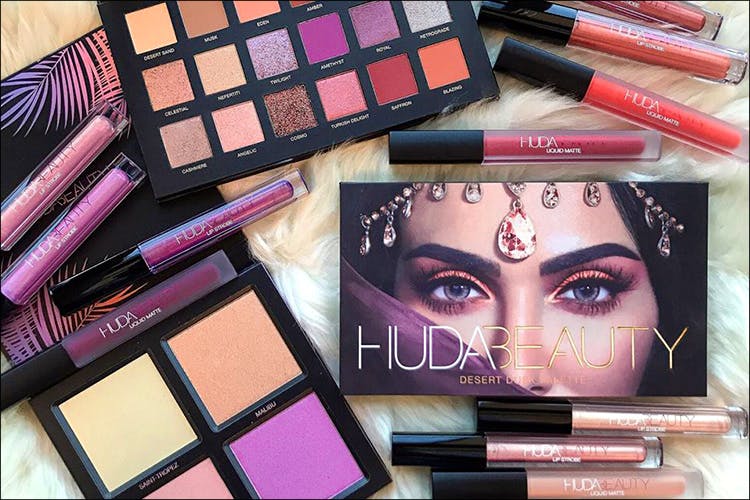 Huda Beauty Is Finally Here, And We're Stocking Up On Matte Lipsticks And Eye Shadow
The biggest collab of the beauty world has happened, and there's no way we're not going to fill you in on the deets. PS: You certainly need to up your goss game if the fact that Huda Kattan is coming to India is still 'news' to you.
Makeup Mogul Huda Kattan has partnered exclusively with Nykaa.com to launch her beauty line in India on January 19, and we're excited! An inspiration to makeup aficionados, entrepreneurs, as well as the average Indian woman, Huda is the phenomenon the world can't seem to get enough of. And now, after wishfully watching and re-watching her tutorials, it's finally time to get our hands on those famed, faux lashes and liquid matte lipsticks.
So here's presenting our absolute favourite signature products from the Kattan empire that we're sure will make your wishlist, too.
Desert Dusk Eyeshadow Palette
Heavily inspired by the Arabian desert, this dynamic eyeshadow palette comprises of 18 shades in four unique textures – eight creamy mattes, six shimmering shades, three duo-chrome toppers, and one dazzling glitter. Go on and start polishing your layering skills because with this master, you've got an infinite array of looks at your fingertips.
Liquid Matte – Heartbreaker
It broke our hearts to see Huda waltz around in this breath-taking lip colour on the other side of the screen, while all we could do was drool. Duh. Our days of misery have come to an end; this rich red's gonna be the star of our vanity kitty starting now. Swish on this killer of a pink-red for the family dinner, a date night with bae, or the boozy all-nighter.
Textured Shadows Palette Rose Gold Edition
A complete wardrobe for your eyelids, Huda's debut eyeshadow palette is almost too good to be true. Ten highly-saturated mattes, two chrome pressed peals, and six 3D metal shadows come together to form this monster of a palette. Buildable shades that deliver maximum payoff, this timeless collection is an ode to Huda's and our favorite hue, Rose Gold.
Liquid Matte – Bombshell
Safe to say nothing gives better daytime lip service than the Bombshell right here. Huda's go-to colour for all occasions, this pink-based nude is the perfect pick for all skin tones. If you're not already on the nude bandwagon, this oh-so-feminine tint is all the motivation you need. Life is tough; let's make it simpler with a classic, nude pout plumper.
#Fauxfilter Foundation
This base genius was born out of Huda's frustrating struggle of not being able to find the right foundation for herself. This bottle of liquid intelligence boasts of full-coverage, velvety texture, superb blendability, a matte finish, and the goodness of Argan Oil. The sheer fact that this one's got 30 amazing shades to offer is proof enough of its versatility.
Faux Mink Lash – Farah #12
It's no secret that Huda herself can't get enough of Farah. We can't really blame her. Considering how all women are suckers for drama, the eyebrow-grazing length of this bestselling pair of falsies is OMG-orgeous. Triple-stacked lashes perfect for those larger lids and prominent brow bones, it's time we skip the mascara and go lashing out, Huda style.
This recommendation was first posted on Nykaa. 
Comments