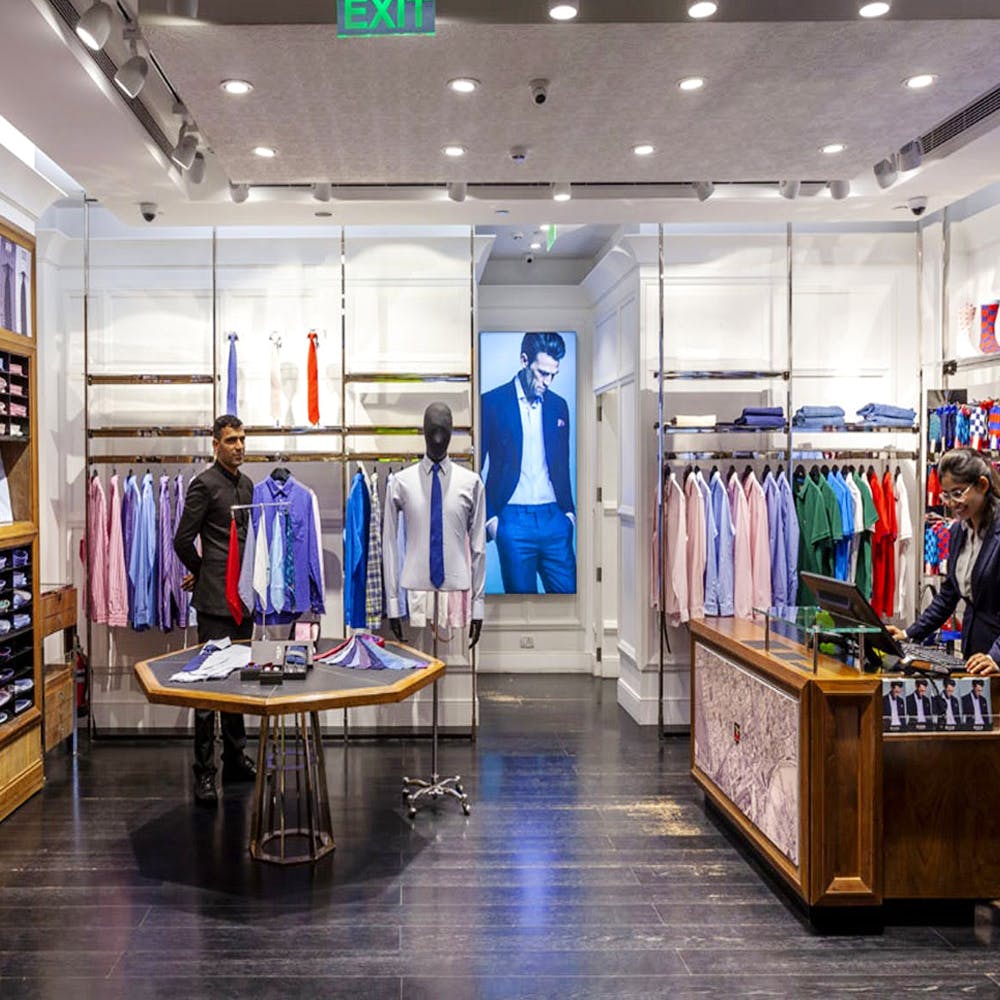 Nicobar To Hermes: Best Of Men's Fashion
If you're the kind of man who loves all things fancy, shopping at The Chanakya Mall would probably be a great idea. From Ralph Lauren to Nicobar, we've listed out all the brands that are worth your time and money.
Get ready to swipe that card now.
The Collective Denims
This is a store that houses only denim lifestyle brands like Seven For All Mankind, Versace Jeans and Replay. You can choose from over 40 denim fits and they have denim accessories too. Denim jackets are all the rage, you might want to check out The Collective?

Diesel
A popular denim brand, Diesel's store at The Chanakya houses clothing and accessories. It's also a brand that introduces more than 3,000 new products every season, so check it out if you love all things denim and a want a great variety too.

Thomas Pink
We love the minimalism and the fresh, bright layout of the store. Premium shirt makers, Thomas Pink also sells ties and knitwear, and pride themselves on their impeccable finishing. Head over to revamp that office wardrobe!

Ralph Lauren
If there is one name everyone would have heard of in the fashion industry, it is of Ralph Lauren. Even though he started small, he is a giant in the industry and one of the most sought after designers.
Check out his store at The Chanakya for dark tailored blazers, classic plaids, striped sweatshirts, and polo tees.
Nicobar
Nicobar does the most stunning shirts for men. Be it the prints, the quality of the shirt, or the fitting, their apparel ticks all the right boxes. Apart from shirts, Nicobar also does kurtas, trousers, the most adorable men's boxers, pocket squares, and jackets.
We admit that it's expensive, but we promise that it's worth the money.
Perona
They are winning hearts with their minimal craftsmanship and extremely chic design for the person who is all set to take over the modern world. They not only do apparel but also do bags and cases.
They've got well-fitting leather jackets, knitwear, and minimal pants and lowers.
Ted Baker
Ted Baker London launched its first-ever store in India at The Chanakya in Delhi. It's a 1600 sq. ft. store inspired by the British royal palaces. This store houses signature Ted's menswear which includes printed floral shirts, blazers and jackets in neutral tones, fitted chinos, printed ties, bows and lot more.

Comments