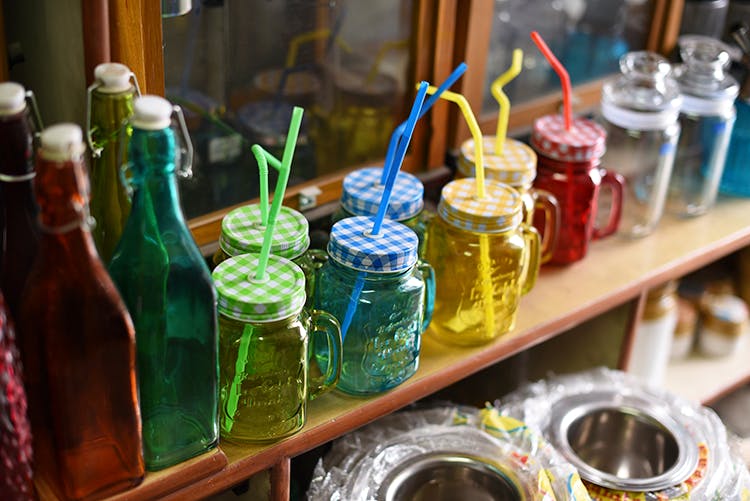 Chandni Chowk's Hipster Crockery Is Blinding Us With Colour
Shortcut
Aggarwal Crockery & Scientific Stores is a sight to behold with all its glorious fancy crockery, tucked away between a denture store and a horde of hawkers in Chandni Chowk.
What Makes It Awesome
As we left the beautiful Haveli Dharampura and decided to walk around Chandni Chowk to soothe our stuffed stomachs, we stumbled upon this tiny store that blinded us with its myriad of reds, turquoises, grass greens, yellows, and more.
We made our way inside Aggarwal Crockery & Scientific Stores, and we couldn't stop ooh-ing and aah-ing over the cute glasses, cutwork vases, long, slender bottles, and oil lanterns. For those looking for home essentials, this tiny store stocks everything from bone china cups, bowls, and jars to hanging lanterns and planters. We asked around for prices and were pretty surprised to learn that they start at INR 50!

We also learned that they deliver to new restaurants who keep mason jar sippy cups in lieu of beer mugs, and those coloured glass water bottles too.
We were quite taken by the colourful chemistry paraphernalia; think pipettes, beakers—triangular and otherwise—as well as test tubes and what not. We know that Chandni Chowk has many such treasure troves hidden in each corner, possibly in every lane, but this one really calls out to you with its vibrancy.

What Could Be Better
Since it's Chandni Chowk, there's always a bit of walking and finding involved, so make sure you're well rested and prepared to have a tiring day. You can't take your car here either.
Pro Tip
Be prepared to haggle! We got ourselves a ruby red sippy cup, and contemplated picking up the oil lanterns too. We were pretty surprised with the prices. What usually costs around INR 250 in the mall, will only set you back by INR 180 or so here. Also, they're closed on Sundays.

More Information
Aggarwal Crockery & Scientific Stores
Nearest Metro Station: Lal Quila
Comments