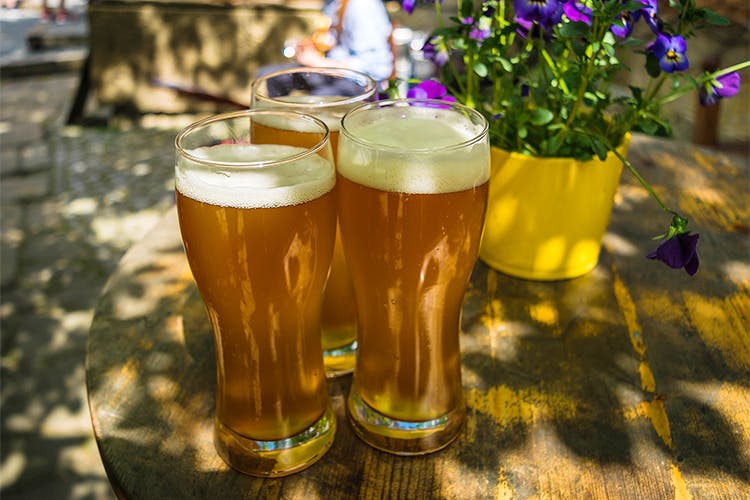 Month End Woes? Our Big List Of Budget Bars Will Sort You Out
Whether it is drowning your sorrows or just having a jolly good time with your friends, everyone needs a well equipped bar for it (and a cheap one too). We know, finding the right one for yourself can be quite a hassle (considering there is so much to choose from), so here is our handy guide of the cheapest bars/watering holes in the city.
Hauz Khas Social
Their time tested cosmopolitan retains its original charm, with added candy floss and orange fest for a kick you'd never expect while.
Their Blue and Red Pills comes in beakers with a syringe full of blue curacao and berries; pick the one you want (as the name suggests) and they'll inject the cocktail with your choice. Try their towering LIITs, where you can choose from a variety of flavours or their combination of gin with Earl Grey tea.
The Chatter House
On Monday, all their Margaritas are priced at INR 225 a pop, Tuesdays have great deals on a variety of alcohol throughout the day, and Thursdays are there to sip on some Jameson. Supplement your drinking with some of their jalapeno cheese balls with their special pesto dip.
Harry's
For days meant for long conversations with old friends, head to Harry's. Their space is small but cosy, and the music adds character to your experience instead of overpowering it. Their drinks include traditionally mixed cocktails as well as their own concoctions.
Beeryani
Their name indicates exactly what to expect at this joint; biryani and beer. We headed there with a few friends for the first time and discovered their beer bucket (five Kingfishers for INR 600) and polished off more than we'd care to admit.
For all beer lovers, they have your standard beers starting as low as INR 120, as well as draught beers. You can pick between a mug, pitcher or, if you're feeling adventurous, the tower.
Lanterns Kitchen & Bar
This is the kind of bar we'd head to when drinking in bulk in a large group. Their prices allow our wallets to heave a huge sigh of relief, and they've got a wide range of liquor (including draught beers) to try out.
It's a little out of the way, but if you're willing to go the distance, you'll leave a happy camper with lots of juice in your belly.
The Beer Cafe
The Beer Cafe should be first on your list for early evening drinks (the kind you have right after work). The Beer Cafe comes complete with a giant screen, every type of beer, and Indian appetisers to boot. Do not miss their masala peanuts and always order the giant beer dispenser.
Only downside? The seating is a tad cramped, so tables end up being too close together. But hey, alcohol is a great conversation starter.
My Bar
We recommend bookmarking this one only if you're with a large group of friends; it has the potential to get borderline seedy. Located in the heart of Connaught Place, My Bar is always crowded, and a wait to be seated is always on the menu. If you can see inside (dim lighting), you'll notice that the only attraction is possibly the alcohol rates.
1 Oak Cafe And Bar
Even though the name is ripped off from one of NYC's most popular clubs, we were very happy to stumble upon this gem. Tucked away under a flyover, 1 Oak is spread over two floors with outdoor and indoor seating sections. Wooden floors and furniture, it's the perfect watering hole for when you want some privacy. Also, they serve hookah, so really take advantage of that solitude.
Barrack 62 – The Gastro Pub
After work drinks will be sorted even when it's end of the month if you're slogging through the week in Noida. Barrack 62 has just the right vibes, mood, and menu. They have all the favourites and team it up with the alcohol, and you'll surely have a winner.
Agent Jack's Bidding Bar
Located in Sector 29 of Gurgaon, Agent Jacks is a known brand now, especially when you need to throw a birthday party but are low on funds. It's simple – you bid, and you win drinks as low as 30 rupees here. I mean, that's like having tea from the roadside stall!
Tama Brewery & World Kitchen
It is a microbrewery that allows you to taste 5 different flavours of freshly brewed beer! How cool is that? They even have a private dining room where you can have small meetings and get-togethers as it can host up to 20 people.
TC Bar & Restaurant
The original TC was in Adchini, and it was one of the nicer places to go to in the city in the day. They always played great music, if you're into metal and rock, they had the best karaoke nights and they even let you smoke inside. It only opens at 7:00 p.m. though, so don't be fooled if you get there earlier and it's closed.

Route 04
Cheap booze and bar food FTW. Another classic, this bar is an all-time favourite for all age groups. Whether it's day-drinking or post-work drinks, this place is perfect for every occasion. While they shut down in Khan Market, they're very much alive and kicking in CP.
Plan a drinking session here soon!
Mama's Buoi
One of the more affordable bars in student's central i.e. Hudson Lane, Mama'sBuoi is ideal for when you're with friends for a chill night out. Pints start at INR 130 here, and the food here is decently-priced too (non-veg starters at 299, pasta starting at INR 269 and pizza starting at 319).
We also hear that their music is great, and the staff is super hospitable too.
Ask Editors a question