Cheesecake Macarons, Anyone? This Patisserie Does Them & So Much More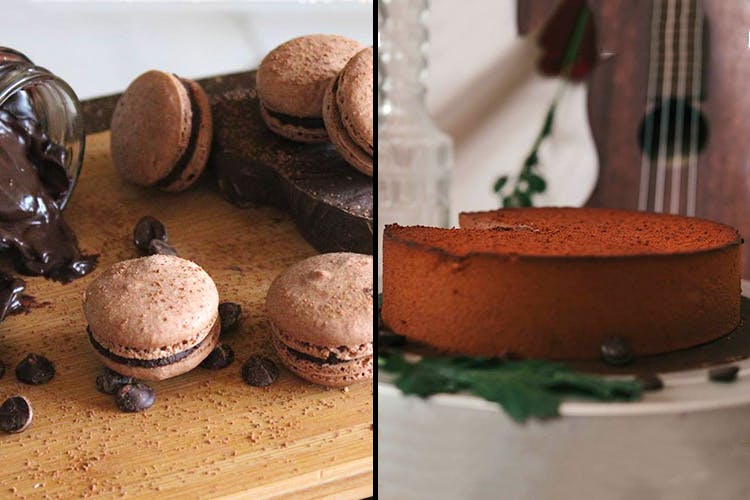 Shortcut
Sanrozill is a new French Patisserie that's doing delicious macarons, mousse cakes and more.
What Makes It Awesome
We tried their signature cheesecake macarons in black (we loved these), and they weren't the overly sweet mouthfuls of sugar we're used to most macarons being—they were subtly flavoured and pretty great. We especially liked their mint chocolate one. Their chocolate entremet layered with some fantastic Bergamot sponge, quite literally, took the cake. They've also got éclairs, red velvet, cake chocolate and caramel tarts, desserts in jars (red velvet and chocolate), cupcakes, and rich mousse cakes.
We liked their packaging, crisp corners and pastel colours. They're using specific ingredients and baking methods to ensure their desserts sustain in the hot, tropical Delhi weather. So, they've come up with a neat hack to maintain the temperature for their French mousse desserts in the boxes (and if you're wondering what it is, trust us—we tried to wrangle their secret out of them, to no avail).
They've just launched and are taking orders from Lajpat Nagar (you can pick it up from there). They do custom orders and require two days in advance. Though they do deliver, they're currently charging extra for it until they're set up with a more permanent delivery situation.
What Could Be Better
They're a little on the expensive side, which is understandable for their cakes, but simple stuff like macarons is INR 500 for a box if six and box of two tarts is INR 575. But, if French pastries are your thing, you won't mind shelling out this much for the quality.
Comments