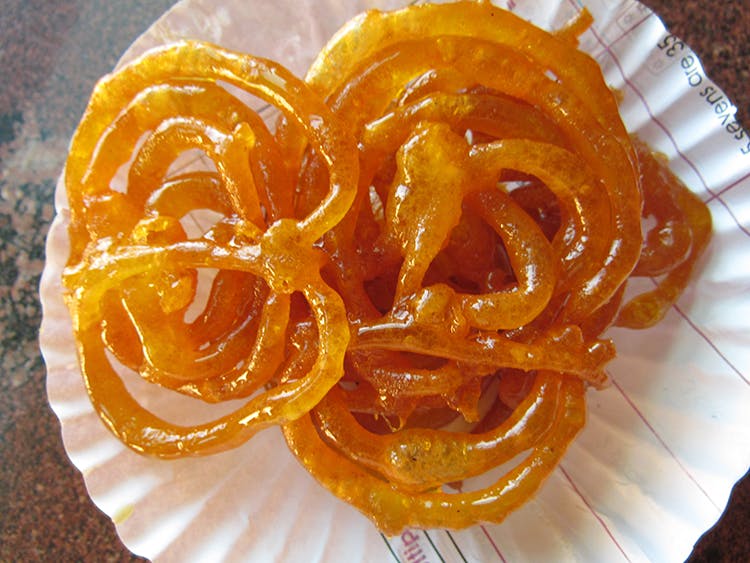 Gohana To Gurgaon: Try Choudhary's Huge Jalebis
Shortcut
Amidst the hullabaloo of the Sector 56, Huda Market in Gurgaon, you will find Choudhary Gohana Famous Jalebis – perpetually crammed with famished customers who are waiting to get their hands on their specialty jalebis.
Twisty Teasers
All the way from Sonepat, these sweet fairies are humongous to say the least! Prepared in 100 per cent pure desi ghee, they are served piping hot with a glass of kulhad milk – the traditional way. Crispy, crunchy and yummy – these babies are not only the ideal sweet endings to your meal but can be had as a quick snack on its own.
Dripping with sugary sweet syrup, in spite of their size, it's almost impossible to stop at just one. Just the sight of these golden brown jalebis frying is enough to make you drool. Word of advice, if you're on a diet – stay away!
The outlet is a clean affair and the service is friendly. Although there is no seating at the joint, you'll find people standing and chomping on their jalebis without a fuss. Given its size, spotting the shop might be a tad bit difficult but the distinct aroma of the jalebis will guide you there.
The Joy Of A Jalebi
The ideal time to visit the outlet is in the evenings, especially on rainy days. Apart from their specialty, they offer standard sweet shop mithai and snacks like barfi, gulab jamun, samosas and pakoras. You can probably make a meal out of all their deep-fried offerings, as long as you're not counting calories.
A messy affair, don't take your first bite in a car. The syrup oozes everywhere, but the joy of a jalebi is such that we didn't mind too much.
#LBBTip
They have another outlet in Shop 3, Near Vita Booth, Huda Market, Sector 45, Gurgaon
More Information
Choudhary Gohana Famous Jalebi
Nearest Metro Station: HUDA CITY CENTRE
Comments