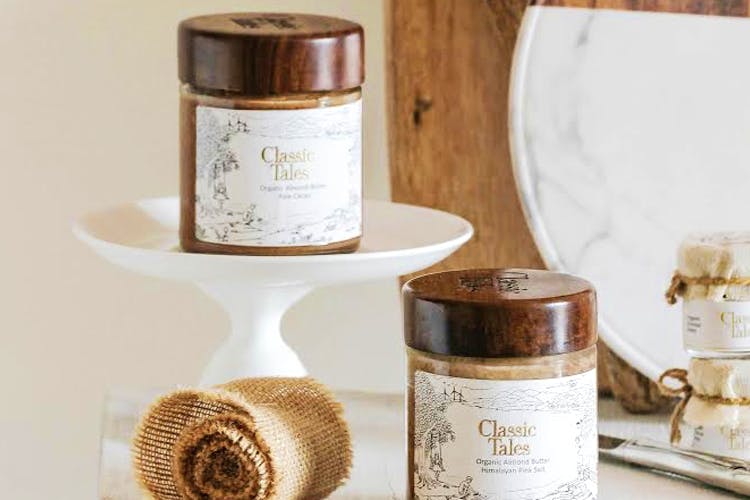 Fitness Buffs, Check Out These Food-on-the-go Hacks That Will Make Your Life Healthier
Want to keep up with your summer fitness goals? Beat those midday hunger cravings with a stocked-up kitchen that's both good on health and yumminess. Yasss! Classic Tales' Organic products are sustainably packed, and will spoil you for choice with their cute wooden lid nut butter jars & hand-crafted bars for all those quick recipes.

Break The Fast With A Smoothie Bowl
Get rid of those morning blues with a healthy bowl of everything sweet. Blend bananas, oats, honey and vanilla essence with some Classic Tales organic protein-rich raw cacao almond butter with coconut sugar. Top with nuts and fruits, and there you go! One bowl, pocketful of flavors.
Check out the complete recipe here.
The Sweet Truth Of Truffle Ladoos
Ladoo and chocolate in one? It's a treat we are in for! Blend Classic Tales Crunchy Almond Butter, dates and roasted oats. Palm-shape them into small balls of love and top with anything your sweet tooth craves. This easy recipe is certainly going to make you dig for more.
Here's the full recipe.
Keep It Crunchy With Almond Millet Cookies
No hunger-pangs are truly ever pacified without some crunchy cookies. If you are not someone who likes the creamy ones, Classic Tales has the perfect solution! Snug into your pajamas, put on some Netflix and treat yourself to the guilt-free raw cacao almond butter cookies.
Click here for the recipe.
Don't Skip The Sip Of Green Smoothie
Get healthy smoothies on the house with Classic Tales! All you need to do is blend some Raw cacao almond butter with milk, spinach, oats, yoghurt, honey and vanilla essence. If you're watching your weight, this one's perfect. Smoothie date, anyone?
Here's the complete recipe.
So, We're Saying…
We're totally crushing on Classic Tales' USDA & India organic certified hand-crafted range of products. If you're planning to binge watch the night out but are fretting about those calories, worry no more! These products are making for a perfect gift with their freshly crafted small batches and sustainable packaging.
Stay tuned to updates from Classic Tales on Facebook and Instagram.
Comments