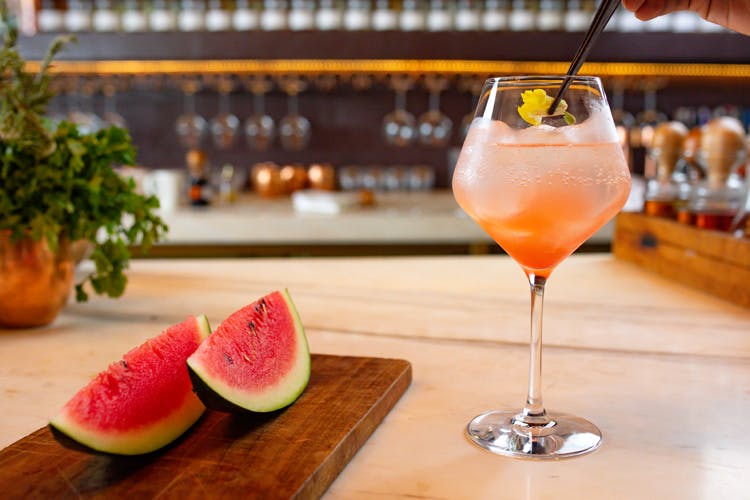 Go Cocktail-Crazy This Summer With An All-New Cocktail Menu At Juniper Bar, Andaz Delhi!
Always looking to try drinks with a twist? Then you've got to visit Juniper Bar at Andaz Delhi to enjoy a heady mix of cocktails from classic gin to other refreshing and eclectic in-house infusions, amidst the Insta-worthy beautiful setting. With the launch of the new menu this summer, they're already raising our expectations with exciting signature infusions made with the freshest of ingredients. Read on to know what 's in store at one of our favourite cocktails bars in the city!
For The Love Of Cocktails
Sweet, savoury, sour, soothing fruity or bitter—whatever your style, Juniper's new menu has got them all! We're particularly trying out the Juneberry that's an infusion with Cherry Blossom Gin; Paradise Valley which brings you all the Kashmir feels with a Kahwa Tea infusion; and Kerala Lady with flavours of cardamom, pineapple and rose. So, if you want to take your palate for a ride, this cocktail bar is the perfect place to be.
What is really tempting us are the 39 varieties of home-infused gin and we cannot wait to try them all. They're made with flowers, hand picked herbs, fresh juices and carefully distilled liquors. Looks like the mixologists at Juniper put in all their creativity to bring you the best.
Here's another reason all the Gin lovers will want to head to Juniper! The city's best gin bar has already got us crushing on their fusions. Bring over a date, your gin-crazy friends, or come solo because Juniper's surely going to get your gin-buds uplifted. Andddd the bar people are friendly enough to let you get behind the counter and make your own cocktails. So, bring out the mixologist in you and get shaking!
So We're Saying…
Juniper is the ideal spot for you the next time you need to entertain business partners or friends. With its communal bar and awesome team of bartenders, you can socialise, experience something unique and let yourself go crazy on cocktails! So, should you be heading to Juniper for your next outing? Hell, yes!
More Information
Juniper Bar
Nearest Metro Station: DELHI AERO CITY
Comments