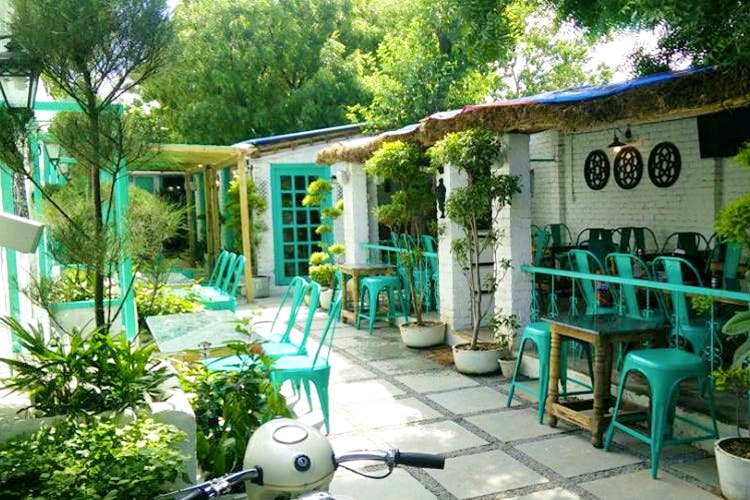 Delivery Available

Wi-Fi Available

Nearest Metro Station:

BOTANICAL GARDEN
Cold Coffee & Board Games In A Tree House? This Cafe In Noida's Got It!
Shortcut
A popular hangout for Amity University and HCL folks, we can't believe it took us almost a year to find The Courtyard Cafe in Noida. Once we saw their photos, we knew we just had to make the trip and get you the deets.
Three's Company
Started by three folks, this one wins big on aesthetics. Both their cosy indoors with muddhas and outdoors with all the greenery and their teal furniture is totes Instagramable. It also happens to be one of those rare places with good music and a super-smiley staff. We'd be lying if we didn't admit we were smitten by how pretty this place looks, and that it isn't too far inside Noida.
They stock up on Jenga and more board games, and we're going back if only to sit in their little tree house and sip cold coffee for hours as the sun sets.
Good Things Take Time
We've got to be honest and tell you that the food will take its sweet time to come to your table; but on the bright side, the taste of it will compensate for the waiting time. We got ourselves some Wok Fried Idli and the Chicken Pesto Sandwich, basis the staff's recommendation, and both were polished off to the last mortal crumb.
The meat-eater was impressed by the freshness of the pesto, and would happily have it again. His only grouse was the quantity of chicken. The idli, however, was an awesome explosion of flavours that seemed like they got along like a house on fire. The crisp veggies were a fitting foil to the mushy tomatoes, and the idlis were the softest we've ever had.
We'd say order their cold coffee and end with their gooey brownie with vanilla ice cream. Yes, it's typical, but nothing soothes the soul better than the simple things done well, right?
The folks on the other table were also heard raving about their pizza and butter chicken. Or, their menu has salads, soups, pasta, Chinese, Amritsari kulchas, desserts, fruit beer and more.
So, We're Saying...
This place is worth a visit if you're in Noida. With all the good grub, laid-back vibes and plants all-around, we're sure you'll be as charmed by it as we were.
Comments
Delivery Available

Wi-Fi Available

Nearest Metro Station:

BOTANICAL GARDEN