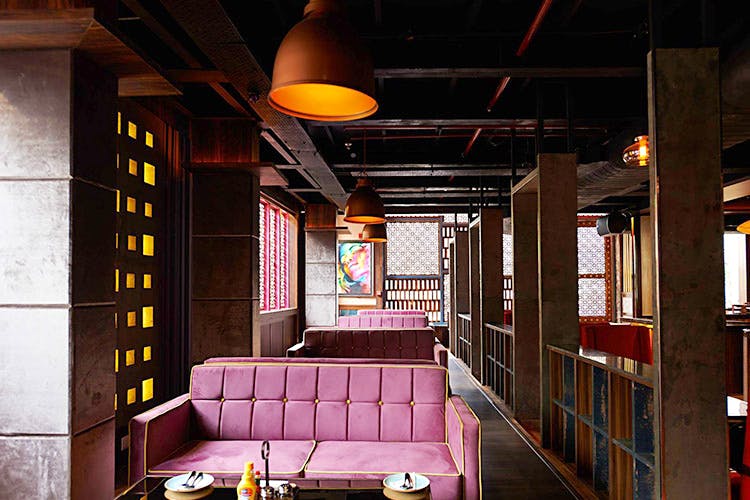 You Connaught Miss These Bars, Lounges & Eateries In CP
We've always associated CP with shopping (Palika and Janpath FTW), Keventers milkshake and a myriad of street food. However, there many other options to choose from, after, of course, we've worked up an appetite going round and round the (inner and outer) circles.
Teddy Boy
Vintage decor, plush leather couches and gentlemen in stylish tuxedos; Teddy Boy is almost like a doorway to the bygone Edwardian era, though their food is all about Indian tadka.
Choose from dishes like Kasundi Chicken Skewers, Prawn Schezwan and Keema Patties. Vegetarians can munch on the Stuffed Tandoori Paneer. Also worth trying is their Chocolate Golgappa.
HotMess
Perhaps the city's first food joint inspired by aphrodisiac ingredients (hot chillis, asparagus, avocados, bananas, chocolates, pomegranates, red wine, etc.), HotMess offers a range of cocktails and global food in a space that combines both rustic and modern elements with splashes of colour.
The menu is a melange of salads, soups, pasta, pizza and spicy Indian. Highlights include Chur Chur pizza, Crazy Burgers, Bourbon Chicken and Nacho Pencho.
Burger Singh
A desi take on Burger King, Burger Singh boasts of a menu full of spicy and innovative fare such as Achari Mutton burger, Nani's Rajma burger, White Guy Chicken burger and Channa burger. Beyond the burgers, they've got snacks like Scarlett Wings, and Dilli-6 fries with a bunch of sauces and dips like Tandoori and Hot Bihari Sauce.
Tamasha
Complete with a huge banyan tree and truck bar, Tamasha offers a mix of Indian, Middle Eastern and classic continental dishes. Confused about where to start? We'd go with the Tandoor Chicken salad, Chicken Chettinad, Spinach and Mushroom Dim Sum, and Paneer 65 Bao.
Odeon Social
Every table at Odeon Social has its own typewriter and an old-school telephone. A 360-degree look at the place will have you checking out trophies and books in a large wall cabinet, numerous wooden boards bearing names and marks of students. The menu is pretty much the same as Hauz Khas Social and Def Col Social, though we're totally loving this place solely for its ambience. The swing in the balcony is our favourite.
52 Janpath
52 Janpath has a beautiful outdoor space lit by candles. And sometimes they play live music. With a stellar cocktail menu (try their mojitos) and some truly interesting appetisers (like the bacon wrapped asparagus), it's perfect for a date or a quiet evening with close friends.
Cafe OMG
Cafe OMG's decor is meant to represent heaven and hell. They've got very pretty indoor seating, complete with a baby elephant hanging from the ceiling; it's quite surreal.
Confused on what to order? Share your taste preferences with the bartender to land up with a cocktail you'll love, and definitely don't miss out on the hummus and pita platter.
Cafe MRP
Check out Cafe MRP if you want a low budget party scene and do not mind loud music. They're not offering much in terms of ambience, but they're doing good things with their meat and classic cocktails at affordable prices.
Bunta Bar
This brand new bar in CP promises great food as well as drinks. Done up in quirky hues (the bunta bottles are lit by LED lights; the DJ console is in the shape of a truck), its a great place to unwind at. Don't forget to try their Kala Khatta Bunta and their pijjas (think desi pizzas on flatbread). They're priced pretty well too.
Comments