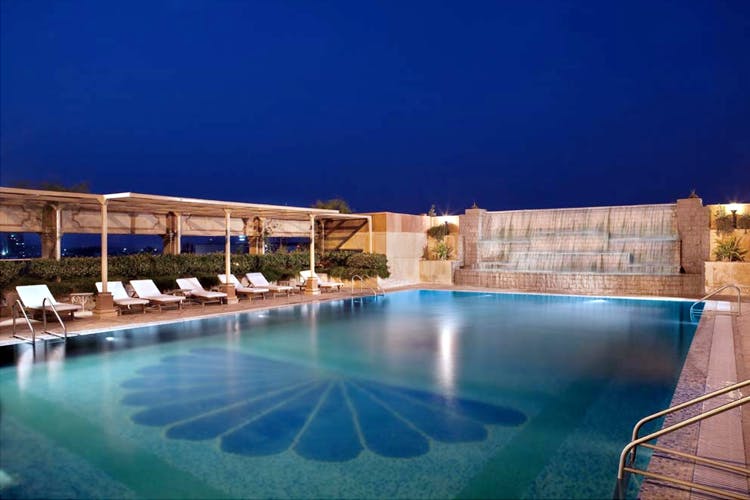 #LBBPicks: Cool Off At These Swimming Pools In Gurgaon
Whether you're recovering from an injury, looking to streamline that waist in time for the summer season, or just keep in shape, swimming is a great physical activity. In a hot, dreary, dirty city like ours it is also a much-needed respite.
So grab your goggles, trunks and towels and head to these swimming pools in Gurgaon.
Pullman Hotel Central Park
The Pullman has an outdoor pool, located below main ground level, which is is scenic and, excitingly, can also be booked for pool parties. Day passes for swimming are issued too.
Fortune Park
Officially a business hotel, but why does that mean we can't visit for leisure? Monthly, quarterly, semi-annual or annual memberships on offer.
DLF City Club
While not the biggest, the City Club has a handy outdoor pool that is great if you want to avoid the intensity of more popular swimming spots.
Crowne Plaza
Right off NH8, you can hit up this pool on your way home if you happen to work in Delhi. The heated pool in this five-star luxury setting makes the annual membership seem tempting.
Nirvana Patio
We hear they have a good pool, which is accessible to members. If any of your friends happen to be on the books, then make sure you have a couple of hundreds in your pocket and rush over.
Maple Town & Country Club
Maple Town has a decent swimming pool, and is open to guests, so we can't complain. If you live in Palam Vihar, this is a good option.
Leela Kempinski
Only members can nip across to the plush Leela Kempinski for monthly, quarterly, semi-annual or annual memberships. The pool is heated, so it is a good option all year round.
Fitness Point Swimming Club
This swimming club offers classes for adults and children and is found in Malibu Town. They offer monthly and quarterly memberships.
DoubleTree by Hilton Hotels
Their first floor outdoor pool is accessible in quarterly, semi-annual and annual plans. You also get a 20 per cent discount ticket to all F&B offerings within the property – perfect to replenish your energy after a nice, long swim.
Hilton Garden Inn
A reasonably-sized rooftop pool, that is picturesque by day and but even prettier lit up at night. Memberships are available in semi-annual and annual offers, and include gym access.
The Westin
With refreshing patches of green, a bamboo plantation on one side and a water sculpture on the other, The Westin's pool is a beautiful way to cool down. Monthly, quarterly and annual memberships come clubbed with access to the gym, steam and sauna.
Baba Gangnath Swimming Club
They may not have the best amenities, but the membership rate is decent and they provide swimming coaching as well.
Galaxy Hotel
The Galaxy Hotel has a pool, and they want you to use it. They offer pool membership clubbed with access to their gym, steam and sauna: The complete unwinding package.
The Bristol Hotel
The trusty old Bristol Hotel has a the perfect oasis for you. Access their pool with monthly or annual memberships.
Comments