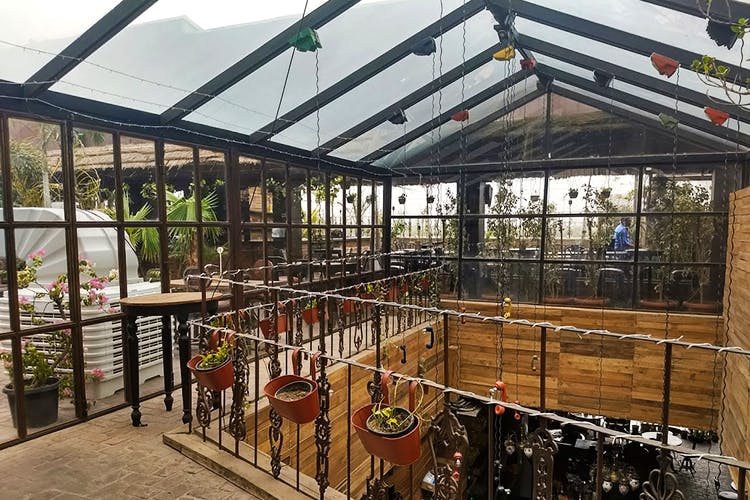 It's Raining? These Restaurants With Covered Rooftops Will Save The Day
Paper boats and getting soaked… Childhood was probably the only time we really enjoyed the rains, right? Years later, we're cooped up adults in offices or sulk pots bundled up in our bed all monsoons. Okay we aren't suggesting you head out (and eat soggy samosas) when it's pouring but here's the next best offer: Covered rooftops. These cafes in the city are ideal if you want to enjoy the lush rain-washed greens from the comfort of a big window or a glass ceiling.
BOA Village
We've been meaning to check out this Civil Lines stunner for a while but haven't gotten around to making a trip that side of town. If BOA Village is in your vicinity, you gotta make a trip just to sit under that transparent roof and eat their much-hyped momo pizza.
Imperfecto
We could go on and on about how beautiful and sunny Imperfecto in Noida looks thanks to its see-through ceiling and ample greenery. You can in fact only imagine that this place really comes to life when it rains. Order yourself a pizza and mocktails and you'll never want to leave.
Pepper Pot Cafe Gurgaon
This Gurgaon cafe is almost as if it were meant for idling away hours. The skyline looks gorgeous and there are pancakes, sandwiches, soups and Kashmiri Kahwa (read quintessential comfort food) that'll offer all the solace if you've gotten soaked. If you're lucky, it might be raining and it might be a Tuesday so kiddos will eat for free.
Potbelly Rooftop Cafe
Find yourself around Shahpur Jat on an exceptionally cloudy day? Head right over to The Potbelly Rooftop Cafe whose cute interiors and big French Windows will shield you well and keep you happily gorging on litti, keema Maggi, Dehati Fish n' Chips and sattu paratha. Get yourself Apple Lemonade to while away more time.
Lavaash By Saby
Very few restaurants do Bengali and Armenian cuisines but this place does both and does it so well! They also have adorable cushioned seating in different colours and you'd be tempted to post multiple stories on Instagram. If it is a good day, you may even get a glimpse of the Qutub Minar.
Fig & Maple
It is as if this place was made for the monsoon. Their menu has cutlets, soups, different egg dishes, pancakes, toasts, and so much more that you can enjoy with light rains and your significant other.
0124 Bar Exchange - Open Terrace Brewery
Gurgaon folks, this brewery is for you when you can't make your way to Delhi's covered rooftop restaurants. Do try to drop by for their epic karoke nights and let your inner Beyonce shine.
The Mellow Garden
This place opens at 4pm and is open till 11pm, so you can head here for a late lunch or high tea. While they have Chinese, North Indian and tandoori options on their menu, it is their desserts that are perfect for a rainy day. Their moong dal halwa is bound to send you on a trip of nostalgia.
Comments