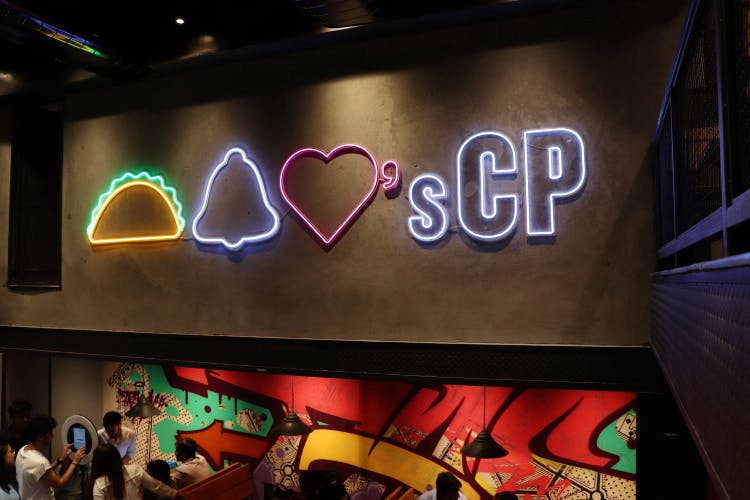 #CPWillTacoNow: Taco Bell Has Just Launched Its Flagship Restaurant In CP And We Connaught Keep Calm!
Shortcut
Does the thought of tacos, nachos, chalupas and burritos make you drool? We've got good news for you! Taco Bell, the world's leading Mexican inspired restaurant brand has just opened its flagship restaurant in Connaught Place. Read on to know all about the menu and venue!

Let's Taco
There are very few people who don't enjoy a hot and crispy taco! We would totally recommend trying the all-new Quesalupa, the Naked Chicken Taco, Crispy Potato and the Cheesy Double Decker Taco (available in both veg and non-veg). All of these dishes are sure to satiate your senses.

Nacho Me Crazy
The crispy chicken nachos with salsa make for a meal on their own! Each nacho is crunchy, crisp and just the right balance between hard and soft.

Love 'em Burritos!
Taco Bell has a plethora of burrito options for you to choose from. Whether it's the Tikka Masala Burrito, 7-layer Burrito, Sriracha Burrito or the Naked Burrito Bowl, make sure not to miss this! Filled with rice, salsa, beans, cheese, sour cream, vegetables and chicken (if you want), it is one of our favorite items on the menu.

How's The Venue?
Located in CP's N-block, it is in the heart of the Capital and perfect for those pit-stop shopping breaks! The thing we loved the most in the restaurant? They have a graffiti wall depicting the life of Connaught Place through artwork and it is absolutely #InstaWorthy. So, make sure to head there right away!

More Information
Taco Bell
Wi-Fi Available

Nearest Metro Station: RAJIV CHOWK
Ask sanya a question