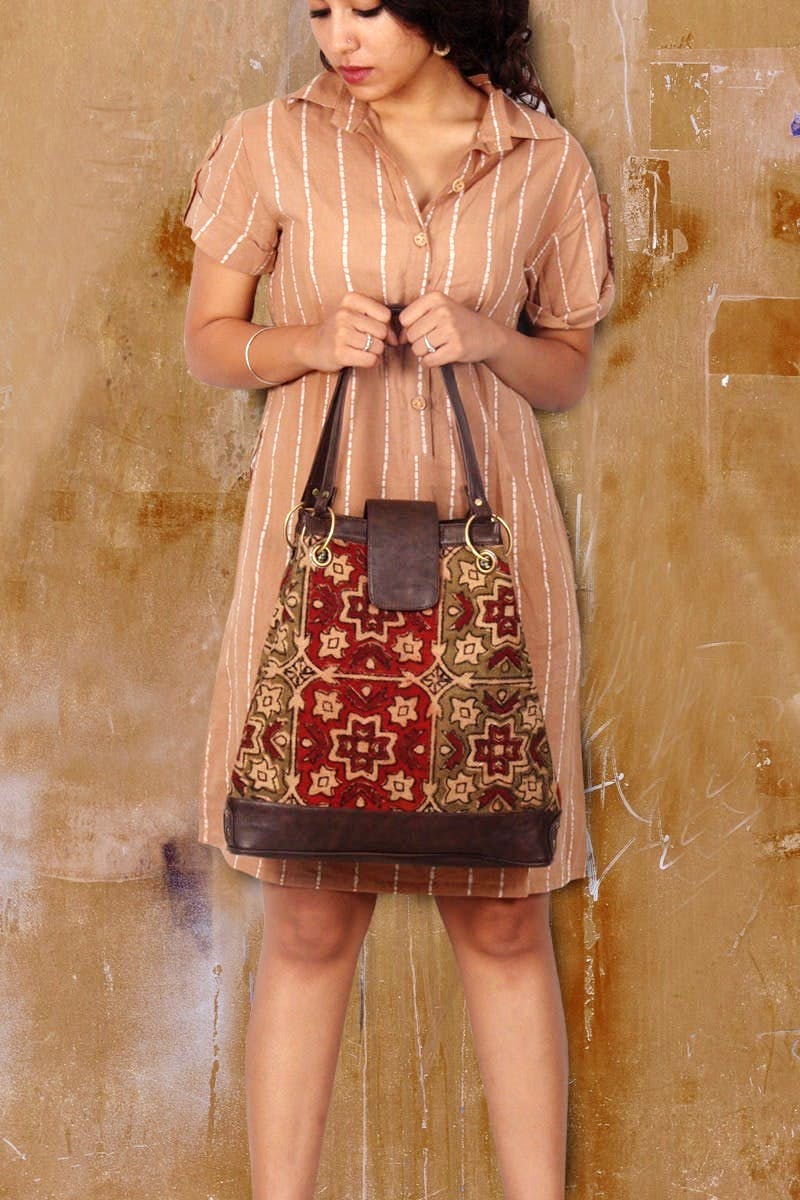 Crazy About Kalamkari: 9 Styles From ₹499
Trends come and go, but timeless art forms like Kalamkari refuse to wither away as the years progress. Kalamkari is an ancient style of intricate hand-painting that quite literally translates to art using a bamboo pen. Did we mention it includes 23 steps from start to finish? Wow.

We're giving you some incredible inspo to incorporate this gorgeous art form in your wardrobe in more contemporary, everyday pieces.
Half Kalamkari Peplum Top
We thought we'd ease you in with an option that you could very easily incorporate in your closet! This peplum top made by Mohrang by Ria is a definite heard-turner. Pair them with white cigarette pants or a cute skirt with tan heels for the complete look!
Floral Kalamkari Fabric Oxfords
The teal-olive color combination and floral motifs on these shoes offer so much character to brighten up a basic outfit. Don't worry, these beauties by the Kanvas Kloset will make your feet stay happy all day thanks to the padded soles and slip resistant base.
Kalamkari Style Print Cross-Body
This cross-body made by Vivinkaa really exemplifies the resilience of Kalamkari as an art form. Combining convenience with craftsmanship, it's the perfect blend of old and new! The tassels add a fun youthful element to the bag and give us greater appreciation for the versatility of this material! Get some art you can literally carry around!
Kalamkari Shirt Dress
This breezy Kalamkari shirt dress fulfils all your pattern cravings while allowing you to be inspired when it comes to accessorising! Pair this with cool white sneakers, or play with the blue colour-blocking or maybe play around with a belt to snatch that waist!
Kalamkari Skater Dress
Another perfect example of combining ethnic art forms with more modern aesthetics. This chic skater dress allows you to stay casual and comfortable while representing your roots! You could dress it up with some layered gold necklaces and sneakers or ballet flats.
Kalamkari Butterfly Print Tunic & Palazzo Set
This butterfly print tunic and palazzo set is the perfect outfit for when your friend calls you over and you just can't decide what to wear! Cocktail House really brought their A-game with this super wearable and intricately detailed tunic that is certain to make even you take a long glance at the artistry! So now the next time your buddy calls you over, you really can't say 'I have nothing to wear' because now you do!
Ethnic Kalamkari Coffee Cross-Body
That LITERALLY is a painting on a bag, how incredible is that! Someone made that freehand, out of vegetable dyes and a bamboo pen! We need to give these artists more credit and the people at Chanchal work for exactly that cause! They create sustainable fashion and work directly with artists to empower those at the grass-root level. Support this initiative and carry your things with your conscious purchase!
Kalamkari Pattern Coffee Bucket Bag
Complete with faux leather trim and tassels, this Kalamkari bucket bag gives you ample room for your essentials and also shows off your cultured tastes to the max! So the next time someone asks you about your bag, feel free to go off on a tangent and give those artisans their well deserved credit!

Kalamkari Black Frill Maxi Dress
A maxi dress is the perfect solution to the times when you just want to feel flowy and not think of two different articles of clothing to wear. The black frill at the bottom adds a tasteful contrast of colour and gives you plenty of room to move around. The colors of the Kalamkari can be used for accessory inspo, so get yourself some cool blue bangles or textured black juttis and call it a fashion-forward day!
Comments