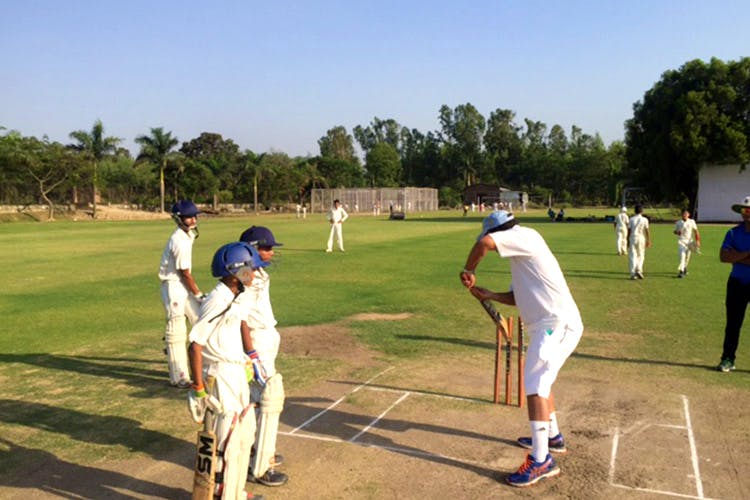 Eat Cricket, Sleep Cricket? These 7 Academies Are Perfect For You
Always wanted to follow Tendulkar's footsteps? We've found seven cricket academies where you can enroll and take your skills to the next level.
Sehwag Cricket Academy
This academy has centres all over Delhi NCR as well as in other cities of India, and has also tied up with Hind Cricket club. They have a structured schedule, tournaments, practices and sessions with talented sportspersons. They train students between the age group of five to 17.
Their Lajpat Nagar centre has sessions on Tuesday, Friday, Saturday and Sunday; and the one in Janakpuri has practices on Friday, Saturday and Sunday.
Madan Lal Cricket Academy
Determined to create a better future for cricketers in India, the renowned former Indian Test Cricketer Mr Madan Lal plays the role of a coach in this academy. They also organise summer camps, but without hostel facilities. The academic days are Thursday, Friday and Saturday (3pm- 6.30pm) Sunday (8am – 11am) for a fee of INR 25,000 per month. The age for admission is open for children from seven-16 years and above 16 years is on trial basis.
Ace Cricket Academy
Doing a brilliant job for the past six years, ACA has personal physical trainers, regular tournaments and structured curriculum. They have also been organising Ace Cricket Tournament since the last two years for children under 14 and for 16 year old. During summers their timings are 5pm – 7pm and during winters 3.30pm – 5.30pm. The admission fee for regular coaching is INR 2,000 and INR 15,000 per month. And for private coaching it is INR 5,000 per month.
Turf Sports Management
Turf Sports Management not only has its board in major educational institutes but also has an excellency in organizing the sports events. It believes in a fit and healthy lifestyle and promises to hone the skills of the talented youngsters. They have three prominent centres.
The registration starts at INR 2,000 and quarterly fee starts at INR 4,000. These vary depending on the centre.
Dronacharya Cricket Foundation
With the best infrastructure of four turf pitches and one Astro-cement pitch for the beginners. Their admission fee for regular coaching is INR 3,000 one time and INR 2,000 per month with one set of uniform. And for private coaching - INR 30,000 for 4 weeks, INR 50,000 for 8 weeks and INR 70,000 for 12 weeks.
West Delhi Cricket Academy
They start admitting kids from the age of 7. For children between the age of 14 - 18, admission is only on the basis of trials, while admission for younger kids is direct without any trials. They have four centers in Delhi.
Striker Sports Academy
The provide pickup services from the nearest metro station and even from your home. They have exclusive indoor turf pitches, automated boxing machines and dedicated award winning coaches and fitness trainers. They are located in Indirapuram, Ghaziabad. Their fee packages start from INR 5000/-
Ask Ananya a question