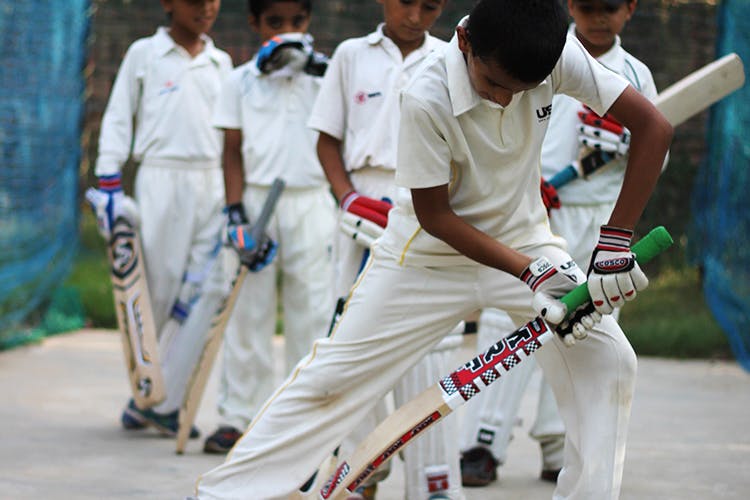 We Found 7 Cricket Clubs Worth Training At, Including One Started By Yuvraj Singh!
Cricket fever grips us all, whether it's match season or not, so we know how much you guys love the game. If you're serious about the game, at an amateur or more professional level, these 7 cricket academies in Gurgaon are worth your training time.
Yuvraj Singh Center Of Excellence
Set up by the man himself, this academy has some serious coaching routines. From international camps to coaches being picked by Yuvi himself, this one has state-of-the-art facilities including indoor stadiums, astro turf and playing grounds for different age groups. They also organize international tours with clubs from different countries.
Sehwag Cricket Academy
Sehwag Cricket Academy has specialised coaching centers across Delhi NCR and other parts of the country as well. Their highly-professional coaches lead their programmes that have been designed to to cover the tactical, technical, and psychological aspects of the game.
Nishchay Cricket Academy
This one boasts of outdoor nets along with the facility of video analysis for training. With a special emphasis on fitness, this one is a great starting point for budding cricketers to enrol at.
Sportsshala Sports Academy
This one is an all-rounder – from cricket to football to even skating, Sportsshala does it all and, if you're serious about sport, this is the school you want to join. They also organize corporate matches.
Perfect Sports Academy
Perfect Sports Academy was founded in 2005 and, in a short span of time, has already established itself as a prime sports institution in Gurgaon. It is known for being the best-equipped sports academy in town and for offering international facilities in the most congenial atmosphere. Apart from cricket, they also have swimming classes, football, lawn tennis, basketball and yoga.
Ryders Sports Academy
Ryders Sports Academy's camps are actually dotted all over Gurgaon and promising players keep coming out of these training camps. Interesting  modules and flexible coaching hours, this one is a winner.
Gurgaon Cricket Club - WonderBoys
This cricket club is calling out to all the corporate bugs – it encourages professionals to strike a work-life balance and celebrate their love for the game, not just on TV, but actually out in the field as well.
Comments