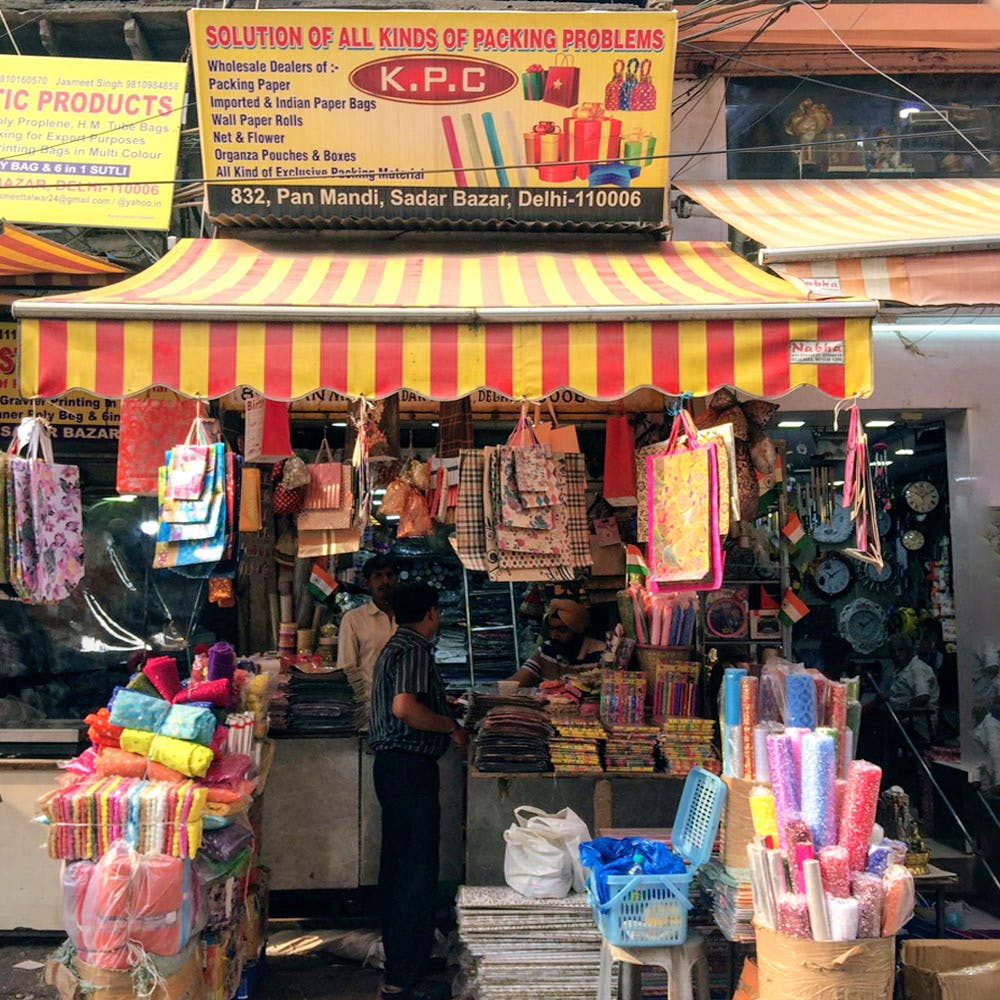 Hit Up These Stores In Old Delhi For Affordable Crockery & The Coolest Gifts
The Crockery Market in Sadar Bazar sounds like a market for .... well, crockery! But it's much more than that. You can also find wonderful and affordable gifting options, showpieces, and gift wrapping/packaging options here. Read on to know more about this resourceful market.
PS: We suggest you go here during non-monsoon months because during the rains the markets in Old Delhi tend to have waterlogging issues. Also, the market is closed on Sundays (unless it's festive season, because then it's open until 2 pm).
Sadar Crockery House
Although a small shop, we recommend you definitely go here for its nice ceramic mugs, cool, glass jars, bottles and pretty Opal dinnerware. Apart from this, we also found cocktail shakers at their shop!
Price: INR 250 and above
Bollywood Star Gifts
This shop in Sadar Bazaar is run by the sweetest uncle. He was more than happy to let us take a look around and click a couple of photos. You can find cute pen stands, photo frames, deep freeze beer mugs and lots of Gods/Goddess' clay idols.
Price: INR 200 and above
Paper Processers
Paper Processers has one of the most lively materials in terms of gift packaging and wall papers. You can find gift wrapping paper of every print in both plastic as well as paper form. They also have fancy gift bags and provide VERY pretty and regal looking wallpapers at INR 1,200 for a roll that covers 50 sq. meters.
Price: INR 300 and above
Sethi General Stores
Sethi General Stores mostly specialises in Opal crockery plates and dinnerware. Although, you can also find loads and loads of mugs, tea cups with saucers, bottles and lunch boxes here, you should go there for plates and pretty (golden) tea sets!
Price: INR 1,200 for a dozen Opal plates.

Delite Crokery House
Delite Crockery House is another very nice shop that offers good quality and affordable dinnerware with pretty grey, blue and metallic borders. They also sell nice metal/glass bottles, jars and even pretty opaque, clay-made decanters.
Price: INR 1,600 and above.
Lakshmi Glass Co.
This shop is probably the trendiest of the lot (if there is a thing with crockery). It had cute tumblers, contemporary designs in dinnerware, very aesthetically appealing kitchen jars as well. Definitely head to this shop when you're at the Crockery Market.
Price: INR 300 and above
F.M Sales Corp
This is a basic crockery shop. You'll find a lot of affordable glass, and ceramic or Opal dinnerware sets here. It's quite tiny but they seem to have a large collection of jars, bottles and lunch boxes apart from the crockery.
Price: INR 100 and above
Krshna Enterprises
Krshna Enterprises is undoubtedly one of the most affordable gift shops in Sadar Bazaar; and mainly because they have all these funky framed posters with cool typography and quotes. Apart from all this, they have adorable tiny message bottles (INR 200 for 12 bottles) with little chits of paper inside; meaning you can literally write love notes and put it inside the bottle and give it to your significant other (or anyone really).
Price: INR 50 and above
Kuku Plastics
Kuku Plastics is run by a very sweet individual who will recommend the best kind of gift wrap/bag or packaging material. You can find super pretty and cute wrapping papers here. The fancy paper bags are also just as great and some of them are quite chic as well; imagine pink and gold striped paper bags!
Price: INR 35 and above
Globe Sales Corporation
This is a great gift shop where you can find pretty chocolate boxes, gift hamper baskets, lamps, whimsical showpieces and more. Mostly, they sell wholesale, but don't mind selling retail as well.
Pro Tip: Please, please definitely keep this one on the list if and when there's a wedding in the family. It's a money saving hack to buy return gift accessories in bulk.
Price: INR 150 and above (per piece)
Comments