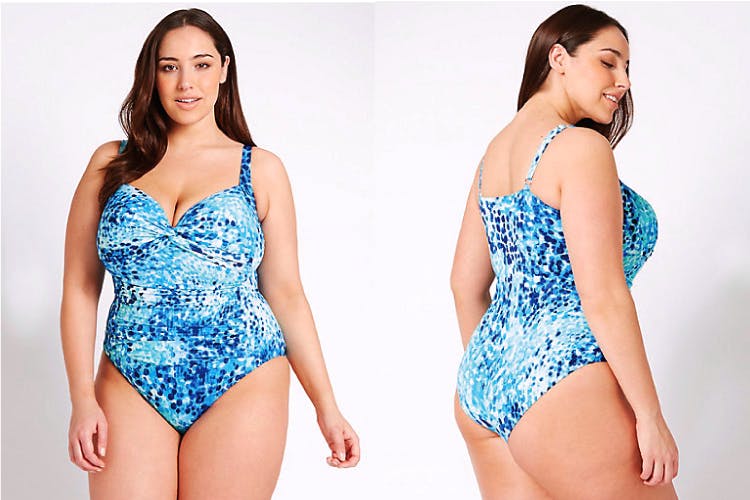 #CurvyGirlShops: Where To Score Plus-Sized Swimsuits & Beachwear
Let's face it—even in 2016, swimsuits or beachwear options for plus-sizes are few and far in between. But luckily, there are a few designers and brands that are willing to show that plus-sized women too, can pull off some super cute looks at the poolside or at the beach.
Here's your go-to list of brands and designers who do plus-sized swimsuits and beachwear.
Suman Nathwani
There are always two things to keep in mind while you are buying your swimsuit: Comfort and style—and Suman Nathwani makes sure that you have no reason to give up one to have the other. She designs swimsuits according to your body type. For instance, if the upper part of your body is narrow, she might suggest a one-shoulder or an off-shoulder swim suit for you. She says you can very well go beyond the frock-style and wearing-cycling shorts-under-your-swimsuit trend.
Marks and Spencer
For most women, hell hath no horror like a day of trying on bikinis in town. But when you go to Marks & Spencer, you're sure to land on swimsuits in the size and shape that you're looking for. Look for floral patterns, geometric patterns, and our favourite trend of the season—colour-blocking. Trust us, they will help you in a big way. Long live colour blocking, we say!
Where: For a complete list of stores, click here.
Follow them on Facebook here.
Rohini Gugnani
If you are all about the two-pieces when it comes to bathing suits, Rohini Gugnani is the person to contact. She is a pro at giving you the perfect bikini that doesn't make you feel like anything is spilling out. She suggests you pair a bold bikini with a high-waist brief. Your bikini should have extra support of the underwire as it helps to accentuate your shape. "You can also pair a crop top with your briefs," says Gugnani.
Where: Habillez Moi, Shop No. DT 110, DLF City Centre
Nearest Metro Station: HUDA City Centre
Contact: +91 9999739991
Find out more here.
Comments