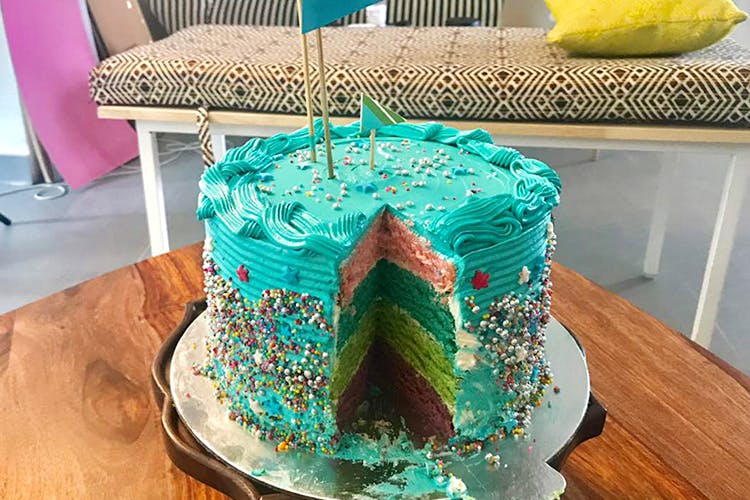 Rainbow & Doughnut Cakes: This Home Baker's Doing Colourful Cakes Right
Shortcut
Have you ever indulged in a whimsical unicorn cake? Or a multi-coloured rainbow cake, with chocolate oozing out? House Of Pie is doing some awesome cakes and bakes and is becoming our favourite colourful cake delivery.
What's Your Favourite Colour?
Sakshi Chugh, the brainchild behind this venture started off by baking cakes for family birthdays and other occasions. She slowly realised the potential her cakes had. Apart from different flavours and themes, House Of Pie spends a lot of time and effort in making the cake look something out of Willy-Wonka's factory – like a double dose of gooey Nutella, with an Oreo crushed filling and peanut butter layering… you get the drill.
Have Your Cake And Eat It Too!
We tried their rainbow cake, also known as Somewhere Over The Rainbow and were completely floored. This definitely isn't your average birthday cake. It's a fairytale party with heaps and heaps of sprinkles and funfetti! The cake was four layers of moist sponge cake in purple, blue, green and pink, with vanilla stacked between thick, creamy buttercream goodness. The good part? You get to decide the flavor for your buttercream.
Apart from rainbows, you can also opt for unicorn, doughnut, chocolate and coffee, macarons and strawberry cakes. They're delicious and look gorgeous!
The cakes start at INR 2,500.
So, We're Saying...
The next time you're looking for cake for your BFF or for a surprise party for your boss, definitely hit up House Of Pie for some sweet, wholesome and whimsy goodness.
Comments