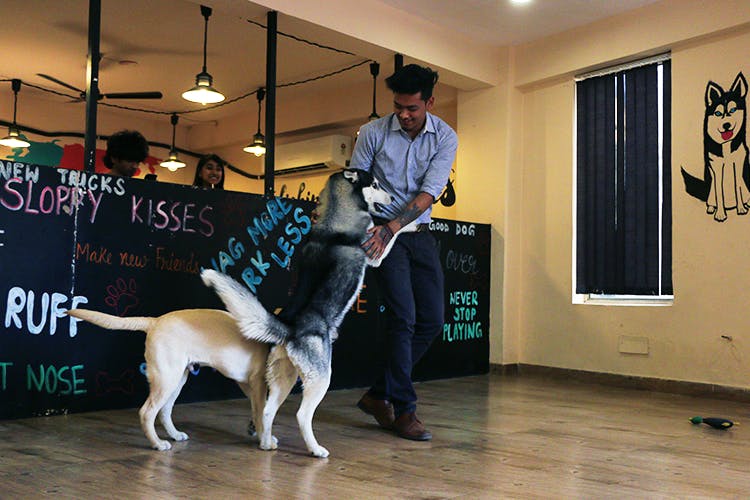 Leave No Pet Behind: Chill At These 9 Dog-Friendly Cafes In Delhi & Gurgaon
Don't like leaving your pup and going out? We feel you. We've rounded up some dog cafes in Delhi and Gurgaon which allow both you and your doggo to sit, chill and maybe have a meal.
Puppychino
Puppychino is targeted towards the doggies. They have a play area with plenty of toys and treats, merch for sale and separate menus for humans and dogs. Latest on their menu: Dog Beer.
They also have free Wi-Fi in case you want to make this your temporary workspace (with doge, of course).
Miam x Big Fat Sandwich x Blue Tokai
One of the coolest cafes in town, these guys are offering us kickass sandwiches, freshly brewed coffee, yummy macarons, Wi-Fi and a chance to step out for a meal with our pets. If you're lucky, you may get to meet the resident doggy, Zoey. Don't forget to say wuff from us.
They currently offer water and shredded bread to your pets and Chef Bani Nanda is working on a recipe for fresh cookies for doggies.
Diggin
If you're stepping out for a quick milkshake and a portion of Zucchini Fries in the evening, choose Diggin. And yes, you can take your pup along too, but only if you're going to be sitting outside.
Blue Tokai
We absolutely love Blue Tokai's small outdoor area and we're sure your doggy will too (as long as the sun isn't shining too bright).
Soul Garden
Cafe Soul Garden is many things. You can grab a meal, work on their free Wi-Fi and also spend some quality time with your pet. They're happy to give your dogs water and even serve them meals, but you'll have to bring their lunch with you.
Throttle Shottle
A biker's cafe. Throttle Shottle has an in-house chef who is trained to cook for dogs. So based on your pet's preference (vegetarian or non-vegetarian), the chef will whip up a soup or a meal in a bowl.
Roots- Cafe In The Park
This cafe has a beautiful outdoor area where you can sit and chill with your dog. They don't have a special menu as such, but are happy to prepare boiled eggs and omelettes for the furry ones.
Off The Leash
Off The Leash is a dog cafe and park in Gurgaon which has plenty of greens for your doggos to loll around in, a small pool, services and activities to keep them engaged and of course, plenty of food. It's the perfect spot to head if you're looking to get in some bonding time with your furry baby.
Comments