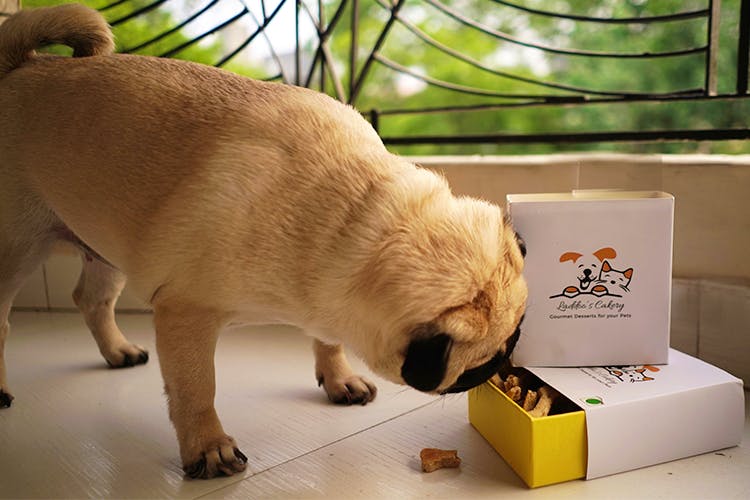 Dog-Parents, This Bakery Has Delicious Treats For Your Pets & Is A Must Try!
Who can resist those adorable puppy dog eyes looking up at you every time you eat. If you're anything like us, then resisting the urge to give them our entire meal must be the most difficult thing in the world! But you gotta do what you gotta do, for the health of your pups, because not everything you eat is good for them. Laddoo's Cakery is a home-run bakery that bakes fresh biscuits, jerky and cakes for this purpose. Their products are made of completely natural ingredients and are gluten-free, sugar-free and with no preservatives.
For The Drooooling Ones!
Laddoo's Cakery has a variety of items on its menu, sure to make your dog drool all over! They offer vegetarian options like Carrot and Sweet Potato Jerky; Oatmeal and Peanut Butter Biscuits (a total bestseller!), Banana and Peanut Butter Biscuits and non-vegetarian options like Chicken Jerky and Chicken Cookies. Also, just like yourself, even your dog is sure to have 'em cake cravings. Satiate their tummies with healthy yet enticing flavours to choose from like Carrot Peanut Butter, Pumpkin Banana and more.
Here's the best part - you also have the option of surprising your pooch with customised flavours according to their tastes and likings. Anddd, these treats are natural, salt-free, with no added colors or flavours. They really go above and beyond to make your pet happy - we can already hear the happy barks!

So, We Are Saying...
Placing an order with them is extremely easy via Instagram, Facebook or you can just ring them up on 9599586931. The cherry on the cake is that they ship worldwide.
A treat from this bakery is an ideal way to show your dog that you care, especially with their bestsellers and custom flavors! Happy dogs are just a click away, wherever you are.

Comments