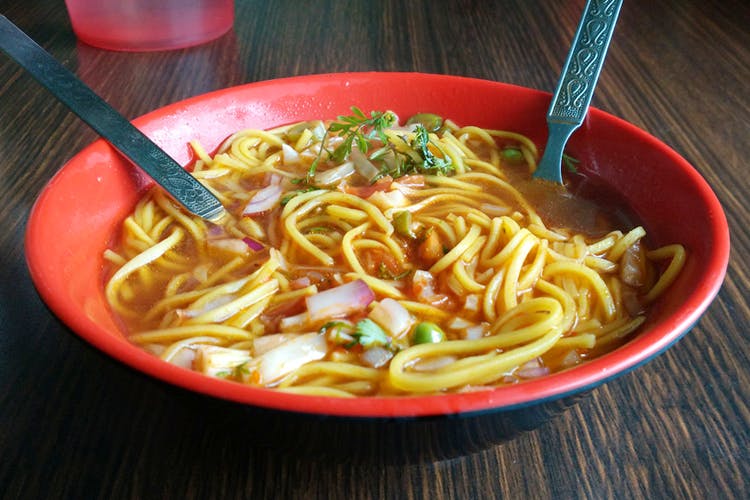 #LBBPicks: The 5 Best College Canteens In DU
All of us know the feeling of staying away from home and that feeling of missing our ghar ka khaana. If you're lucky enough to go to Delhi University, your college canteens come to the rescue, with their large variety of food.
Lady Shri Ram College
LSR is known for serving a variety of cuisines in its canteen. Ranging from mutton dosas, pizzas, and hot dogs, to cheese macaroni and vada pao, there's plenty to choose from. Plus? Lemon rice and tomato rice served with their signature chutney and sambhar.
Kamala Nehru College
The must-haves in Kamala Nehru include dosas, chicken patties, chhole bhature,rajma chawal, egg rolls and a variety of milkshakes. For when you need to refuel, visit the Nescafe counter which serves hot coffee, tea and hot chocolate along with brownies and muffins.
Their juicy momos and honey chilli potatoes are also big hits, not to be missed.
Sri Venkateswara College
Known for its strictly vegetarian canteen, the Venky canteen is popular for its dosa-sambhar, idli, vada, aloo tikkis, Maggi, samosas and trust us, that's just the tip of the iceberg. They change the menu every season, so it never gets monotonous.
Hindu College
The Hindu college canteen is super pocket-friendly, with a wide variety of food to fill up on. It is well known for its parathas, shahi paneer and rajma chawal. You can also hit the canteen up for popular street food such as gol gappas, chaat and samosas.
Ramjas College
The three-floored canteen in Ramjas College is famous for its rajma chawal, kadhi chawal, chole chawal and chole bhature. They also have a variety of Indian snacks, of which we recommend the piping hot samosas.
They also have an ice-cream vendor and a fresh juice stall right outside the canteen, a rare treat for a college canteen.
Delhi School Of Economics
The sixth on the list {and here for good reason} Delhi School of Economics or D-school as we all lovingly call it, deserves  a special mention for being a student favourite for the longest time. Be it the mutton dosa, mutton cutlet, masala coke or the egg curry, there is something for everyone here {and it is all so good!}
Ask Mallika a question